Thursday, December 22, 2005
*~*~*~*~*~*~*~*~*~*~*~*~*~*~
無極 Spoiler..
*Dont continue if you intend to watch The Promise starred by Cecilia Cheung...but i dont think you will nah hor after reading my post*
der whole highlights of the show is about ..
1.Whiny teary guys that speaks in a chao ah gua way
2.Cecilia chung 2 second naked scene with important parts all carefully covered up (so you see NOTHING),
3.& a Xue guo ren that can run faster than anything alive.. even spiderman must concede defeat.
The show got me all interested in the definition of Wu Ji, cos i really dont understand n they didnt really explain during the show.
I did a search on the internet.. and found the following...
無極代表無量又代表般若,一切佛都從般若生出,取之不盡,用之不竭..
[三教平心論]
列子曰
無極復無極 無盡復無盡 是知其無極無盡者 而不知其有極有盡也
-_-''
chimalogy...I got a C for my Chinese Studies in University..(dat was wat spurred me to switch to Japanese studies and I'm so GLAD I did)
Their artistic direction, their costumes n some parts of their intellectual quotes like wat (shi jian shi wu xing de blah blah blah) was OKaaaY, but i just find the whole story quite absurb especially throughout the WHOLE show, there will be one guy or another sobbing.
AND I MEAN REAL sobbing
..damn whiny with sound summore.. ar gua can.. argghh. dat really turns me OFF. 谢霆锋 acted as a Duke in the show and I think he did a great job acting out his role except for the fact that the show isn't dubbed and he really sounded like another
cao ah gua
with all his strange intonations. Maybe it's done on purpose or maybe it's the request of the great director, chen kai ge. or even a bigger
MAYBE
, I ain't artistic enough to appreciate it.
Cecilia chung was a little beggar girl who was given a choice to become the most beautiful princess on earth but never will she have the chance to experience true love. This promise shall be in effect unless shi jian ni zuan, ren si fu sheng, he shui dao liu
(they repeat so many times until i can remember liao).
And my conclusion for her most beautiful princess title is that she looks
A WHOLE LOT
better without makeup. I seriously believe there's something wrong with her Makeup artist and it's definitely a case of makeup gone wrong...
Darren told me after the show that he would rather watch King Kong than watch Cecilia Chung's 2 second naked scene cos he can barely keep himself awake after that.
-_-
~~~~~~~~~~~~
Horkay.. enuff of Wu Ji....Received something in my mailer today..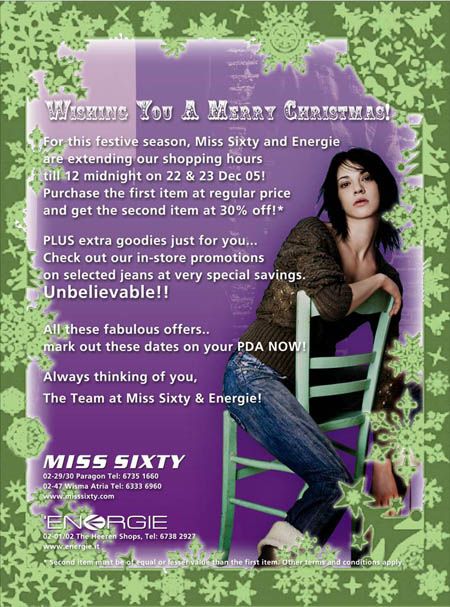 Think i will drop by on Saturday, their jeans are kinda expensive but really good.. they last longer than Levi's.
Kiyo 到此一游 @ 9:56 AM