Sunday, March 09, 2008
*~*~*~*~*
I went on the Singapore Flyer for FWEEeeee!
My bosses and admin colleague were invited by Singtel for an elevating experience at the Flyer with buffet dinner. I was lucky enough that my colleague could not make it..it turns out that she had been onto the Flyer previously and was invited by SIA and she gave the ticket to me! They really treat corporate clients very well nor..
kudos to them~
no need to pay 29.50 bucks, confirm must go hee hee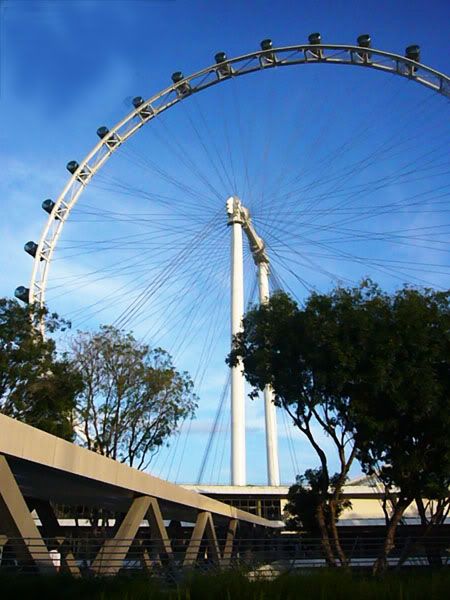 got a lovely shot of the flyer!
(after some editng hur hur)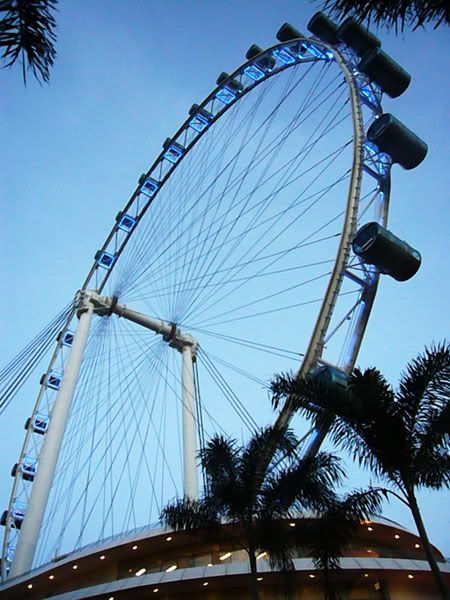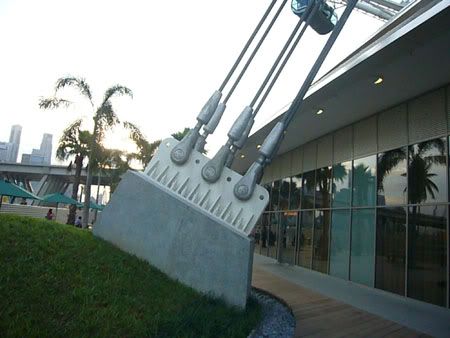 the humongous wires that hold the wheel firmly to the ground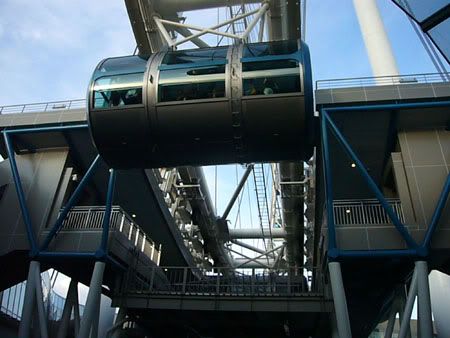 They even had a rainforest built up sponsored by Yakult.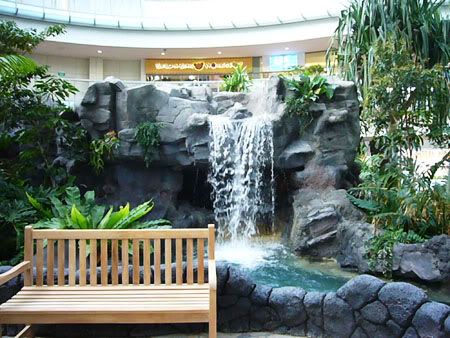 Singapore's own version of volcanoes =___= machiam like excursion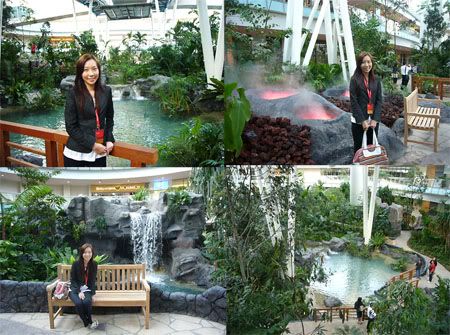 There's quite a number of shops beneath the flyer like Kenko Fish Spa! Someday i'm going to get my feet wet and let those fish nibble my dead skin away... and alot of restaurants. Seems like a nice place to chill out.
The flyer was HUGE!
and it moves pretty slow, you won't know it's moving unless you look at the wheel tracks and your legs
jit tao
get ULTRA wobbly (okay okay my legs only).
The only thing i dont like about this flyer is that when you board and alight, the capsule doesnt stop! and you have to jump onto the curved platform which can be pretty scary. The platform is curved and pretty steep.
The entrance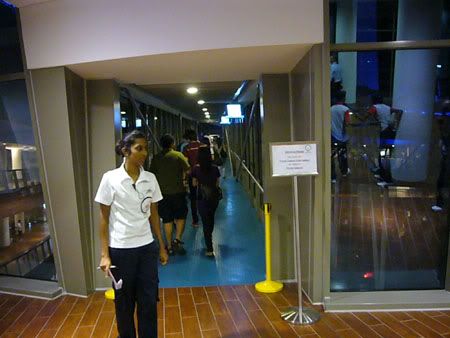 Everybody was so excited, even my md ran ahead of us hee hee. So our flyer flight was scheduled at 8pm. The night view was great as you could see Fullerton Area to the left and Kallang Oasis area to the right.
I feel the best timing to board is still around 7pm. The ride will last 30 mins and it will be good to see the sunset as night view pictures are a little tad too difficult to take.
But i thought it was still very fun! as 1/3 of the people in the capsule are people we know, (colleagues from different subsidiaries) so we had alot of fun taking pictures, video etc. i guess it wont be dat much fun for a couple with alot of strangers around.
took a video of the night view. We are at the top of Singapore sipping wine and having canapes..