Saturday, October 27, 2007
*~*~*~*~*
Cravings no more!!
Quite an eventful weekend till now. hee
Went MOS with Darren yesterday. Although not many of his friends went, it was still fun people watching cos there's just too many interesting people around. hee hee.
had a good workout dancing yesterday as there were no calls from mum anymore ha~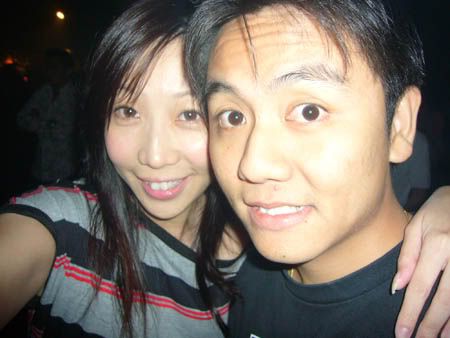 Woke up at around 9 plus this morning to meet the gals from SG brides. We bulk ordered some ampoules together and it's time for collection. So we met up for breakfast at Cafe Cartel and the breakfast was pretty good! It's a pity that the french toast was sold out... =_( but the ham and cheeze omelette was great too.
After a hearty breakfast, met up with Darren again for my dim sum!!
*cannot imagine I gobbled so much food*

Never tried Royal China at Raffles so I brought Darren there. I must say that this dim sum is even better than Red Star at Chin Swee Road. But of course, Red star is so so much cheaper. Didnt' know Royal China existed till last week while searching for some restaurants for my boss, I came across a blog that had yummilicious pictures of dim sum that it literary stirred up my cravings for them.
This restaurant was first established in London and I think it came to Singapore around 2003. But I only got to know it now.. gosh.. anyway it's a place that i will be back for their scallop dumplings, shark fin dumplings and prawn and scallop cheung fun!
Before we ate, we took some pictures at raffles hotel as we never went up to the 3rd floor before hee. The place was really pretty.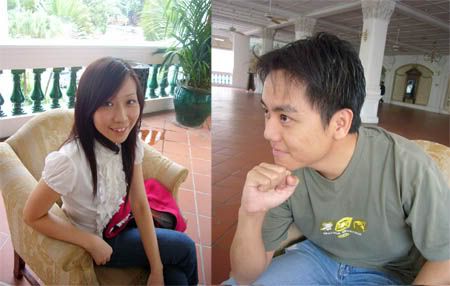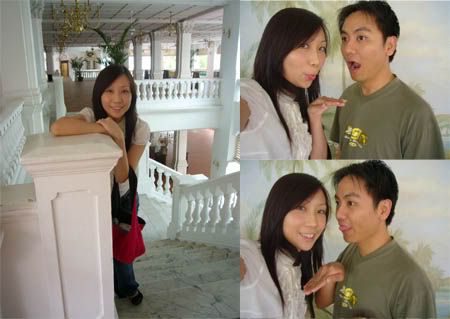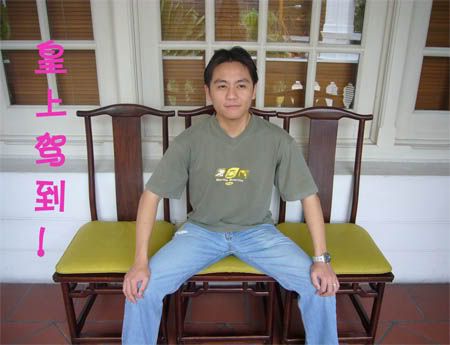 Finally outside the restaurant!
you feel so "royal" just by looking at their signboard.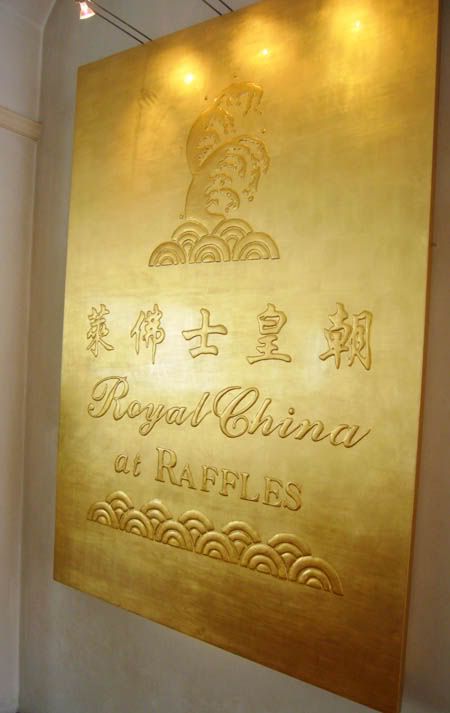 It's indeed Royal!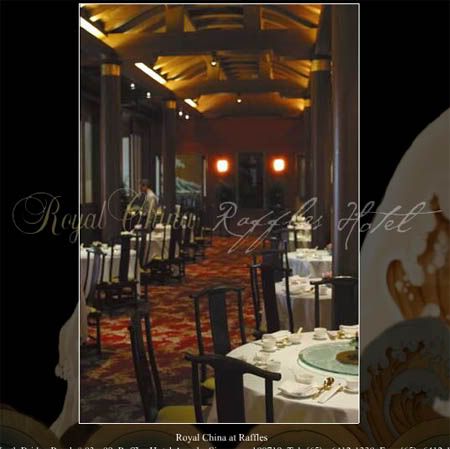 photo from website
Dim sum included~
even used the food mode of my cam to capture the dim sum..
just look at the oil...
one sentence..是很油的啰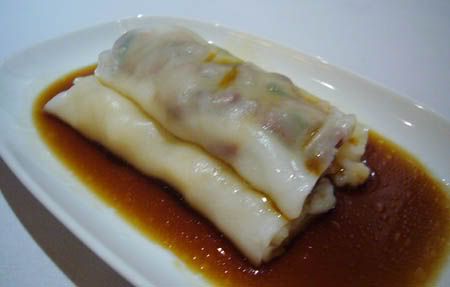 our 1st dish was the chang fen.. yummiz.. you get the best all in a single plate. Prawn, scallop and char siew chang fens. droolzz..The skin is really smooth and tender~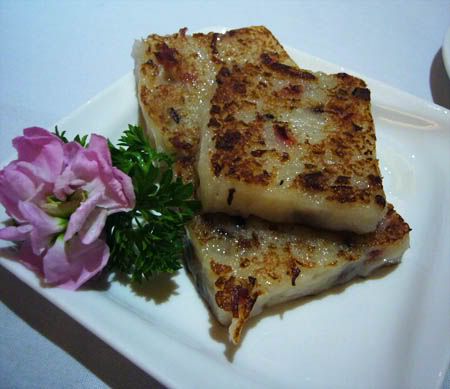 Carrot Cake - very smooth and soft as well. Melts in your mouth!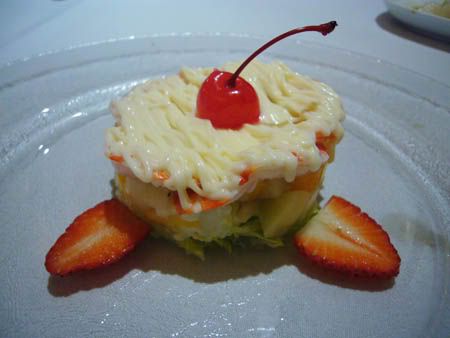 Prawn and fruit Salad - Another delicious starter, the fruits were really fresh, even the strawberries were sweet!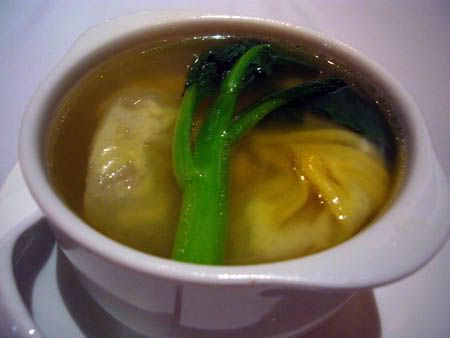 Star of the day
- sharkfin dumpling in chicken and ginseng soup. With alot of goodies like mushroom, scallop, crab meat and not forgetting sharkfin too. The soup was tasty and not so salty.. and most importantly, $8.80 nia! =p
The rest...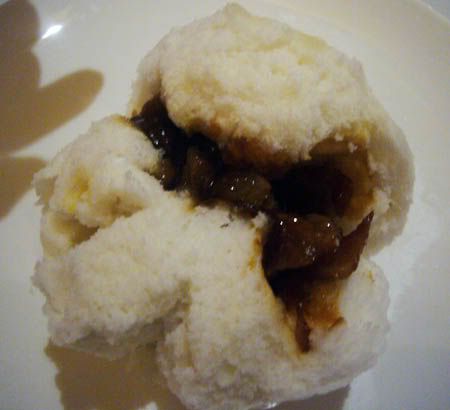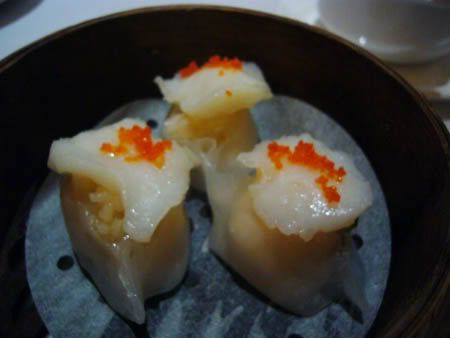 another of my favourite. Scallop dumplings with fish roe!! you really cannot see such exquiste dim sum anywhere.. or.. maybe i suagu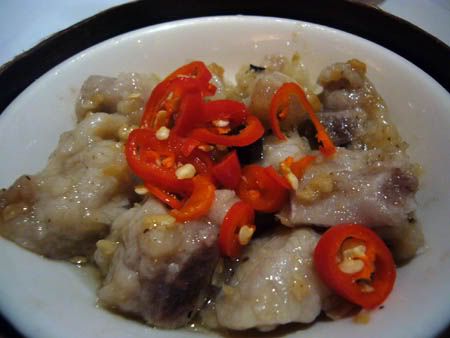 Damage : $50
Hungry just by looking at these photos again.. another 3 weeks will be mummy's birthday, will bring her there to have a good meal, maybe with my sister as well so that we are order MORE food =)
And after lunch we went to Parkway to get my lingerie to wear on my wedding day. Heard from Cheryl about a shop in Parkway where she bought her corset to wear with her gown. Her designer (Bridal Veil) highly recommended that shop to all her clients. Indeed it was a fruitful trip! Didn't manage to get a corset as the
lao ban niang
said i dont need one, so she recommended some pushup for my gown.
hee hee.
She's really a good sales person and knows her stuff pretty well..she will analyse your body shape and recommend thier lingerie to you.
Ended up spending $170 there =__=
But their lingerie is really nice, some are actually imported from Japan..
Go to her if you are a BRIDE-TO-BE! =D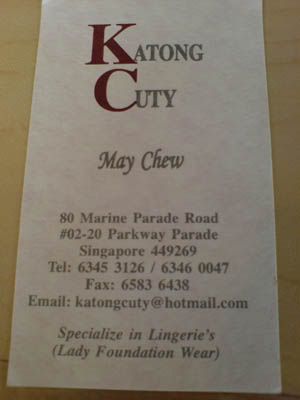 Labels: Reviews
Kiyo 到此一游 @ 6:42 PM