Friday, October 05, 2007
*~*~*~*~*
Urban Warfare!!At stall 14, just behind the open bar...
hope that i sell more things than i buy!! =p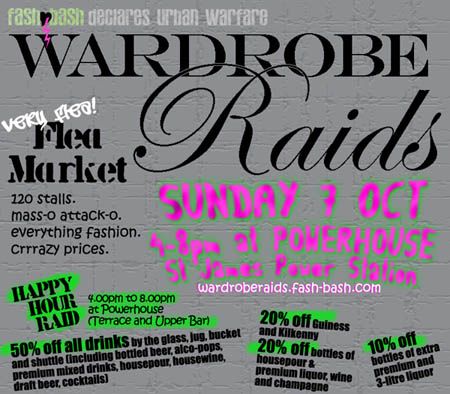 Okay... flea market aside, my ah dar was enthusiastically telling me he had plans for our march-in.
THAT's REALLY SURPRISING.
So he told me
(in a super enthu tone)
that he has decided to use his favourite song as our march in... he even told me which beat we can open the door to march in, and after walking to the stage we can end with a rockstar pose. I was so happy! Finally i do not need to crack my head anymore and make decisions!
Then he sang to me the song he wanted..
it was...
THIS
don't know whether to laugh or cry.. so off-beat de... and sooooo
BENG
. hahahha
he said he used to be a waiter and he always hear this song when he was at the banquet serving dishes.
He even suggested
*in a super ENTHU tone again*
that we can do SOMETHING SPECIAL!
Like serving the 1st dish as waiter and waitress!!
......
=____=
ah dar, ah dar.. I really dont know what to say....
That's the cute thing about him anyway hahaha
So don't be surprised if you see us serving your dish.
yeah.. it was his idea. hahah
Labels: Silly Stuff
Kiyo 到此一游 @ 8:15 PM