Wednesday, January 24, 2007
*~*~*~*~*~*~*~*~*~*~*~*~*~*~
a photo taken some time ago where we bought something kinda expensive but something that I really
LOVE
. =D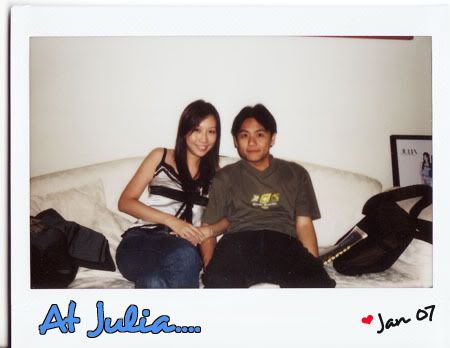 Got my results! 1 A and 1 B.
Although it's not straight As but i'm satisfied with it cos I didnt really study much. It's better than the 2 Cs I got for my previous 2 modules.
I realized when you dont study, you score better..
=___=
Maybe it works for me only.
Or maybe i stressed myself too much till I have mental block last sem. So my strategy will be not to study from now on. =p
Just watched the movie
FEAST
just now. Not worth watching anyway.. we really had nothing better to do to watch this gory bloody film. There's no plot whatsoever and it goes like this : aliens attack humans, blood spills, people die.
And it repeats..
Labels: Wedding
Kiyo 到此一游 @ 10:44 PM