Sunday, February 17, 2008
*~*~*~*~*
I removed my extensions!!
and my eyes feel so light!... and BARE
that's because 1/2 of my own lashes were GONE too
=________=
The eyelash extensions were starting to irritate me as they became really messy and clumpy and a few dropped off after about 2 weeks. Not sure whether it's because i tried appplying mascara on the tips of the extensions.ooopzzzz haha *never try, u never know mah, that's me*

Went to Amy Beauty to remove as the Yishun place was too far. They did a great job, removed them very gently. But was pretty pushy on other services while i was doing my facial after the removal. At last, I can have a thorough eye massage.
"小姐你的眉毛没有什么毛 leh"...要做那个3D的比较好看"
"小姐你要用我们的那个去blackheads的..皮肤就会很美啦"
buey tahan
But her massage was good! KOSE facials do not provide neck and shoulder massage but this beautician i tried, it made me so so relax... will try another facial next month cos i simply couldnt forget her massage. Guess i will have to tactically turn her down when she tries to comment on my 没毛的眉毛.
Back to the lash story...my own lashes became at least 1/4 shorter than what it used to be. I guess no matter how gentle the beautician is, the glue used is very damaging to the lashes!!
Eyelash extension is really a route of no return as you will be really addicted to how your eye looks and the time saved on your makeup. And when you remove them, your own lashes became shorter and the whole vicious cycle begins again. =( Think I will only do it next month before I go to Japan and in the meantime, i hope they can grow back to the original length.
Switched back to using falsies! I thought the effect is not bad as well. Bought this pair of falsies from BKK and regretted not buying more.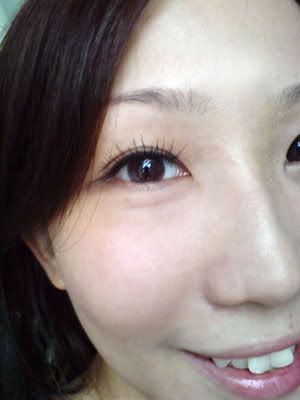 We went to Bugis for lunch and we saw lion dance at the basement level. They were just right in front of us when we were eating. The ones beating the drums and making the
kiang kiang
noise are girls! Really good at it, bet it's not easy..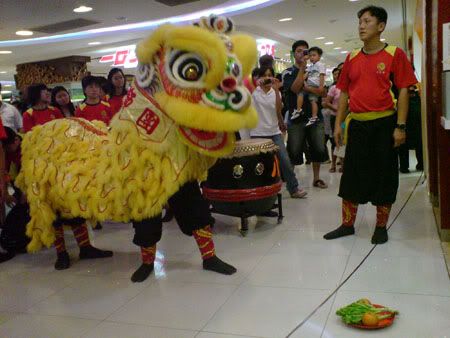 The lion was very cute too, he spew-ed the veges onto the workers and gave them a fright hhahah. cos they didnt expect that he will spew so far.
So here's a video for those who didnt get to see the lion dance this year.