Tuesday, February 20, 2007
*~*~*~*~*~*~*~*~*~*~*~*~*~*~
Another day to rest
*yippezz!!*
Had a long day yesterday.
Went to JB to visit Darren's mum. Woke up so early and was really tired. Cos we were watching Mo Gong (by Andy Lau) till 3am and woke up at about 9am to catch the bus to JB.
The crowd was scary.. Touts were around asking those queuing up whether they want to go across JB in 5 mins for 10 Sing bucks per person. Really darnz
hor tan
.
We looked at each other, and it was an offer too good to be refused. Last year when we went over, the queue was shorter and I already waited for 1 hour. I think it will take at least 1.5 hours squeezing and pushing before I get my passport chop.
*tsk* we decided to take the easy way out.
paid and then proceeded to the "car"!
10 bucks per person for a short and squeezy ride...
Photos at his house!
It was his mum's birthday and we had a mickey mouse cakie with the family.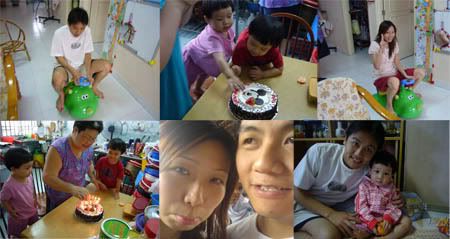 yah.. that's me and him.. trying to relive our childhood!
2 more days to go till the weekend~!
Labels: Celebrations
Kiyo 到此一游 @ 9:50 AM