Friday, February 16, 2007
*~*~*~*~*~*~*~*~*~*~*~*~*~*~
My Valentine.
So busy preparing for Chinese New Year (preparing means throwing away tons and tons of rubbish in my bedroom) that I have no time to blog about V day.
Darren gave me a nice surprise.
Anyway I sort of knew he will make the official proposal to me around Valentine's Day but i was kept in suspense on
how
he was going to do it.
He kept telling me he will propose in a
kopi tiam
, cos it's very special mahhhzz...
=___=.
Luckily he didnt. He asked me to meet at Raffles Place station and told me we are going to a restaurant but didnt specify where. Still kept in suspense which restaurant it was.
Then he walked towards Fullerton.
He said jokingly..
"Behind Fullerton got one kopitiam very nice"
=____=
Tsk. Still harping on the kopitiam.
I nearly got fooled. Thought he wanted to bring me to the boathouse restaurant or something which was nearby.
As we were walking pass the fullerton hotel entrance towards the opposite direction, he suddenly pulled me back and pulled me into the hotel.
He brought me to the Quay-side room he reserved on the Straits Club Floor and we had in-room dining! =D
It was prettie exciting cos i admit that i'm a big
sua-gu
...To me, Fullerton Hotel is the hotel that my MD's boss stays in when he came over to Singapore. hahaha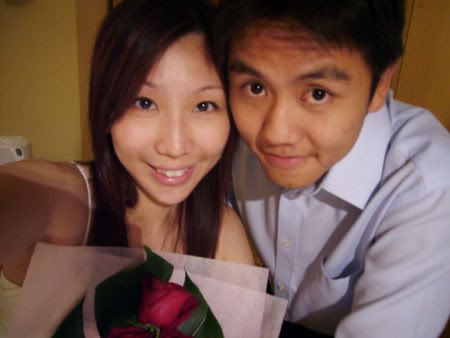 It included a bunch of roses and a free set of bathrobes for us to take home... all nicely packaged. The room was prettie normal but it came with a very big toilet and bathtub~!! How I wish my toilet is like that. I lurve taking long long bathss....They provided candles and 6 selections of bubble baths too.. for guests to immerse in the love bubbles..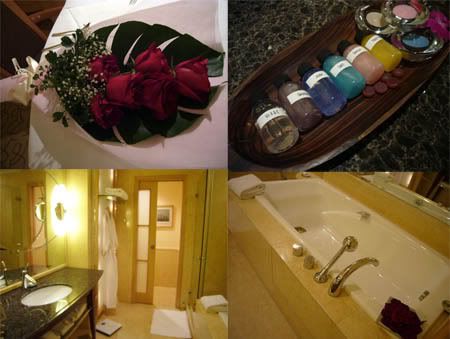 Their bed is superb! Pillows fantastic..
They even had a
pillow menu
where they offer guests "with stiff necks" choices of contour pillows, soft or hard pillows.
(Rich heads so easy to crack meh... )
Guests who are allergic to feathers can choose from their alternatives too. keke. I didnt change nah.. scared kena charged for "SPECIAL" pillows.. Mine is no special head either...hahah But their pillows in the room were really good enough.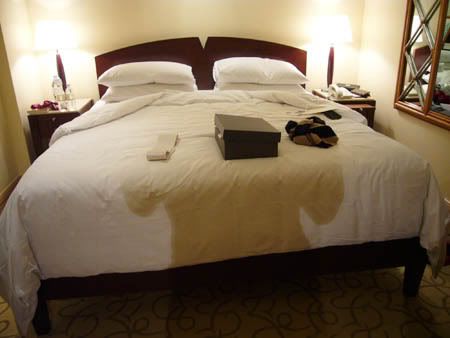 wonder why the bed is so high. My feet couldnt touch the floor when i sat on the edge of the bed.
Food was great .. ultimate fine-dining... Luckily the waiters only placed the food in the room and left after that. Will be so uncomfortable if I cant gobble my food in peace and have somebody staring down at me.
Waiting for the food....too hungry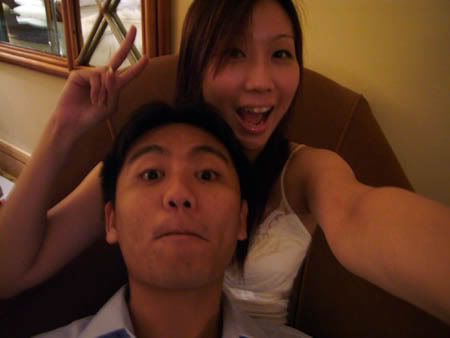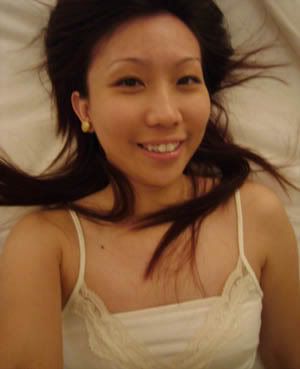 hiao
again~ lalala
The menu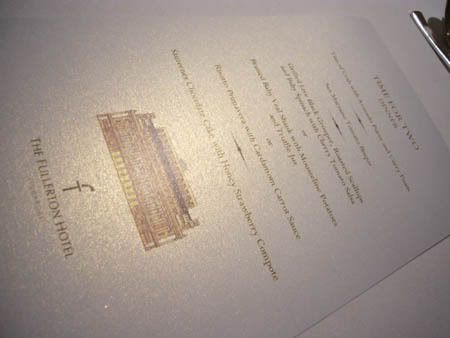 Appetizer!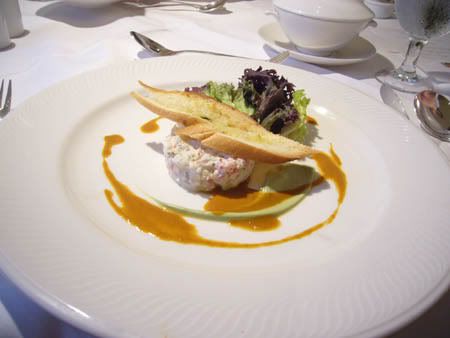 he's laughing like mad cos he thought the appetizer was the main course.. and he felt the portion was realli little =__= then he discovered it was NOT the main course.. he more sua-gu then me. =p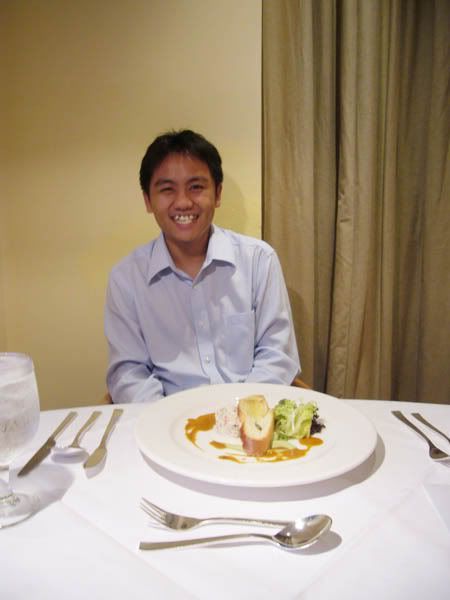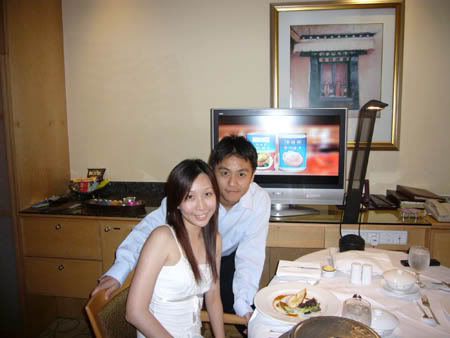 Main Course~ I lurveee the scallops. yummiz !!!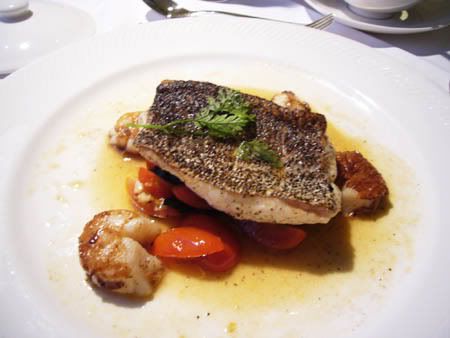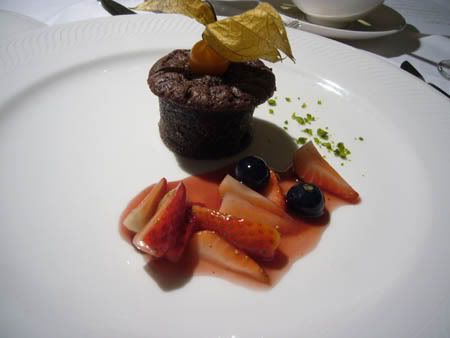 After the dinner, he proposed, with a ring in hand with a bended knee. =). It wasn't very big, but I knew it is from his heart. He just started work only 8 months ago, so it must have taken a part of his savings.. So happie, he did care after all. =_ )
We went walking around the building to explore the other parts of Fullerton since we have nothing much to do... Being able to hold his hands and stroll around is romantic enough for me.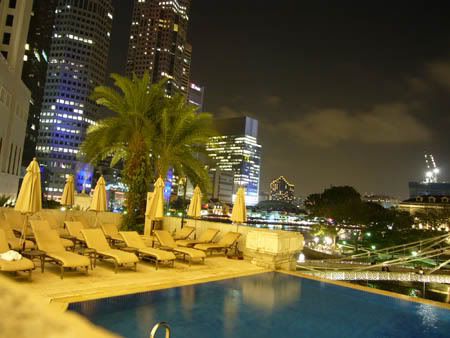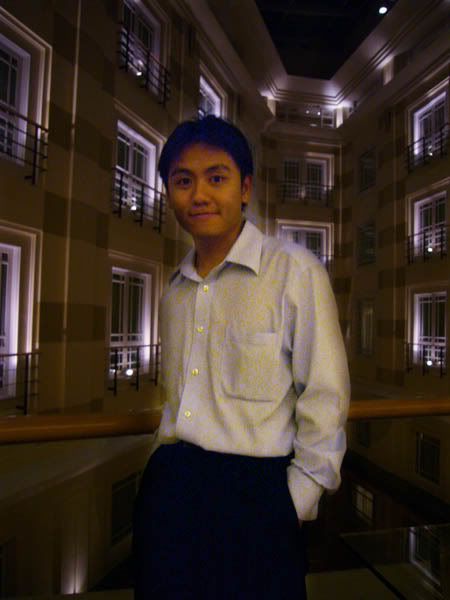 this picture is fuzzy cos the lighting was really dim, that's the best that photoshop can do!
The stay there was great, breakfast too.. even the egg oso must make
swee swee.
Maybe it's because we were on the club floor that's why service staff made guests feel like super VIPs. Kept asking whether you need any help in toasting the bread, refilling the juices..
erhem
.. not very used to it.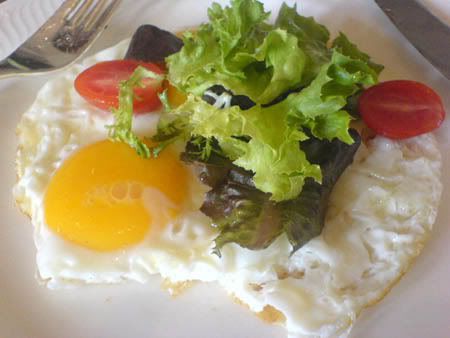 Lurve their yogurt!!! Asked the chef where they got this and found out that those yogurt are Imported from France and cannot be bought in singapore. =(
sianzz. It was reallie goodzz.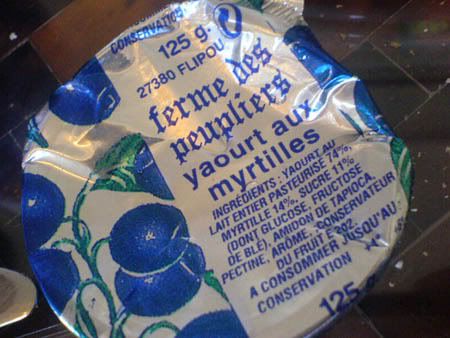 Thanks dear for the lovely day and surprise.
More photos @
~ my multiply site ~
Labels: Wedding
Kiyo 到此一游 @ 9:32 AM