Saturday, January 21, 2006
*~*~*~*~*~*~*~*~*~*~*~*~*~*~
I havnt done any CNY shopping!!
I havnt done any CNY cleaning either~
Gosh~ Think dis weekend I will just rush down to OZOC and get a top to go with my jeans.
Do I foresee another 100 odd bucks gone? Yes I do..
I want to get so many things!
Wish list
1) Ionity hair dryer (any brand but good ones cost about 100 odd)
2) Ultrasonic beauty machine (another 100.. get from taiwan)
3) More Crown Accessories (Post next week! my new found hobby!)
I got an email from Photobucket to inform me that my bandwidth has exceeded 2000mb. And if it exceeds 2500, all the pictures in my blog would be GONE till the next month when it resets itself.
I have another 10 more days to go.. Please dont do this to me...
~~~~~~~~~~~~~~~~~
Bangkok Travelogue IV, V and Loots!!
Chatuchak again!
Couldnt take the fact I didnt get anything from Chatuchak so I dragged Darren to go again!
Bought more stuff like casual tees and oso a pair of fake birkis, slippers for my mum, cheapo watch, belt and some earrings!. It's my 大丰收 DAY!!
Read on the newspaper that Chatuchak may close due to some rental issues.. I really hope not. It's still the best place for shopping. Not for clothes, especially accessories, bags and shoes!
But before that, we went to Erawan Shrine to pray for happiness, prosperity, and progress for our nation,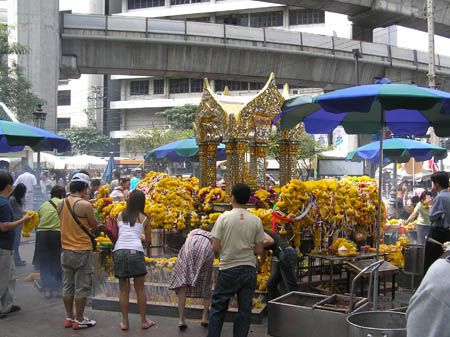 chey~
I prayed for happiness and good health =D for Darren, my friends and family. I always believe good health is more important than anything else.
I had always been a sick kid...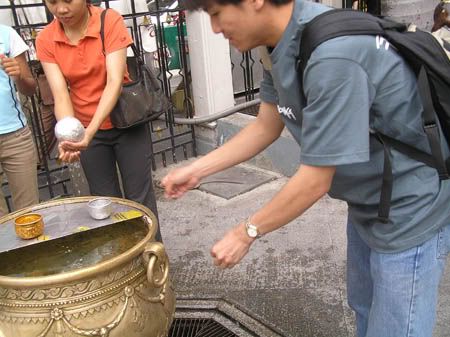 Went to Isetan to grab lingeries! Isetan is opposite our hotel and I didnt have time to visit it until Sunday. It's only good for stocking up lingeries and Zen Restaurant is there as well~.. keke.
Saw alot of singaporeans grabbing in 10s or 20s machiam free lidat. But it's real cheap! Each tiny piece of that garment can cost up to 70 bucks in Singapore and in BKK, it is only going for like 20 odd 30?
Back to Chatuchak~ no interesting pawtoes except this signboard that I saw while I was busy shopping...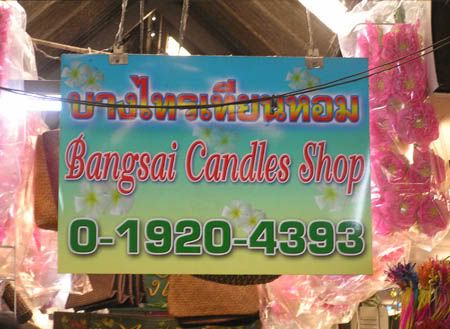 Bangsai candles shop.
Bangsai?!?
To me.. it is...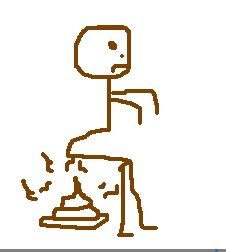 Yeah.. he is rather upset cos he's having constipation..
A search on the internet, they have Bangsai Country Club, Bangsai Golf Course, Bangsai Arts and Craft Center, Bangsai Group...-_-
I think it's a name of a location? Just sounds funny to a non-local like me..Sheesh, I'm shallow!
Bangsai candles shop have nice candles, really.
We had Dinner at Zen Restaurant again! Yaki Udon!
Dis is how he smile when I asked him to.. TSK* SO RELUCTANT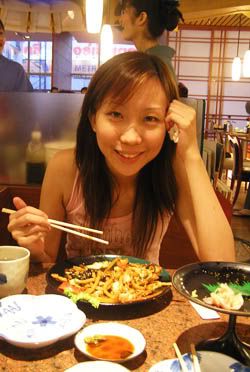 Eeeks! No eyebrows!
Went to Suan Lum at Night. It's a very big place and we didnt cover every inch of it cos Darren was yawning away.. haha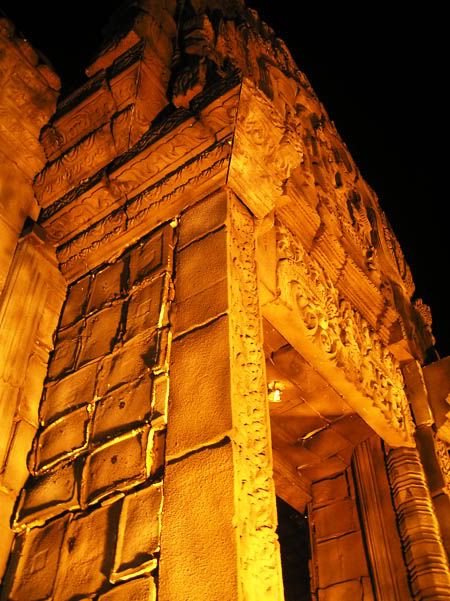 Darren was suffering from a lack of sleep after I dragged him up everyday to eat the breakfast before we went for our shopping. So we decided to sleep in and check out at 1pm on the last day! Arnoma hotel has been great~ Rooms are not that fantastic but everything is clean. Service is very prompt but we didnt use their jacuzzi or other hotel facilities cos we went out too early and came back too late.
Check out! went to
Soi Thonglor @ Sukumwit Soi 55
. I lurve to pronounce
Sukumwit
.. the wit drags to a higher tone and sounds really cute.. Click
- HERE -
to listen how to pronouce the places in Thai.. keke Very cute worzz
Sukumwit soi 55 is said to be a place where models, graphic or fashion designers hang out with alot of upmarket living for the ang mos around that area. Along that street lies posh restaurants that looked really expensive from the outside, trendy cafes too.
There's a shop by the name of Playground! along that stretch. It's a 3 storey concept store which carries both local and international designer brands and alot of retro and unique furnishings as well. Quite overpriced, I would say. I saw one chair from Ikea -_-. But some stuff ARE UNIQUE!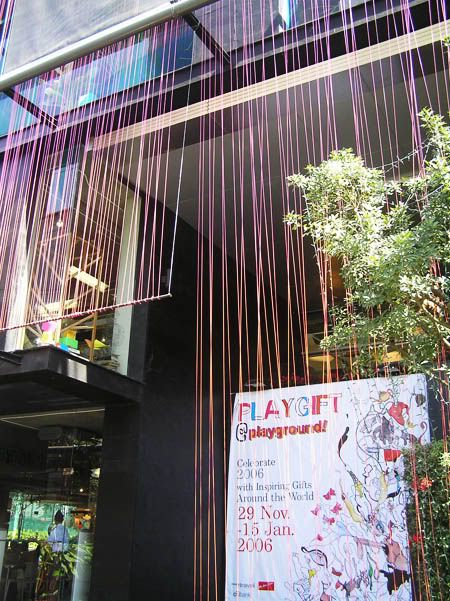 The security guard reminded us NO pictures please.. so I kept my camera.. Here's some pictures off the net. I found some pictures on Multiply taken by Singaporeans too. Wonder how did they manage to take pictures inside! I very kia si wan..
PHOTO TAKEN FROM BANGKOK RECORDER WEBBIE
They have XXXL size bean bag cushions there in the center..with a wide selection of magazines and design books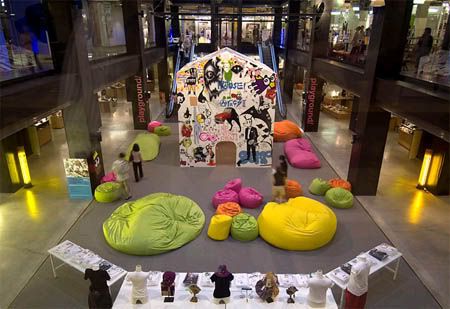 Photo taken from NY Times.
Chunky keychains at SGD 60 bucks, Clothes range from $60 to few hundreds. Shoes at about $200 plus.. very nice though..If you dont have much to spend, They have a Starbucks cafe, good for chilling out and people watching and another nice cafe for some cakes and coffee too on the 3rd level.
My LOot!! at last...Nutting much though.. casual tees and shoes..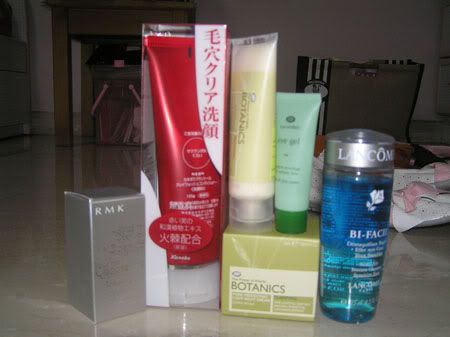 My RMK foundation.. it's really good!! Lurve it! And botanics mask and night cream from BOOTS~ the pore perfecting night cream which contains BHA is very light and good. Lurve that too! But pity that Singapore dont carry it at all..
A bag from Naraya for Mummy!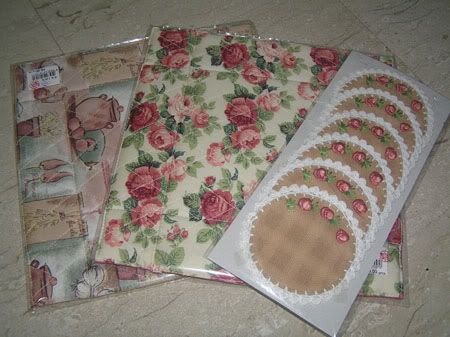 Coasters and Cloth Boxes
And Presenting...
My accessories TREE!!
Rather messy now~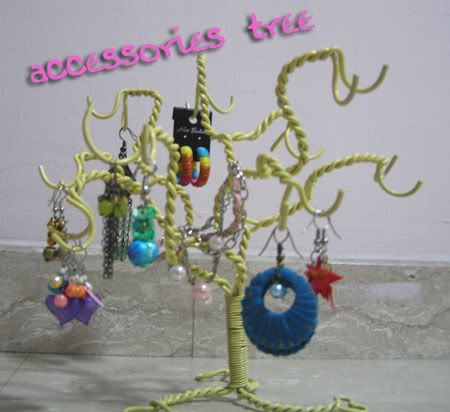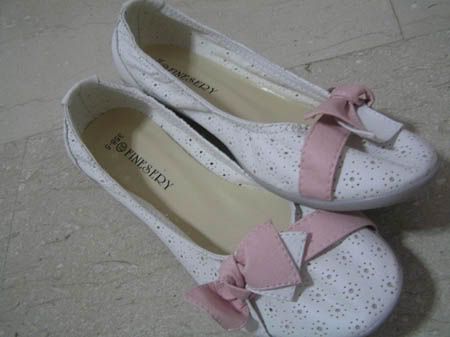 Shucks! I deleted the photo of my Casual Tees... argghhh..
Dat's all I guess.. not alot hor..
Kiyo 到此一游 @ 10:52 PM