Monday, January 23, 2006
*~*~*~*~*~*~*~*~*~*~*~*~*~*~
櫻櫻美代子
Dis morning while my mum was watching a segment introducing japanese companies on zao an ni hao,
she said in a serious tone..
"Your japanese name hor.. should be 櫻櫻美代子"


(pronouced as ying ying mei dai zi)



i was like heh?! with my eyes overturned trying to comprehend why she is interested in Japanese names all of a sudden.
"Eng Eng boh dai ji...."
-_-'''
When did my mum learn how to suan people...
hur hur hur...
Yesterday was in a terrible mood, wanted to go on a shopping spree.
Wanted to get a phone.. really tired of using Darren's spare one. The response is SLOW, takes at least 5 mins to start up and the keypad is HORRIBLE. But it still has a $100 trade-in value?? M1 is sooo kind.
Dint manage to get a new phone anyway.. (but have aimed what I wanted) will definitely get it before chinese new year! cos i spent almost 2 hours at the small OZOC boutique at Wisma. They were having a great sale. 10 to 60% on selected items and an additional 30% (ADDITIONAL hor) off your total bill if you bought 3 or more.
Of course I bought 3.
30% leh... It's not everyday you get that.
I reckon yesterday was a GOOD Day.
~~~~~~~~~~~~~~~~
2 weeks ago....
Virgie n I went to support the Youths at the Anti-smoking Campaign for their performance.
I'm really in a Falsies Craze lately and decided that dis shall be the day to try them for the 1st time! Have been practising at home for several times too!

Technical Note
: Side A I stuck on the whole piece, Side B I cut into 3 portions. But I find it quite unnatural.. Although kelvin lao shi said that it should be easier and more natural to do the latter.. The glue that came with it didnt stay and I took them off after 4 hours. I got a better glue from Spring Heart from Sasa!
The event!!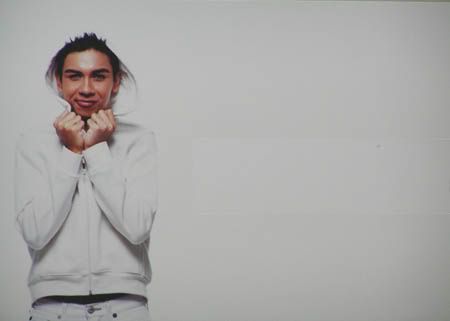 2nd time i saw him in person. First time was some Samsung event..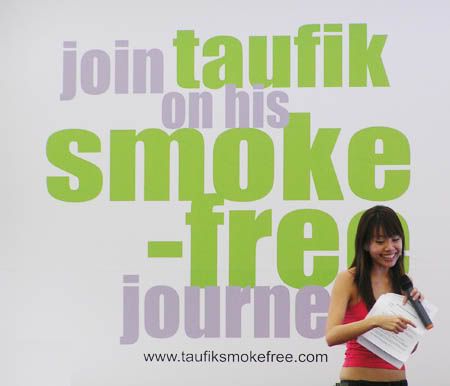 lurve dis photo..although she wasnt looking at my way she looks really prettie in real person!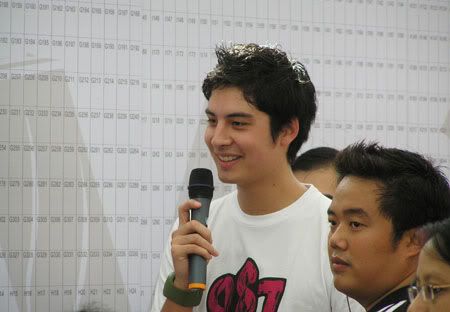 Cant remember what's his name, he's quite cute too..
Me at our booth! it was rather hot that day and alot of people were there to support their idol~ Taufik..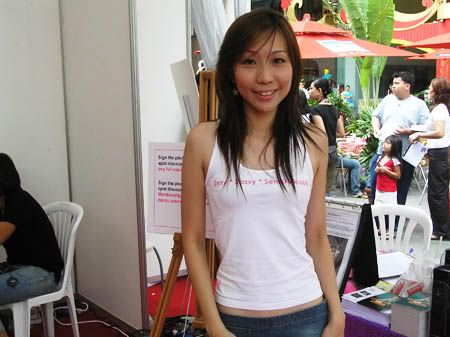 Virgie was the earliest.. reached at about 12 noon and the others came only at about 2? I came even later.. about 3 plus?? keke.. 辛苦了!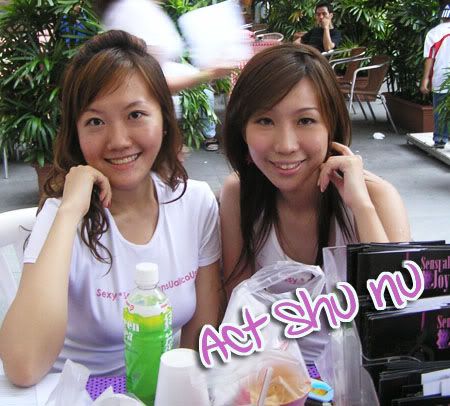 We realised there were nothing much we could do so decided to take a walk inside PS to enjoy the aircon and do a little of early PRE CNY shopping. We both found a watch that we lurved! and only 9 bucks! so of course
mai tu liao
!!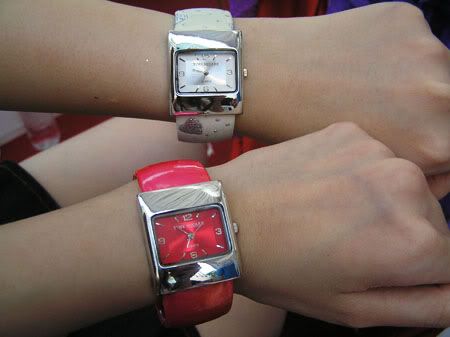 But when we went back to the booth, Gen told us she saw similar ones going for $6 bucks at Chinatown.. *tsk* haha
Anyway.. the watch stop when I reached home -_-... haizz... it's working fine now cos I went down to get the battery changed.
The youths arrive... at about 7...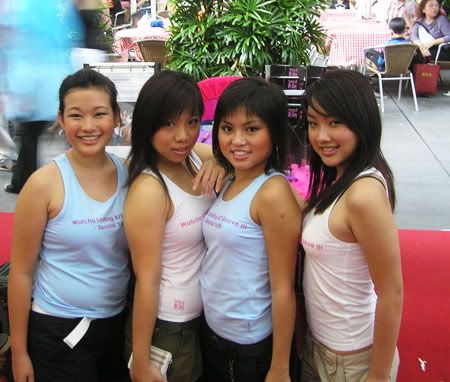 they are really full of energy and very lively. really bubbly gals =)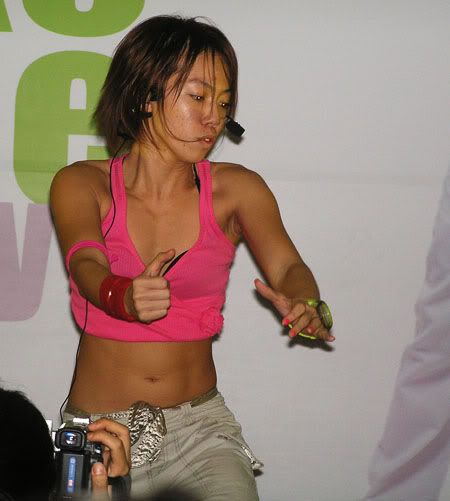 Amore fitness put up a demo of hip hop by their fitness instructors... She was really high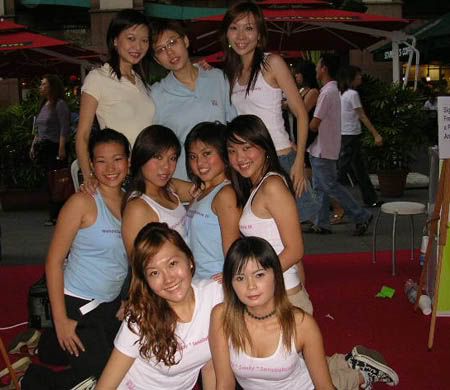 Right before their show time .. our group of gals!!
They were great!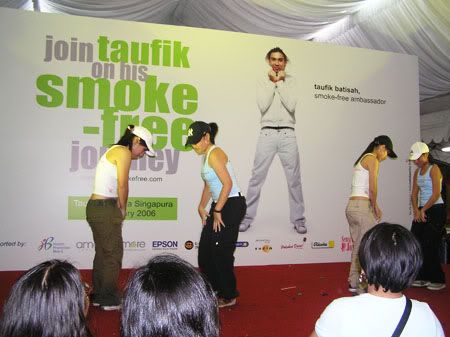 nian qing zhen hao...
Kiyo 到此一游 @ 9:42 PM