Tuesday, January 31, 2006
*~*~*~*~*~*~*~*~*~*~*~*~*~*~
So How did you spend your CNY?

Oh great! I dont have to work tomorrow! I can go for my hair treatment, facial, shopping, gym.. ANYTHING!!

So what did I do on the first day.. hm... Relatives came over to HQ (yesh.. my house is their headquaters) to have lunch and some chat. Few cousins came. I only saw one and I'm older than her. I'm the Oldest among those UNMARRIED ones.
TSK*
It's getting quite stressful and a bit paiseh to get ang pows from them. Had my feasts of pineapple tarts too.. ooh.. My favourites. I finished one tin even before Chinese New Year starts.
Seriously NO JOKE. 时新 has the best pineapple tarts EVER. And you cant get it in Singapore. BAH! hahah. My aunt on my mum's side gives us a nice hamper every year. =D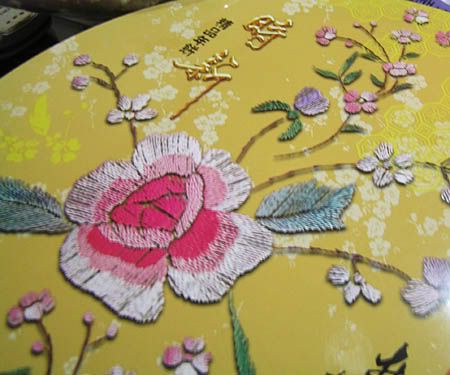 Dis oso Buey Pai Jia..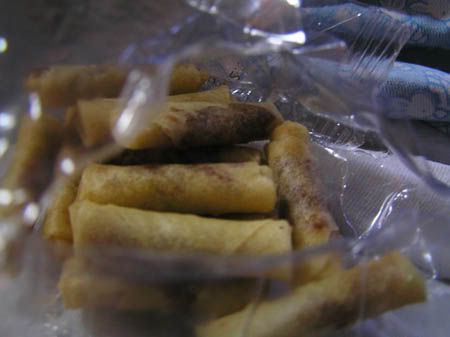 Went over to Johor after lunch with Darren to his house. Yeah.. His mum stays in JB and the customs were HELL. There's no QUEUE!!! Everybody were in GROUPS! Gosh.. I was trapped between a man whose haversack was in my stomach and an Auntie who kept rubbing her box of Kams against my leg.

It stayed that way for 1 hour, Mind you.

I wore my pink watch (4 bucks from BKK) with my pink tee and pink PUMA! hahah. It's Pink Panther Day.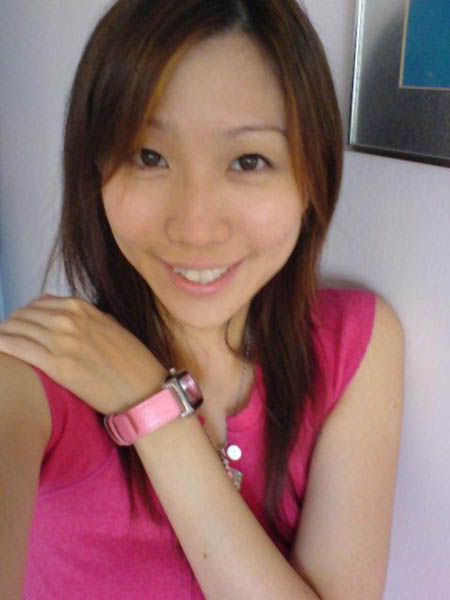 Came back to Singapore after 2 hrs cos it seems like it's going to rain. Watched movies and lazed around in his Yishun home after that.. What a fine day it was, really enjoyed the time with him. He always makes me laugh.

~~~~~~~~~~~~~~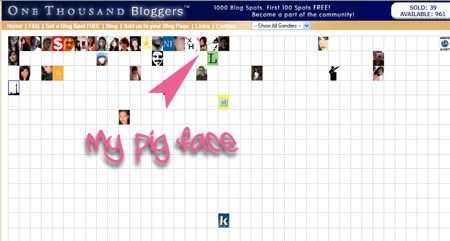 You are not looking at the Layout map of some
TEMPLE/Obituary
Page or wat.
This is a site for One thousand Bloggers.
Saw ppm online and she told me she read in blackhighheels about this interesting site. So we decided to register, FREEEee one worzzz
(for 1st 100 pple)
, And can choose your FAVOURITE SPOT neh! Our
Mai Tu Liao
character subconsciously crept up on us and yeah! we are on it now.
Chose a piggy picture of myself cos it is something that represents me.. at least for now. PIGGING out during the Chinese New year.
I sit in Room 18. In case you cant spot me.. Why 18 you may ask.. 11 was my first choice cos ppm asked me to be her neighbour, but somebody's hands were faster than mine so I got my 2nd choice! No. 18.
十八的姑娘一朵花啊。。一...朵...花 ~
-_- !!
Sometimes, you just have to humour yourself to make your days better.
I have neighbours like
i-am-antisocial-fuck-off.blogspot.com
in
Room 19
&
unknown-to-you.blogspot.com
in
Room 17.Hello there!!
Konichiwa!!
Ani a se o~!!
Read my neighbours~ =)
Went to Balcony yesterday night.. had fun! Pawtoes later!
Kiyo 到此一游 @ 9:45 PM