Friday, April 29, 2005
*~*~*~*~*~*~*~*~*~*~*~*~*~*~
Sorry Folks...
I wont be entertaining you during this long public holiday as I have retreated to the jungles of Bukit Timah Hill.
There was nobody there and this picture was taken using a
Nikon tripod
found disposed there...
Please call me Yogi Master Shanalada (
not sha-la-la-la okie
) when you see me next time.
If my mood is good, I may SHOW you some leg behind neck poses too.
(YOUR leg behind YOUR neck)
Master have decided today is a good day...
to face the world...
WITHOUT MAKEUP!
I realized that my scars are recovering well and today I went to work with only sunblock and minimal concealer. *happy*
And that is what I am going to do for this long public holiday..
I will be wandering on the streets of Orchard (what at night!?!) in the afternoon la for some lunch maybe after my gym tomorrow.
But gym is definite MUST on Saturday and Sunday!
I want to do combat, cycling, and that stewpid machine that ur right & left hands go concurrently with your legs front and back. I think doing exercises will REALLY clear your mind and rid of all rubbish physically and mentally.
My mind isnt quite clear lately.. I have been thinking of my real identity, what i want, and what i want to be.
*skip this, it's too serious*
Okie.. Me! (I hope i havnt scare you..Dont send me hate mail)
This is how I look like in front of the computer...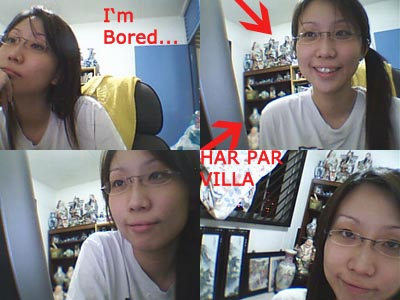 Did I mention that i am currently staying in Har Par Villa
?
This part is dedicated to OEB aka Orange Expensive biscuit's blog.. he said he started his blog after reading mine *touched*
In his bloggie...
I am in the section together with Xiaxue and Kenny sia~ hahahah
F*a**isTh**of SFC has been pm-ing me asking me out. He asked me whether i will be free for lunch on coming Monday..
i wasnt
.
I have something on...
Like...sleeping.. at home.
*opps*
No.. maybe i will be going for a makeover at Naughty by Nature. (this is another separate story that I will save till tomorrow) . Anyway, I dont have the habit of meeting with unknown guys on the internet ALONE.
Than he continued to ask me whether I'm free this friday..
Hi f*a**is, If you are reading this, I will go out with you....
Provided you let me bring my errrr... nikon tripod aka xdd along..
Kiyo 到此一游 @ 10:31 PM