Tuesday, April 26, 2005
*~*~*~*~*~*~*~*~*~*~*~*~*~*~
Loot of the week
Hey, I dont have loot of the week for such a longgg time.
It's not that i did not buy anything. But just too many photos to post so forgot all about sharing my loot
Okie here goes.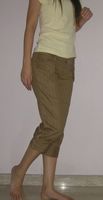 I went to FEP on sat to my all time favourite level 1 and got this capri. and this sash!
I'm still waiting for my sash from my AE spree to arrive.. meantime, i will use this..
Can use it as...
A waist sash..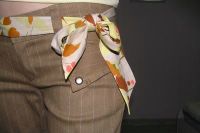 Something for the hair when you are going for a retro party.
(hair's a bit messy though)
or tie on your bag...
or.. according to gerald, u can tie on your hand or wrist if you want too.. for a funky style.
Just saw on the news about the
Singapore Triathlon
. My bf took part in a triathlon once with his friend and swam, cycle and then ran for dont know how many km.. He used to be so athletic. hahah. okie okie.. he is still athletic now..
argghh! i thought i am going ktv this wednesday night.. made a mistake man.. it's next wednesday!
i want ktv!
Kiyo 到此一游 @ 8:03 PM