Sunday, April 10, 2005
*~*~*~*~*~*~*~*~*~*~*~*~*~*~
THANKS to....
So who did this to my photo?? hahah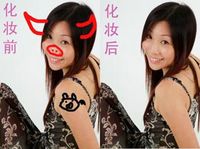 GERALD lo...
This studio picture was taken by another friend, Ivan or Laysin i think.. Asked him to help me edit my picture as the picture was a little dark and he did this... arggghhh.. and
dare
me to post it up my blog.. haha Look at how he sees me through his eyes.

so this post is to satisfy him to see his creation on my blog.. bleh. He did this a few nights ago and i was still wondering whether i should post it nor.. he's being bugging me at it. Think he just derives pleasure from poking fun at me. hng!
(you asked me to post only lo.. u didnt say what size wor.. purposely made it smaller hoping maybe nobody will notice... which is quite unlikely hor.. )
Went out shopping with him yesterday but didnt get anything, cos everything i took off the shelf he just comment
"Very auntie leh" ..

just stared at him than continue to walk liao.. but really appreciate that he asked me out as he knows i got no date *sob sob* and still willing to spend his youth shopping with me..Week after next, there will be another shoot again with my same old friends, Yeow ming, laysin, ivan and gerald.. i think pep will scream "ahah so many people?!?!" and i dont think i will take much pics too...
shhhh.....
Kiyo 到此一游 @ 1:20 PM