Saturday, March 19, 2005
*~*~*~*~*~*~*~*~*~*~*~*~*~*~
Today is real tiring...
Got meeting today (yes! a saturday) for the whole day and I just got back. Presentation and discussions went on fine but you can see all the tired faces or dozing faces at the back. It was rather fruitful but i think everybody didnt pay much attention until the discussion part. Suddenly everybody woke up and engage in kinda informative discussions..
I realize something from today's meeting (actually inspired by one of the presenter), I realized i actually have 2 modes of speaking.
1 mode is the Singlish mode
- "aiya.." "how come?" "no leh.." "maybe lo..."
Another mode is the what i call it
"The gey ang mo mode"(fake ang mo mode) hahahha.
I usually use singlish to talk to some of my friends as it just brings people closer la.. hor? (hee hee) but during presentations how can talk like dat?? haha
actually.. one presenter from Singapore actually used singlish to present.. damn funny (i very bad hor.. but then, not just me trying to control not to laugh but some other people too)
Can you imagine... during a serious presentation, some one can say...
"I tin SIN-GA-PO can..."
"you know la.. the ga-bo-men oso lidat"
-_-"
That aside.. i got some interesting soveniers from the participants (as we are the organizing country). It's really nice of them.. (*touched)
That is a pouch from India..will find some ways to use it :). Got a table ornament of roses.. will put in my office! and the one i like best was the box with coasters inside.. It's from the Vietnam participants and i think the box i can use to keep my earrings and stuff! yippe!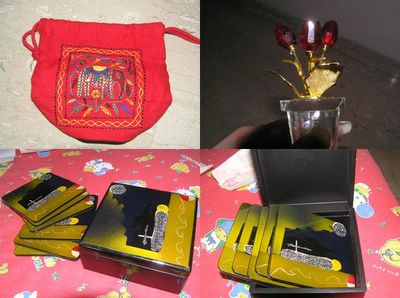 Kiyo 到此一游 @ 7:07 PM