Wednesday, March 23, 2005
*~*~*~*~*~*~*~*~*~*~*~*~*~*~
Easter coming soon.
Cute right.. this big easter egg. Got a surprise actually.
This was actually from Elite Flora. I ordered a bouquet of flowers for our Japan president previously and they remembered me by sending me this easter egg! Their flowers were really nice and exotic and comes from all parts of the world, like south africa, canada etc. I remebered I even called him up to ask him which flowers are from where..(just in case our big boss asked) and had a hard time memorizing them as there were so many types I never seen before. Sam was really helpful. Maybe.. I will use them on my big day hee hee
Open sesame....(nei you qian kun~ I ate until left 2..)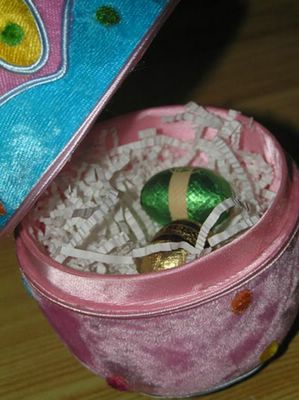 Think I will reuse this egg. It just looks too good to be kept aside. Will go get some dove mini dark chocolates to put inside and on my desk. kawaii~ hee
Took a painkiller for my cramps today. It was synflex, a pill given to by a colleague. Actually I think it should be quite strong as I recovered from the pain after 15 minutes. And of course, with the pain gone, my mood became better, at least i dont put on a sulky face in front of the computer. But I dont think I will want to take that regularly unless the pain is really unbearable.
Bought the much raved about KP loose powder at long last. I only got their refill pack and not their container. Going to put those powder in my new portable cute container!
And guess what!?! my Kiehl's avocado eye cream came today from Strawberry net! so happy. A new eyecream to try again. This will be used on top of the vit K cream I have from Doctor Ong. I think their Vit K cream is rather good for dark eye circles..but it stings a little so eyes have to be closed...
Kiyo 到此一游 @ 6:15 PM