Monday, March 14, 2005
*~*~*~*~*~*~*~*~*~*~*~*~*~*~
My Loot of the Week
Pocket burn hole liao..Went for a underarm bleach with my friend at Devotion Beauty. She did a back facial (which is called bacial for short) and I did my arms and underarms.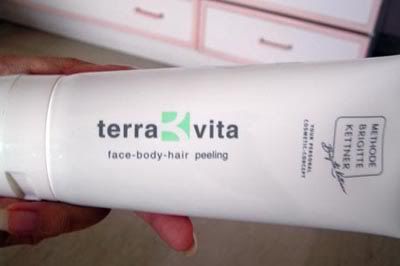 This is the mineral salt exfoliant i bought. Cost me 80 bucks! Really cannot imagine that it can be used on face and body.. even hair! but i havnt tried the hair part.
This is exactly what she used for me and after the treatment, I feel that my skin is more even toned (i'm not exaggerating you know, my friend also commented it's more even) and my armpit really appears lighter! Of course have to use inconjunction with another detox bath oil which cost another 80 bucks... I got it before but seldom use it.
The whole treatment actually cost about 60 bucks.. quite worth it actually.. hee hee Karen wanted to sell me a
AHA body milk that cost 96!
I just told her it's way out of my budget.. anyway, NIKs have a AHA body milk too and I think I will get that :)
Earrings bought at NUS forum when i was there for the Jap Studies alumi gathering. Pearls are actually going to be "in" i guess as there will be a "fu gu feng" coming up.. and i really love the crystals! very feminine! And hor.. they have a website too, as indicated in the picture. :)
Kiyo 到此一游 @ 6:13 PM