Wednesday, February 16, 2005
*~*~*~*~*~*~*~*~*~*~*~*~*~*~
I got a webcam now!
I finally got myself a webcam.. actually dont know why i want to buy too. He left only 1 semester to go.. anyway, this webcam with no brand is indeed good! very clear and has mini light bulbs attached at the side to give it a "nite mode" if your room lighting is dim! wah! like samsung phone like that.. still have nite mode.. ahhah
He gave me a pair of earrings from Fie Japan (my favourite assessories shop!) . Very touched as he must be quite broke and still splurge something on me.
Yesterday nite was kinda something new. After knowing me for about 3.5 years, he has never ever seen how I looked like when i was young, or how "toot" i was when i was in secondary school. We looked through my photo albums last night, was quite enjoyable.. haha i wished i can destroy those pictures that showed me as thin as a "bamboo" sticking out in the picture. Atrocious!
This is me when i was in secondary 3 i think... hair so short! TOOT! I have never had long hair until after i met him.. hee hee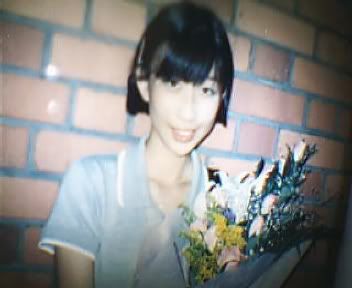 Kiyo 到此一游 @ 9:45 PM