Saturday, February 12, 2005
*~*~*~*~*~*~*~*~*~*~*~*~*~*~
FaCe Of ThE DaY..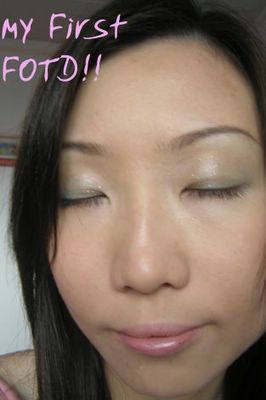 My first FOTD! Took this picture for fun to try out.
FACE :
Chanel Vitaluminere, canmake loose powder

EYEs :
Kate Glitter colour eye pencil in turquiose and pale pink

(newly bought yesterday by recommendations from podders!)
BROWs :
Eyebrow powder from Basic Beauty
CHEEKs :
Benefit Dandelion
LIPs :
MAC viva glam II

Didnt do much today. Went to sim lim to source for a webcam with darren. I bought one at 39. It's no brand but it works fine for me! and it has this nite mode too.. which makes the subject brighter in dim lights. Tested the cam with panda and let panda see who's the real panda hahha.. of course it's ME, MUAR MUAR!!
Kiyo 到此一游 @ 10:18 PM