Saturday, January 31, 2009
*~*~*~*~*
we had lo hei today!
the colours were really pretty and very delicious! made by my dearest mother in law. She's really good at making goodies and made the sauce herself. I couldnt eat anything raw so a fruity lo hei was made. There's all sorts of fruits inside, including pomelo and pear. There's abalone and honeystars too! for the kids.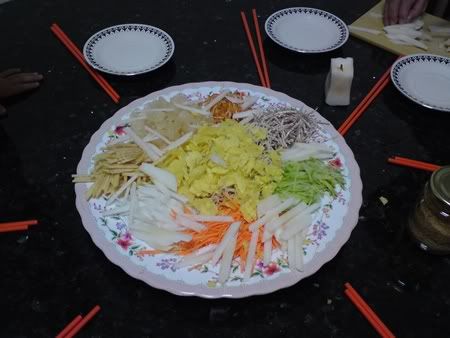 Into my 5th month now! How time flies. Another 4 more months to go! Next Wednesday I will be going for my detailed scan and hopefully we will be able to confirm our baby's gender.
I miss seeing our baby on the ultrasound. Really cant wait!!
My colleagues have been guessing baby's gender weeks ago. Some of them said girl but most of them guessed boy. Really not sure what's the logic or rationale behind. Maybe it's just their plain instinct.
If you ask me, we love both cow-girl or cow-boy! and wawa has been really active in my tummy lately, celebrating cny in her/his own way.
"Dong Dong Long Dong Qiang" inside.
hur hur hur
Kiyo 到此一游 @ 9:42 PM