Thursday, January 17, 2008
*~*~*~*~*

Finally had time to blog.. *phew*

This bkk trip is seriously not just a simple company retreat. It's an ENDURANCE TEST!! But it's FWEE so it's still a very good trip with free food and accommodation.

We were allocated to Group C, which will land bkk the latest at about 7pm. The other groups landed at about 4 plus. =( booozzzz..But guess what, our flight was delayed!
For 2 hours! Everybody was so sian




At the airport.. nothing to do



we went to Terminal 3 to look around. IT IS HUGE!



Started cam-whoring everybody as they all were so sian of the waiting. Our group became livier after that. he hee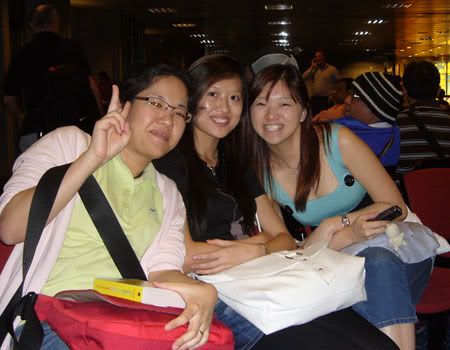 And we only reached the hotel at 11.30pm Singapore time. After checking in, it's almost 12.30am. Faintzz.. everybody was so so tired. We only managed to walk the night markets for like 10 mins and went back our hotel room to rest at 1am.

The next day we have to wake up at 6am in the morning (5 am Thailand time, ULTIMATE FAINTZ) for breakfast before departing to lumpini park for our team building activities.. It was pretty fun doing the 5 stations except for the weather. It's excruciatingly HOT.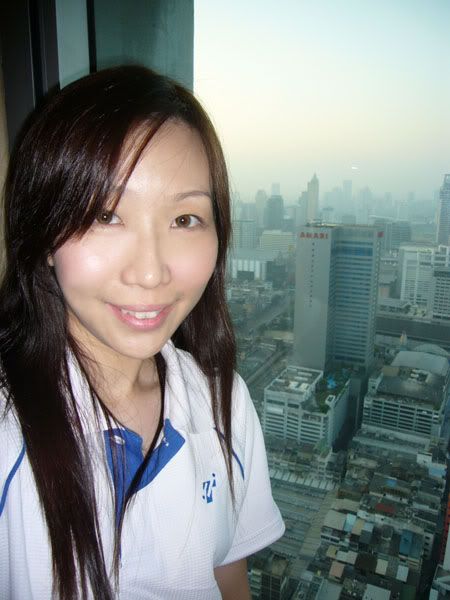 We stayed at the 45th Level of Baiyoke Sky Hotel. Quite a good location!

Team building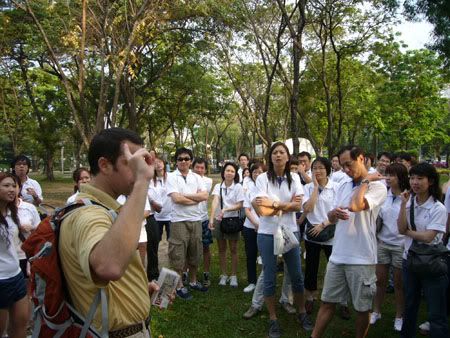 Our first station was a rope game. We were supposed to form different shapes and alphabets by pulling the rope and of course, no verbal communication is allowed.




2nd station was Blind blocks (which was really easy) where 2 parties are blindfolded and they were supposed to assemble some blocks. But again no verbal communication for the rest of the people but the 2 parties who were blindfolded were allowed to ask questions. That was a pretty easy one.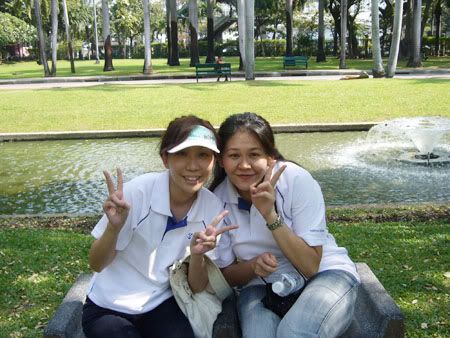 The games involved a lot of analyzing and also teamwork and it was pretty fun cheering each other on. But we were dead beat after that.. the coach was in total silence cos everybody was sleeping!

After a good lunch at a Chinese restaurant where the waiters wore roller skates, (didn't take much photo, too tiredz..) we were given 2 hours of free time to do what Singaporeans love to do. SHOP!!


Really good FWEE food =p



They were in the Guinesss Book of Records for being the largest restaurant in..

1992!!!

=____=



Our hotel in a distance...

we went back and took a bath cos we smell.. literary. Maybe as bad as the CHAO PRAYA RIVER.
Bought 1 tee at Platinum Mall and more stuff for our house!.. I realized the clothes are too young for me anymore.

Refreshed! but with siao char bo hair



Night time.... we had a cruise and dinner on the cruise =D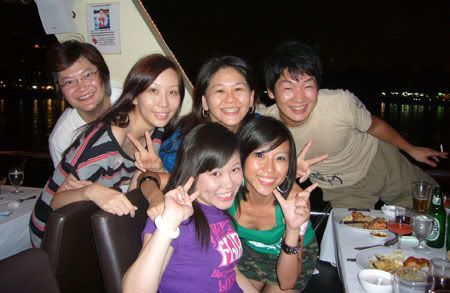 After that, we went to suan lom for some shopping and a foot massage.

I think we slept at 4am in the morning =______=

Woke up at about 8am (faintz again) to take the breakfast, visit Erawan Shrine and get the cheap lingeries before checking out.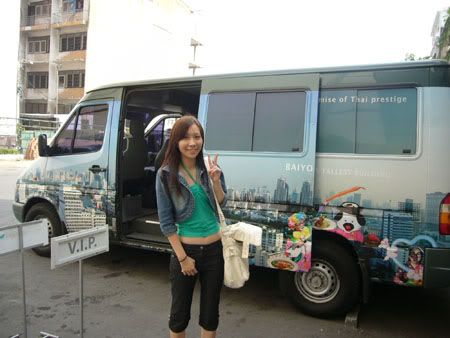 The free bus to Siam Square



how to forget birdnest? =D
Really a tiring trip and many of the employees simply stoned on Monday as we returned on Sunday at about 11pm..really appalled by our endurance. Some gals even woke up at 3am.. TO SHOP. =)

we gals can really sacrifice sleep for shopping!
Kiyo 到此一游 @ 7:25 AM