Saturday, January 22, 2005
*~*~*~*~*~*~*~*~*~*~*~*~*~*~
Found an interesting webbie..
I have been playing barbie since young and recently I revived that practice on the internet! Found a jap website that is real cute for designing avatars.
You can choose to design everything! From the skin colour of your model, to the clothes and shoes she or he wears. I can even choose where to have a mole for my model,or even her faceshap and mood. Hee hee I have been trying out different outfits for my model a few days back..very fun. The downside is some "clothes, accessories" are not free. Usually the nicer items are not :( . I just chose those free items (me cheepo mah) haha..
My models of the day! Can I have her hair?? hmm..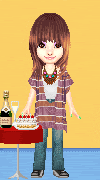 Kiyo 到此一游 @ 9:42 AM