Sunday, September 03, 2006
*~*~*~*~*~*~*~*~*~*~*~*~*~*~
a story about 2 fools..
woke up at 8 plus and had a nice breakfast with Darren at Mac, thinking of going to Comex early to beat the crowd. He wants to get a desktop..
started acting cute cos he's the
only
guy I know that dislikes yang chen lin.
*she's such an angel! nice voice, cutie looks*
we came across an i-weekly magazine poster with a cute pose of yang in the following.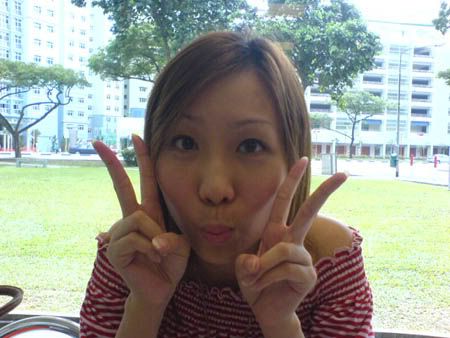 I know I look sucky~ but her pose is really like dat lo.
Different people do, really got different effect whahah!
Forced Darren to do it as well. hoho.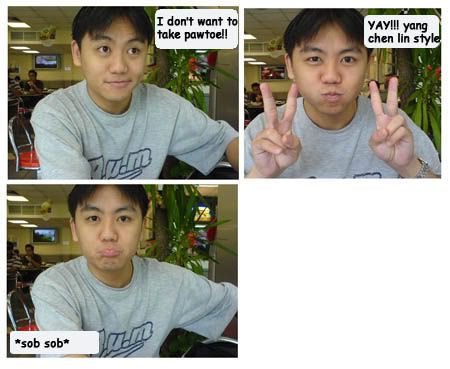 Now I know why she's earning big bucks and we are still sitting in front of our comps.
We just dont carry that cute thing off very well.
hmmpf~
Went off to the comex, reached at about 10.15am and realized that it starts at 12 noon!!!
GOSH~ we confidently thought it starts at 10 am and didnt even bothered to check the papers for the opening hours.

Waste my time~ shouldnt have woken up so early.

So we waited there *like fools* for them to open. tsk*
Admiring at the models with billboards walking around, discussing about their length of skirts and looking at the brochures available. hee hee

After the comex, we went back to kallang and saw this Waterfest thingy. With nothing much to do, we went to take a look. It's at the indoor stadium till today.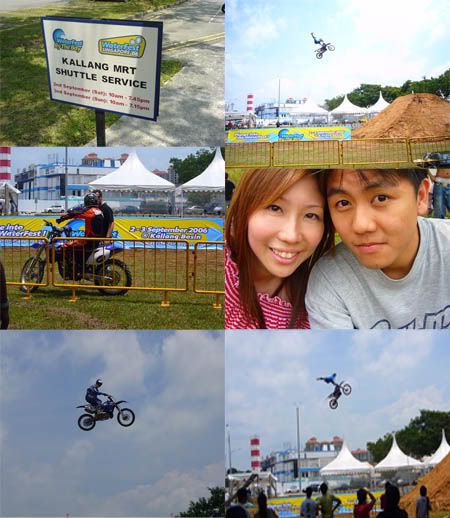 There wasn't many people there, i believe due to the poor advertising of the event. But we did catch some performances and stunts.
The stuntsmen from Down Under were good!
They can fly with their bike like nobody's business.

They even have free banana boat rides, free kayaking try-outs and free water ski try-outs too? Good for the adventurous.

Pity we didnt bring extra clothing..haiyazzz

Met up with virgie and peimin for dinner too~ at ichiban boshi and finished with a desert at Ben & Jerry's.
Okay, I know I am sua ku but this is the first time i ate ben & jerry's icecream after hearing all the raves.

I lurve their mint and choc chunks!!
Labels: Silly Stuff
Kiyo 到此一游 @ 9:46 AM