Sunday, December 14, 2008
*~*~*~*~*
Had a fun gathering at Shokudo last night with SFC friends.
It was really a long time since we met.
Never been to Shokubo at heeren and I think the food there is not bad, great for big group gatherings.
But feeling abit crampy last night after i went home. Must be all the cold drinks I drank last night. Haizz
Anyway we had wanted to share this piece of good news quite some time back but being abit "pantang", we didn't..=)
We will be expecting a new addition to the family next year!
Yay!
kiyomi is going to be mummy kiyomi soon and EDD (estimated delivery date) is 15th June 2009, maybe a Baby Gemini. heez
havnt been updating this blog on a regular basis as i was super tired most of the time and there's seriously nothing much happening in my life now except for doctor's visits and resting at home.
But i did start a blog for our baby, monitoring our baby's growth and recording every visit to the the Doctor.
The first time we saw our baby, it was really a miracle.. words cannot describe the feeling when the Dr turned on the speakers to let us hear the baby's heartbeat. The heart is already beating furiously away at 6 weeks.
This pic is taken at 9 weeks. Dr Chan's scan is really very clear!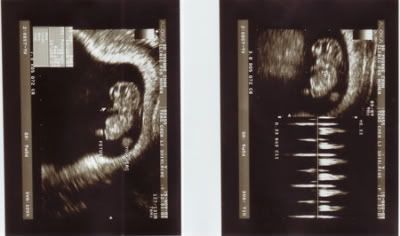 Okay.. that's all for tonite.
Mummy kiyomi is going to take a rest ler. ^_^
Kiyo 到此一游 @ 8:27 PM