Saturday, September 13, 2008
*~*~*~*~*
I cannot imagine our luck.
I received a call from my agent and he told us we won something. Our Xiao Huang really brought us luck!
We won a pair of F1 tickets!
And it is worth $13,000 whoopee!!!
I couldn't believe my eyes when I saw the letter from Honda. I thought maybe they just marked up the value of the tickets. But after checking at the F1 website, it's true after all as it is a 3 days pass and totally VVVIP treatment!
It is a 3 day pass to the F1 race where guests will be watching the race, in an aircon 2 level "suite", they call it the sky suite, with free flow of wine and liquor etc.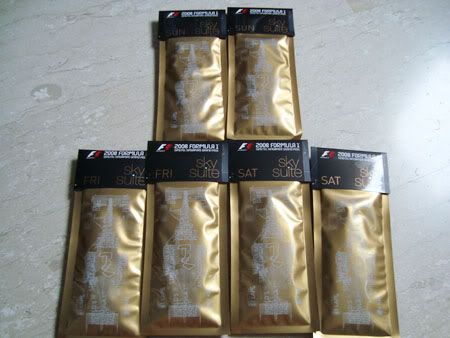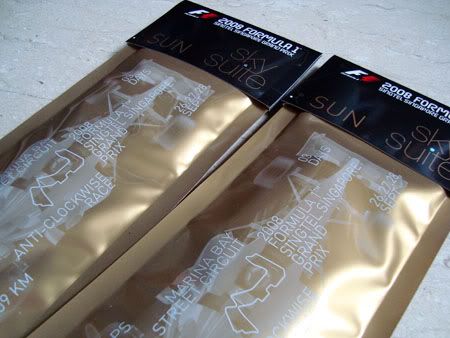 Dinner and light supper will be served too. There will be an outdoor sky deck above the sky suite with a lounge and bar area to enjoy the race under the night sky.
Our tickets belong to PIT SUITE which are situated above the premier grandstand, letting viewers stare down the pit straight into the pit lane and watch the action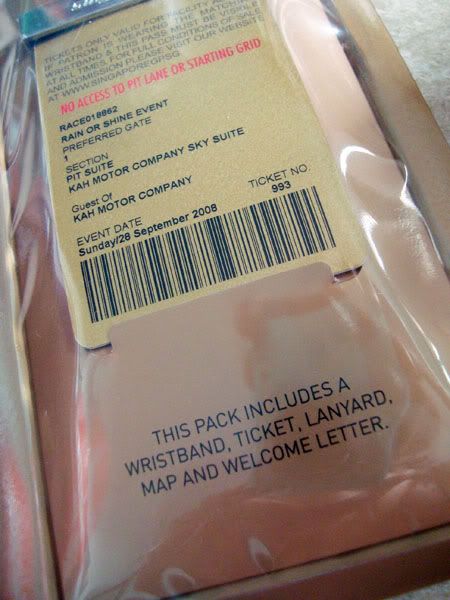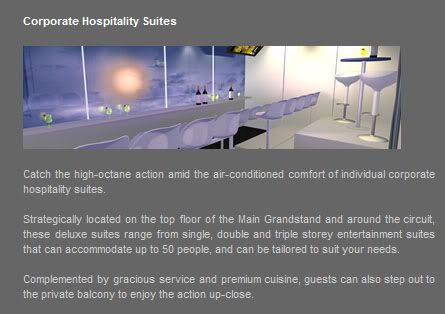 We will be trying to sell the tickets first as it is transferable. It can be sold separately to different individuals for the different day passes.
The Sky Suite includes:
· Dedicated corporate suite within Circuit Park
· Three-day season pass with limited edition 2008 Formula 1 lanyard
· Indoor glass-front dining suite with private bar
· Outdoor viewing area at the front of the suite
· Access to shared sky terrace with additional bar and viewing options
· Arrival Tea, Dinner and Light Supper will be served
· Free flow premium wine selection (including Champagne)
· Complimentary open bar
· Access to corporate suites from 3pm to 11pm over 3 days
· Access to watch the full programme of support races
· Live screening of the race on LCD screens throughout the suite
Kindly email me at luvmelots@gmail.com if you are interested. I will be looking at $5,000 for a pair of sky suite tickets for the actual race on
28th September
.
For
27th September
tickets where you will get to watch qualifying races and other supporting races, it will be at $2,000 for a pair (all benefits are the same for all 3 days)
I guess we will be utilizing one of the days' ticket, maybe the friday's one..
But if there is a single buyer for the 3 days pass, we will definitely let it go at a cheaper price.
Do let me know if you are able to find a sincere buyer, and we can discuss about the commission too =D
Cheers and have a great weekend!
and if we didn't manage to sell it, i guess we will just go and experience it ourselves. It should be a once in a lifetime experience. =)
So looking forward!
kudos to Kah Motor and
HONDA
!!
Kiyo 到此一游 @ 12:38 PM