Wednesday, July 30, 2008
*~*~*~*~*
It's my birthday today!!
didnt receive much gifts but alot of vouchers! yeah from merchants that want to be reminded that they are still around...Those vouchers just practically screams out "COME SPEND YOUR
BIRTHDAY
MONIES WITH US!" maybe i will use them this weekend, especially the movie ones keke
but i think what my remisier sent me was quite innovative and cute
Guess what this is?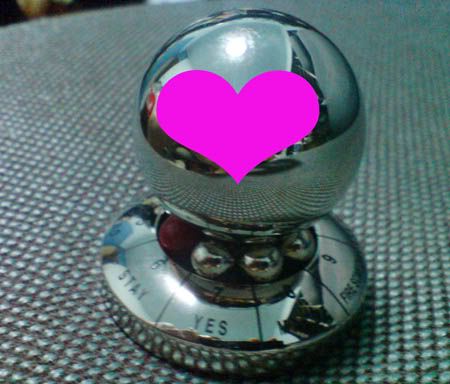 It's actually a metal ball that can rotate (yeah there's a heart shape there cos the metal ball has my reflection) with alot of words below. Words like "BUY", "SELL", "STAY" and even "ASK MOM"
=___=
maybe he wants me to use that to decide whether to trade or not.
Realli know how to earn $$ =p
Too tired to blog about other stuff, had a great "crabby" dinner tonite and tomorrow will be my long awaited facial with my colleague.
Nites.. got to sleep.
SUPER DRAINED
Kiyo 到此一游 @ 9:11 PM