Wednesday, January 09, 2008
*~*~*~*~*

Actually i wrote this after my banquet.. but no time to post.. keke

~7th Jan 2008~
Here I am penning down my thoughts at 4am in the morning cause i was woken up by 2 things.

Darren's incessant snoring and my growling stomach. Being a light sleeper, I couldnt get to sleep again and so i turned on the tv and while penning down my thoughts, i ate the leftover club sandwich that the hotel gave The Day Before. Anyway, i was too hungry to think whether the food has gone bad. =p

Really enjoyed myself during my AD. It was pretty relaxing and everything was chop chop which was what I like. Was a little stress about the dress and march in as there was something wrong with the can-can inside my dress and I keep stepping on it. Very scared that I will fall down so was really conscious of my every step. And I so adore Julia Wedding News too! Their gowns are gorgeous and i simply lurve my 2nd outfit! Three words~ Full of bling!! Not to forget the lovely hands of Xiaoqi who covered all my flaws and made me a beautiful bride that day...

my gown which has a long train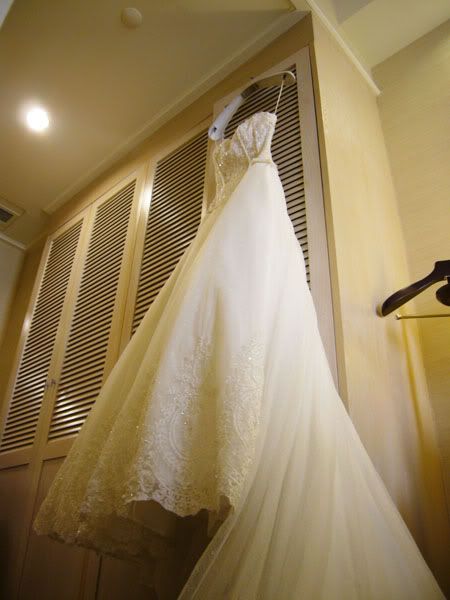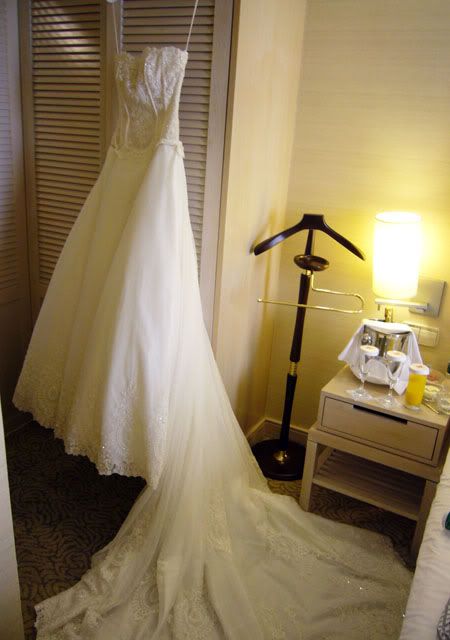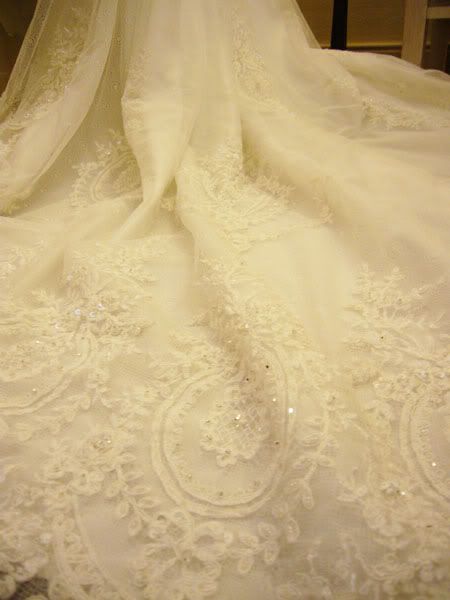 The veil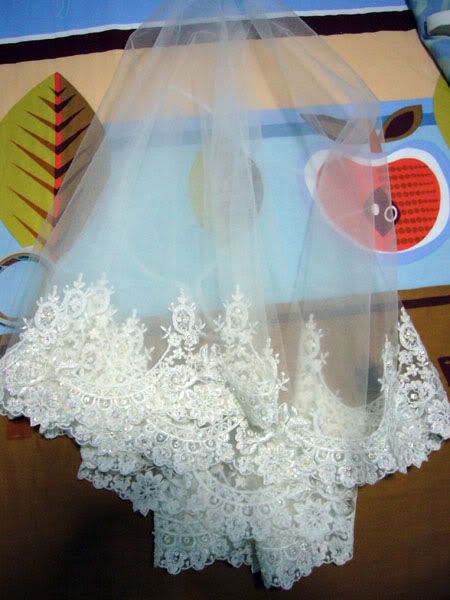 Morning look ~ the "ICI" was really thick, wasn't really used to it but it melt away after the hours passed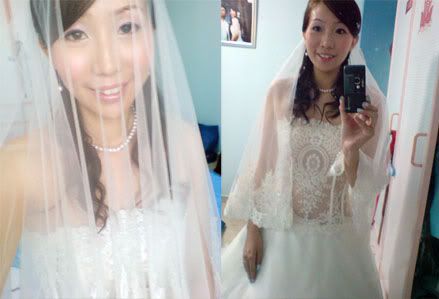 Tea Ceremony~ gim dang dang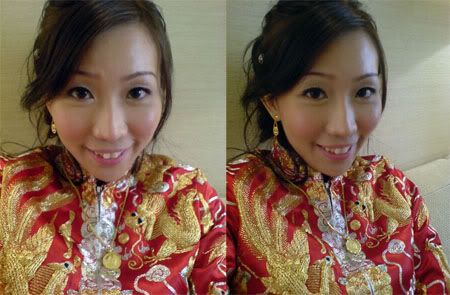 Banquet Look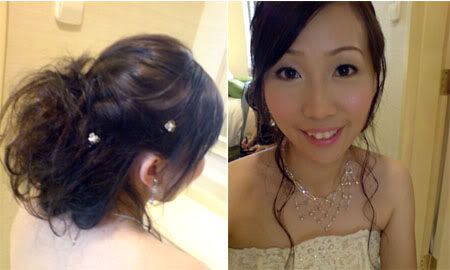 2nd outfit with hair down after the event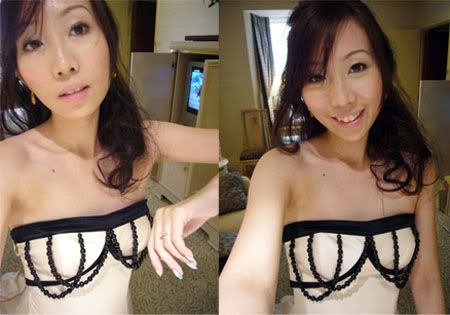 it's the day for zi lian manzz haha

Not sure whether lao gong enjoyed himself but he tah-ed alot of wine. keke Not just normal red wine but red wine with chilli, vinegar and gawd-know-wat sai they poured in. *shudder* But anyway, since it's a once in a lifetime kind of sabo, it should be a once in a lifetime experience too hee hee..

Oh yah, and i really LOVE Traders Hotel too! The food got many compliments from my relatives and friends. They were afterall part of Shangri-la group although it is their smaller chain of hotels.

We only had 16 tables and our luncheon ended at about 3.30pm. Had our tea ceremony after that and everything ended before 4.30pm. After the banquet, we were served the banquet food in our hotel. Besides the sharksfin, we love everything! especially the Eefu noodle and the chicken. Their service was not too bad too... Although their location is a little off, i still strongly recommend Traders's Temasek Ballroom for a small and cozy wedding =)

The view from our room...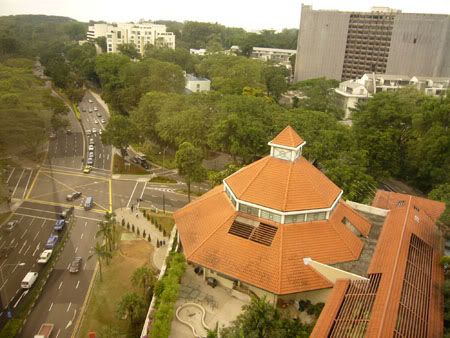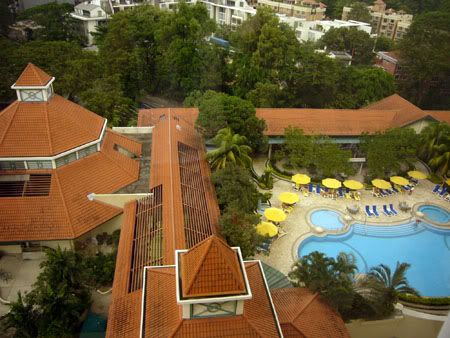 our leftover banquet food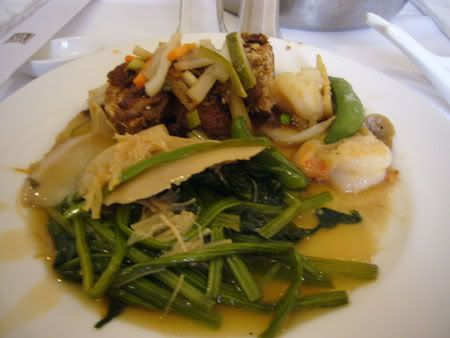 the polaroids we took.. going to make into a mood board!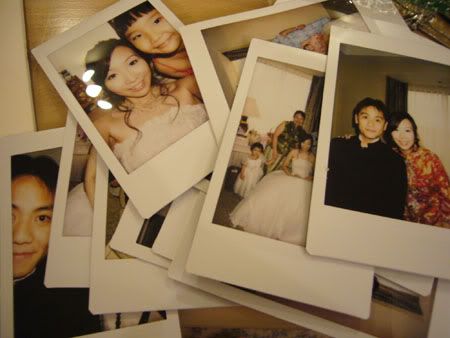 After the xiongdis went off, we counted our ang pows and we had a fun time. =p

We thank everyone for their kind gesture and we were really happy to receive the gifts. Most of our friends were very very generous and Darren was very touched. *sobz*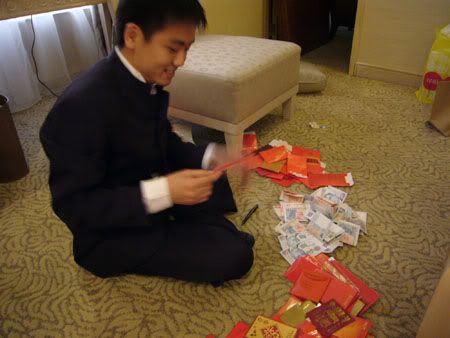 We took more photos before we decided to go to Tanglin mall to shop for some necessities and after a hot bath soak and a good rubdown, we hit the sack at 10pm.

After the event.. look at Darren's orrr bakkkk KAKK...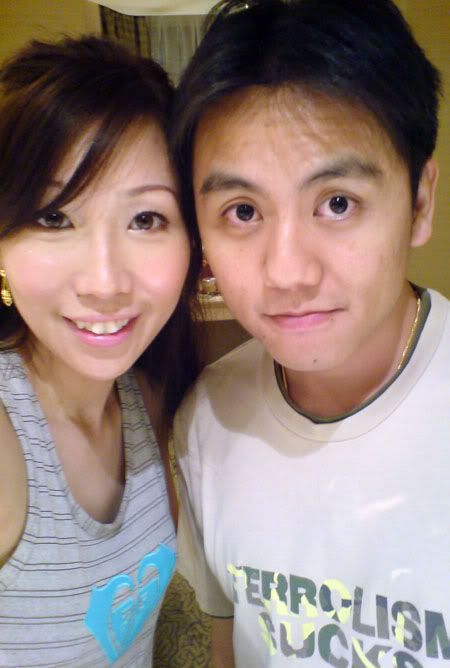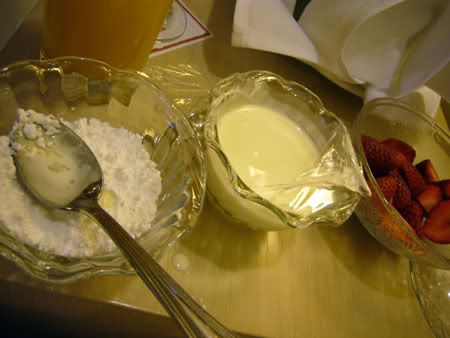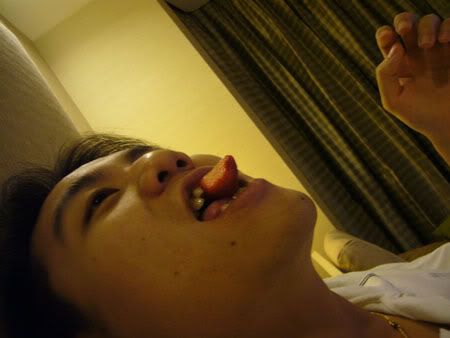 And of course, we couldnt have done all this without the help of our friends, jiemeis and brothers especially Fanyu, Weihuang, Evonne, Xin Ying and my sister. Fanyu and my sis were the Emcees and they really did a great job!

Not forgetting Gerald as well as Kelvin too. Poor gerald was a little sick on that day. Still owe him a big meal as he didnt have the chance to taste the food from Traders Hotel. Shall go for seafood!!

Gerald & Kelvin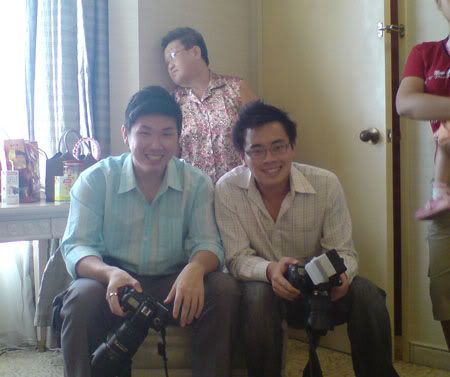 Gerald uploaded some of the photos he took that day and we really lurve them! Very touched by what he wrote too..Thanx so much bro =)

Check it out here at his ~ blog ~

Today will be the start of our new journey as all these planning ends.
Wedding is just a memorable day and the journey down the road is far more important than the ceremony itself... & i'm really looking forward to everyday in my new life as Mrs Gan =p
Labels: Wedding
Kiyo 到此一游 @ 6:17 PM