Friday, June 08, 2007
*~*~*~*~*~*~*~*~*~*~*~*~*~*~
have been so sick for the past week... cough, flu.. even my voice turned ultra sexy..
=___=
have been sleeping at 10pm for the past 2 days. I feel my 七魄 slowly coming back to me.. haha
Tomorrow I'm going to try alternative therapy, Chinese medicine!
the other side of my earrings... they come in 2 pairs where you can mix and match freely yourself. I thought they are really cute.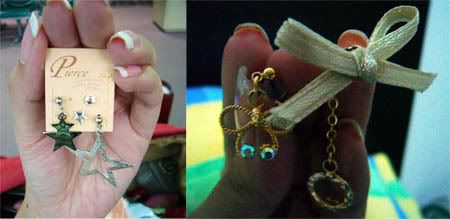 my new 绝对 super stars!!not cheap oso...but they are from japan that's why.
~~~~~~~~~~~~~~
4th Day of Taiwan Trip!
It's a bright Sunday morning. and it's Wu fen Pu day! yippees!
before that, we went for a sumptuous breakfast at Hu Xu Zhang.. hee hee the breakfast in the hotel is just too pathetic. Only porridge and bread..boo..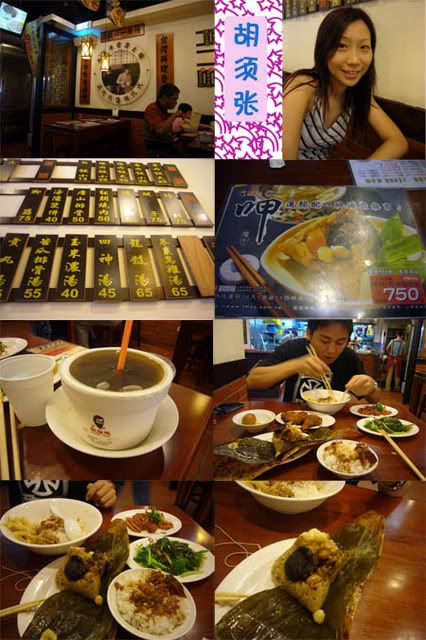 their ru rou fan is really good, and we really ordered alot!
The last time I went to Wu Fen Pu, I was having a terrible headache so I didn't get to see alot of clothes. Wasn't interested in buying them too. Their clothes are more to the jap/korean/taiwan kinda style but there are alot of cute tees too. But I didnt buy cos i seldom wear them..
This time we shopped to our hearts content =D
but the weather was hot, and before completing half of wu fen pu, we surrendered with alot of loots and 2 empty pockets.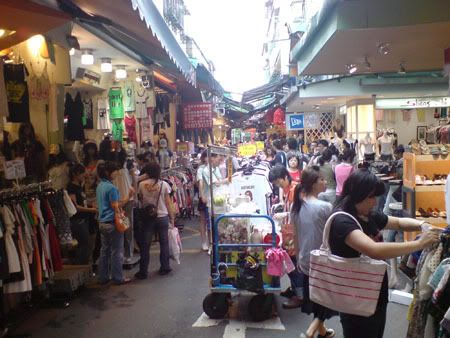 Actually their clothes arn't really cheap. To me, cheap is
10-15 bucks
. I got some good deals though keke. Some of their nicer clothes are selling at 20-25 bucks.. Didnt buy much of those as I don't see the reason of lugging them home since we can get similar ones in Far East at a few dollars more. So I only bought those slightly cheaper ones. Shilin's clothes are way cheaper!
Darren bought alot though! Most of his loots are from wu fen pu. One out of 8 shops in Wu fen Pu is selling guys' clothes so whenever he caught his eye on one.. he goes crazy~I lost count to the number of tees or polo tees he bought... maybe 12, maybe more.. but he became more receptive to the colours and no longer only choose black or white or blue. He bought pink lah, purple lah hahha.. =___=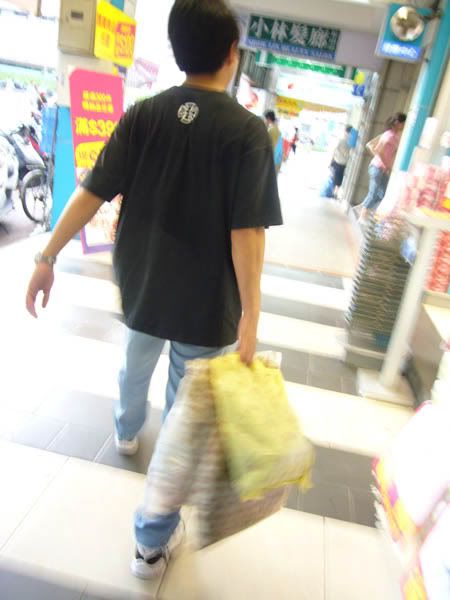 didnt take any more photos along the way cos we were really hot and sticky and super lok kok.. here's the loots!
my favourite buys! are the short white skirt and shorts...the white skirt in knitted material hee hee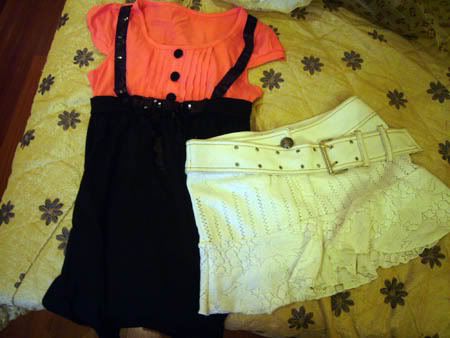 it's ultra SHORT...darren initially forbids me to buy that but I managed to persuade him...somehow. Maybe he enjoyed the bargaining part with the sales girl. I seldom bargain..even when i did, they usually give me only slight discount. But he is one good negotiator. Most of my clothes, he bargained with the sales girl.. i think they like him more.. =p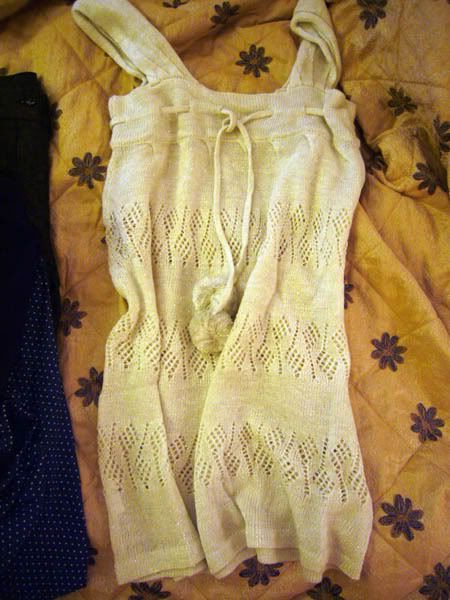 10 sgd dollars..
i forgot! this only costs 5 dollars!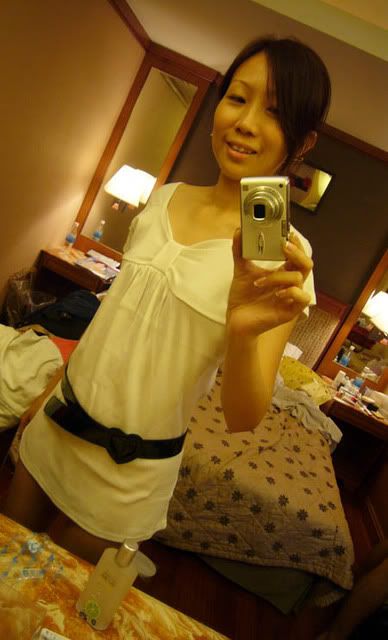 oso 10 dollars...
this one as well... 5 bucks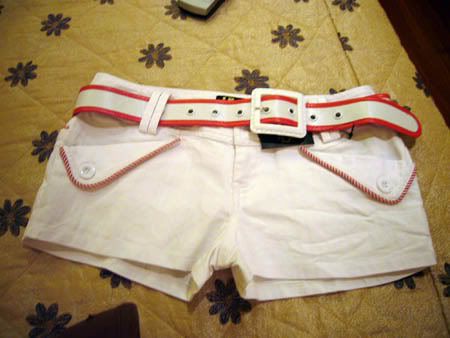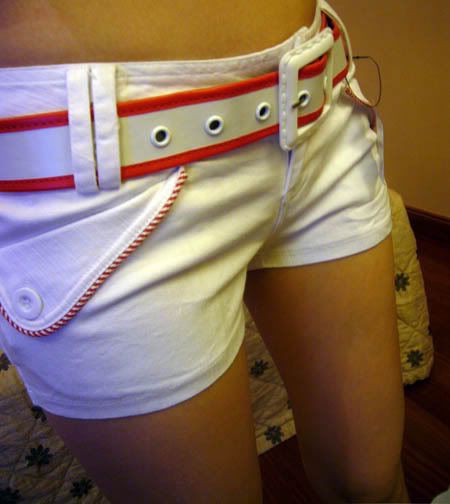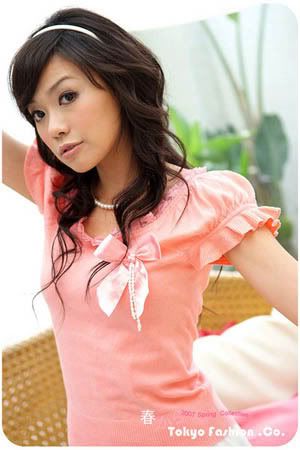 These cost about 18 bucks..Still had quite a number of loots, upload next week =)
We went back to hotel and rest before we went for dinner at xi men ding.
Decided to try Magic Curry.. looks really good..and indeed it was great! you can have free servings of curry and rice as well. Really cheap and good meal.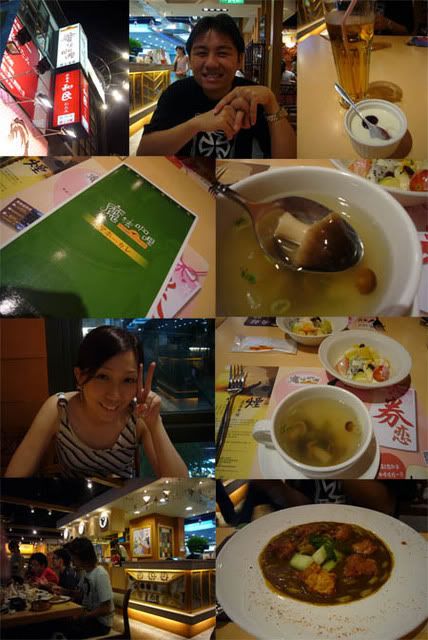 we saw this guy who was performing stunts.. He is so darn FIT! very very muscular, very tall and quite cute nah. =p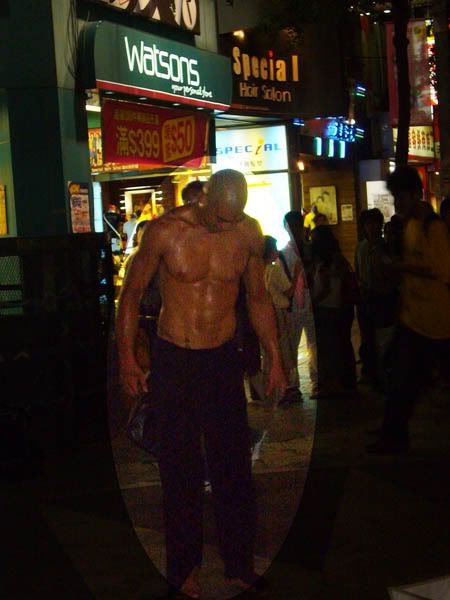 look at his 6 pecs. okay..my camera is lousy but his bod is definitely more defined than that.
Video!
Labels: Taipeiphotoshoot, Travel Tales
Kiyo 到此一游 @ 8:33 AM