Thursday, May 10, 2007
*~*~*~*~*~*~*~*~*~*~*~*~*~*~
Our ROM card design is done.
With the kind help of Gerald who contributed the lovely cute cartoon characters =)
Wanted to send for printing using a contact Lyana gave but we decided to print ourselves since there's only 45 pieces to print.
Bought glossy paper at Art Friend to test print at home.
My printer has done me justice. ha! The colours were pretty decent and it's really cheap to print at home =D
It's a simple card..did the layout and design myself and it's nothing fantastic nah..Can print 2 in 1 piece hee hee. still got map horkay...
mai siao siao
. and i lurve the fonts!
Front (not very clear)
Back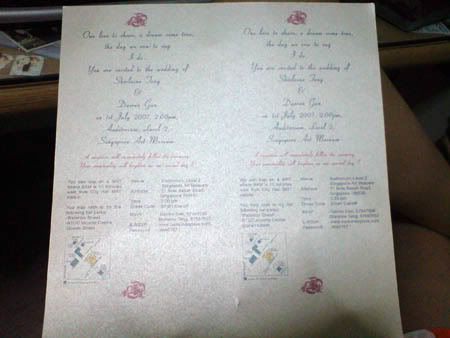 Labels: Wedding
Kiyo 到此一游 @ 10:50 PM