Tuesday, October 17, 2006
*~*~*~*~*~*~*~*~*~*~*~*~*~*~

I lurve girly heels!
Girly belts too.

went to yet another blissful and cozy wedding of my ex colleagues over the weekend.

The wedding wasn't very elaborate but it was cozy and sweet.

It was good meeting up with them. Coincidentally, it was my ex boss last day in singapore before he returned to Japan (for good).

The guys were there to make him drunk till he kept kissing around, even the guys! and my hand.. =___=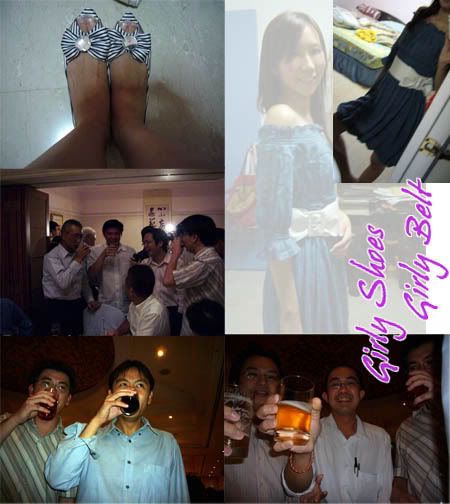 my ex colleagues.. they are really nice people. Really luckie to befriend all of them. Always in laughter with their company. All male cos I'm the only gal in the department ha~

Went to an event, Weddings at InterContinental on Sunday to attend the launch of their new ballroom.

Got FLEE gift!! (sounds so gian beng)
Pwettie right?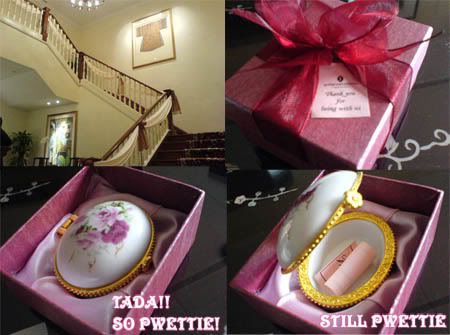 Cant' take pictures of the ballroom as we were not allowed to.
It was really spectacular with their new crystal chandeliers, lightings and soothing jazz music were played while the models sashayed in divine couture's gowns.

The high ceiling made it a grandeour ballroom that I guess every girl will (including myself) wish to hold their wedding there.

Kinda envy couples who have endless budgets to hold weddings in such posh places and making it a memory of a lifetime.

But as I grew older (& wiser) , it's practicality over posh.

I doubt I will have a grand wedding in Intercontinental in the future. Firstly, how am I supposed to find 320 people to attend my wedding!? okay if invite lao wang, lao lin and lao jiao from primary school or maybe san gu plus liu po maybe la.. maybe will hit the minimum number of tables.

Don't have that kind of money.. and...

Wat is important is not the cost of weddings, but our expressions of love.
Labels: Food and Events
Kiyo 到此一游 @ 8:23 PM