Tuesday, October 31, 2006
*~*~*~*~*~*~*~*~*~*~*~*~*~*~
Haappi Halloween...
It's halloween today.
No scary pictures of myself to share so post one of my sister's!
Her theme was race queen that was lang-gah
ed
into perfection.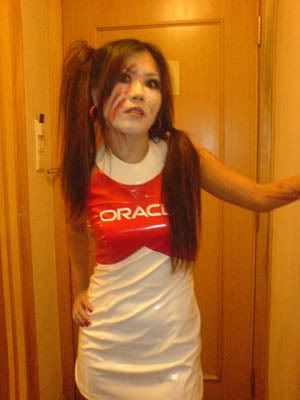 anyway, i luffed the moment I saw this portrait cos it was really a good impersonation of the Japanese race queen!
she really did capture the essence of them, yah..
You know, they simply lurveeee to tie 2 pony tails..and why is it crooked now.. cos she was lang-gah
ed
, remember? hee hee
and maybe it will be better, if she has striked a V-pose with that bloodied face, than she will look 100% NIHON-jin.
coolzzz...
"I wonder if you know
How they live in Toyko
If you see me then you mean it
Then you know you have to go
Fast and furious (Tick, Tick, Tick)
Fast and furious (Tick, Tick, Tick)"
Labels: Food and Events
Kiyo 到此一游 @ 8:39 PM