Thursday, September 07, 2006
*~*~*~*~*~*~*~*~*~*~*~*~*~*~
I know my ang mo is not any good and I am in no position to laugh but this is so so =____=
Organized a mooncake spree
(yesh, mooncake oso can spree)
from Hotel Intercon last month and it is due for collection till end October.
Colleague A called up for collection and said : Hello, can I collect the mooncakes? I have reserved a box of Lotus seed with eggyoke..
Waitress : Yes. You can come down and look
AT ME
.
=______=
colleague : who wants to look at you... i want to collect my mooncakes larrrrhh
beh ta han...
------------------------
My shirt dress arrived!
Okay, it is NOT exactly a shirt dress, just an "oversized shirt"
Heck! watever you want to call it, dont care.. I lurve it!
Think the quality is gootz~ not to say that it's cheap as well.
Good for my working wardrobe!!
Wore it to office today. lalala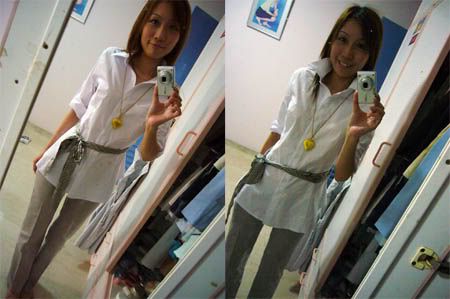 Wearing something nice to work makes my mood GOODZZZ
LEFT :
Normal Shirt dress looks like that
RIGHT :
when you overturn the collars.. woohoo, stylo milo dinosaur look haha
Labels: Fashion Fuse
Kiyo 到此一游 @ 9:51 PM