Monday, September 11, 2006
*~*~*~*~*~*~*~*~*~*~*~*~*~*~
Finally moved my ass out of the seat and gave my body a good workout~
havnt been to the gym for at least 6 months? lazy me...
worked out all the $70 bucks buffet I ate and those alcohol i drank over the weekend.
pampering mask laterz~ hoho
It was Darren's sister birthday on Friday and she celebrated it on Saturday and treated us to buffet~
Really nice of her to bring us there cos i never ate such good buffets before! ha! I dont eat much so it's practically a waste of money to go to buffets. But yesterday, i really ate a cow.
The Melt at Oriental Hotel.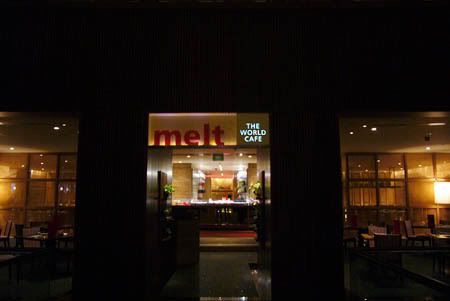 It's realli realli good, thumbs up highly recommended by kiyomi.
They have Thai, Western, Japanese, Indian and Local selections. *slurp* Thinking about it just make me droolz again.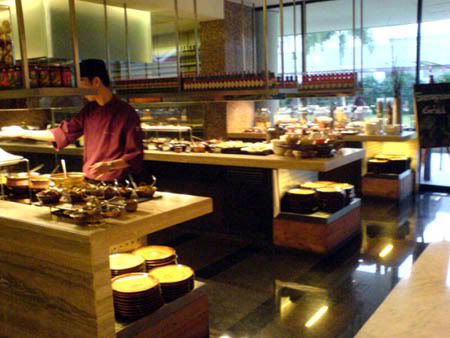 Cost about $60+++ per pax, good food and ambience don't come cheap. They didnt forgo the quality for the quantity and varieties of food they present.
sashimi were fresh, cold crabs and grilled lobsters yummiz, and their desert of freshly baked dark chocolate cake just makes me go "oooo & arrrrhh" over it.
The best stuff I love was their Pineapple rice! =___=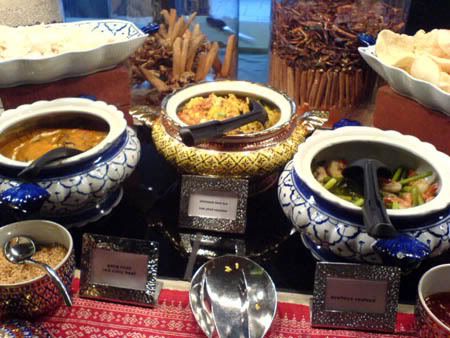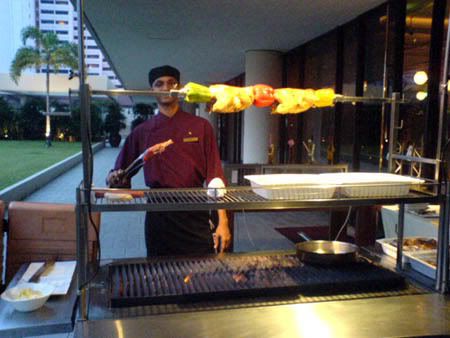 Reckon that i ate at least 12 slices of salmon sashimi last night *oops* sounds like i ate the entire fish. hahaha Will bring mummy to eat there too on her bday~
Had a fun time with darren's nieces too. Really sweet kids, they are.
Children's smiles and laughter melt your heart and make you forget your worries or whatever unhappiness you have. They look at you with their big round eyes and give you all their attention like you mean the world to them. That's why I lurve being with them, they are so lovely.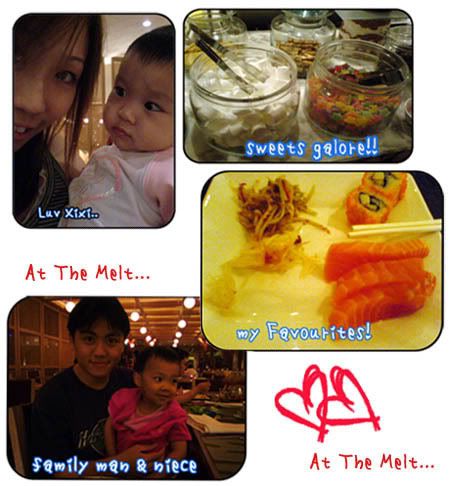 couldnt resist saying 'luv you' to them yesterday.
They are such sweethearts.
~~~~~~~~~~~~~~~~~~~~~~~~
Went to zouk with darren & pep, esther and the other guys on Friday night to chill out. It was pretty alright, very crowded..
with the good music and company...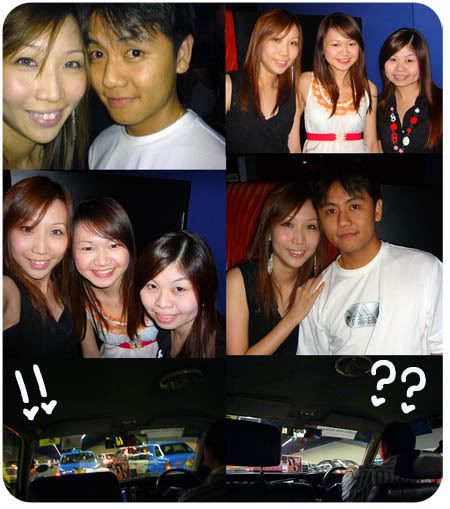 What was bad about that night was the trip back home at 2am.
Never experienced a jam like this during such late hours!!
Guess what? they were having road works, closed 2 lanes and left one lane for the cars. Was it because they were doing some last minute preparations for the IMF? cos there were alot of road works everywhere over the weekend.
And not to mention the additional blooms around Suntec. Suddenly, you feel like you are in botanic gardens. The flowers were really nice, but with the barricades around..hmmmm...metal dont go very well with flowers you know.
Anyway, the jam was rather bad...(yeah, to me it is real real BAD cos i'm in a cab okay!) and everybody was horning away thinking that the sound of horns will make the workers work faster.
I think it made them even more pissed.
We reached home at 3.15am and the fare turned out to be
$30.30
My most expensive taxi trip EVER. *haizz*
Labels: Food and Events
Kiyo 到此一游 @ 11:46 PM