Tuesday, March 07, 2006
*~*~*~*~*~*~*~*~*~*~*~*~*~*~
I look like a wreck, I feel like a wreck
Felt so much better after taking a nap just now.
~~~~~~~
Saturday
It was my busiest weekend ever.
It was like so hot too. The weather has been really bad this week. And I really couldn't understand what's the rational behind ultra cold buildings in Singapore. I can literary FEEL my pores SHRINK when I enter the office building or shopping malls after lunchtime.
And Saturday was the hottest
EVER
.
Or maybe I am so used to staying in the office shivering beneath my jacket from 1-4pm that I forgot that the weather in Singapore has been like that for last week.
Went down to catch Cleo's 50
most eligible bachelors
at Heeren. I was still thinking to myself how can spinelli hold 50 bachelors and their fans on a Saturday afternoon. But it turned out to be only 6 there. They were distributing Cleo's signature flower and some kopi to the bystanders to sort of advertise for their event? Or rope in more votes? The biggest winner is definitely Spinelli who maybe saw a soar of at least 50% of their sales on Saturday.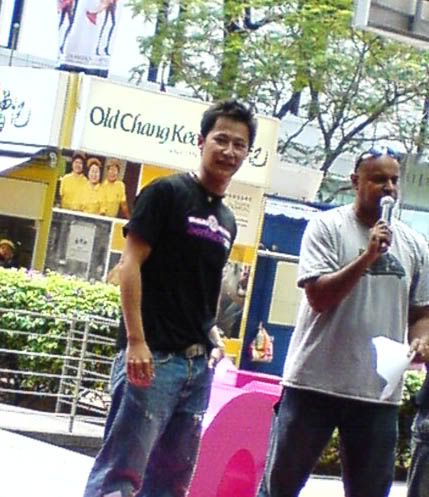 Jeffrey (winston's friend) was one of them. Only met him on a couple of occasions and only exchanged a few words each time…don't really know him personally but I thought we can just drop by and give him a little moral support.
So that's him on stage.
After watching some games played and interviews of the bachelors, Darren and I went off to do some grocery shopping~ Not exactly grocery but he needed to get some toiletries to bring to Perth. It was quite fun.. debating which shampoo to get and whether the washing net is big enough. Sometimes, you can make fun out of the trifles of lives too.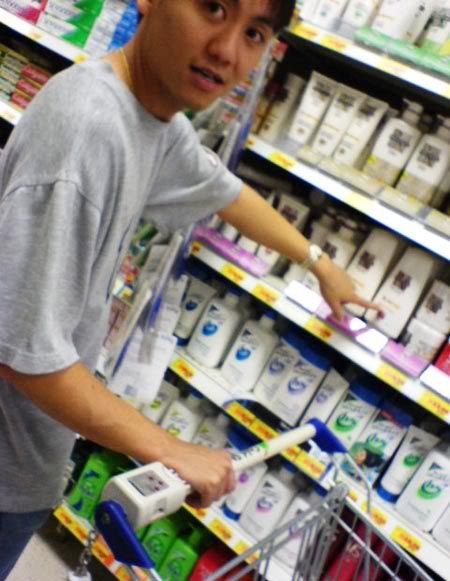 Than we made off to Toa payoh cos I was so hungry on the way to his house that I told him "I need to eat at Toa Payoh or else I will faint" that kinda thing. We saw a crowd near the MRT station and being the typical
kaypoh
Singaporean, we went over to take a look. And we saw the
Not-So-Eligible Married Man
, Lee Guo Huang.
It's so darn hot and yet he has to wear a suit and appear very cool about it while so many auntie, unkers and children crowd around them wanting to just catch a glimpse of him.
It ain't easy money at all.
We watched Hitch on dvd.....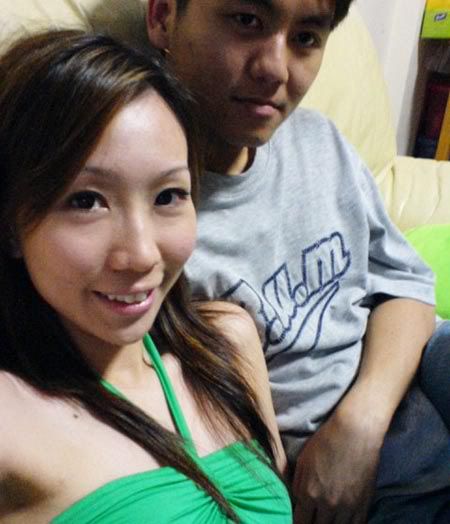 and played kindergarten teacher to his cute niece.
(she's so clever!)
She's not kindergarten age but going nursery next year. Think she's hanging around me too much cos she kept saying
"Auntie 我要拍照"
-_-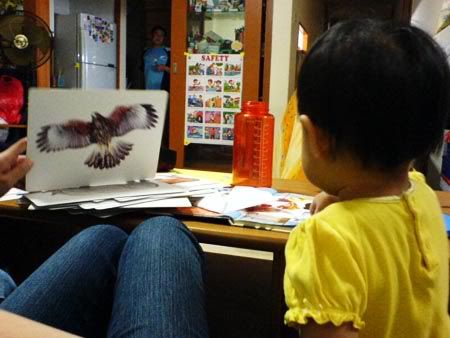 She knows the English and Mandarin version of most of the picture cards we shown her. Children her age are at a learning stage, she gets curious about almost everything and she tends to repeat what I say...SOoo I have to be
REAL
careful when I talk to her.
There was a time she climbed on me and pressed my chest so hard that I said "Don't press me so hard, Auntie de ne ne hui tong" in a joking manner. What I didn't expect was, she got down, ran around the living room shouting at the top of her voice "auntie de *** ***, auntie de *** ***".
Dig a hole for me.. man
We took pictures.. just for fun. I only have one expression when I take photos, but he has loads.. Farnie and Fugly ones. hahahha
He's back to Perth and rather busy finding a new house now.
I guess 3 months will fly past even before I know it.
Kiyo 到此一游 @ 7:40 PM