Thursday, February 16, 2006
*~*~*~*~*~*~*~*~*~*~*~*~*~*~
Yawnzz.. Tired...
Had a wonderful dinner yesterday. Met up with darren at City hall to go to Waraku. We didnt make any reservations so we ended up in a private room that can seat 16 people but shared by 4 couples.
Japanese food overload!
Tried new stuff over there.. Kani Kaminabe~
Kani is crab hor.. but dis dish really sounds very hokkien when Darren placed the order.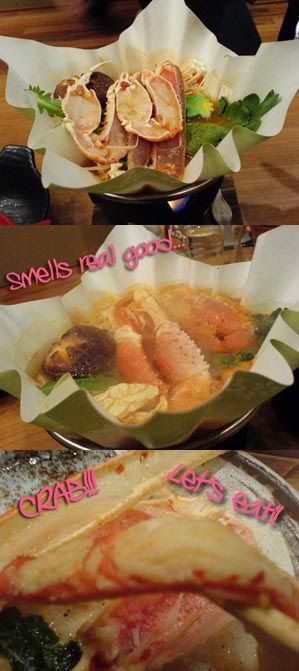 Okonomiyaki!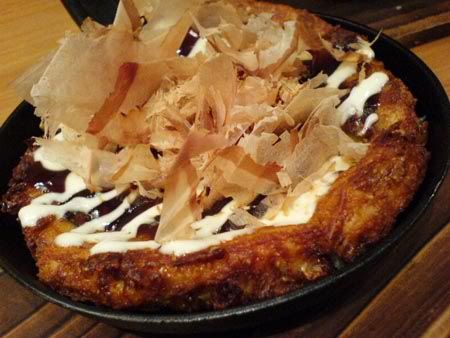 Cold soba. They have a mini version. Yummyzzz. I ate all of that! Can you imagine? Darren ate tempura udon and some sashimi.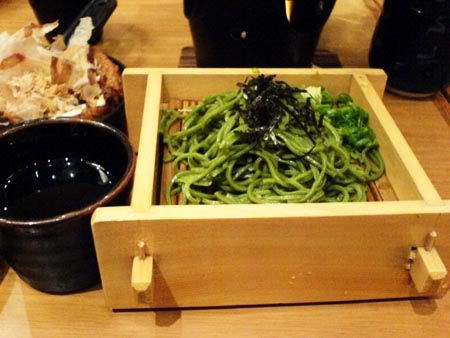 Waraku's sashimi is VERY fresh. The best I have tasted. I cant really take sashimi as I dont like the slightest raw taste. But Waraku's was really.. slurp... almost $2 per pc..
After the dinner while we were lazing around sipping green tea, i saw this very nice vase of flowers that was turned to face the couple diagonally opposite us.
The curious side of me wanted to see what kind of flowers there were in the vase then...
Darren inched the vase SLoooowly towards us -_-!! and said..
na~ song gei ni..
THANK KYU ar... take people's vase and say song gei wo..
you might as well go people's funeral and take their 花圈 and 送给我.
His ultra lame behaviors always crack me up. So I decided to take a photo with the damn flowers.
and I look pretty DAMNED too..TSK*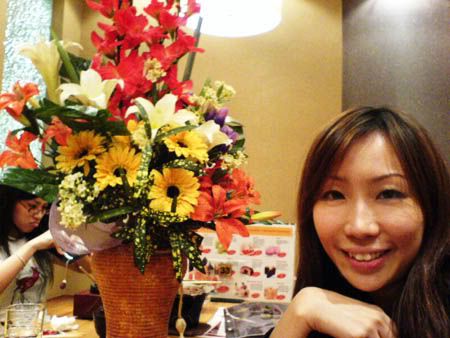 girl in backgrd doesnt look very happy..maybe she wants the flowers too.
Went to skinfood after that. Love their packaging but they sound really broken.
I was reading the properties of the Red Ginseng repairing mask when I spot a word..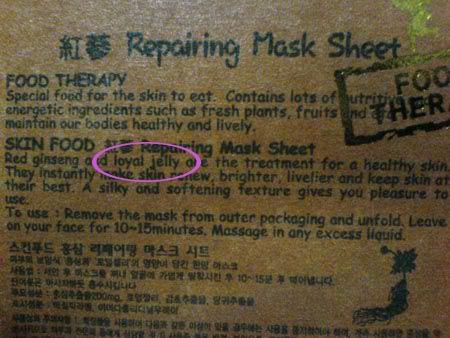 "LOYAL Jelly"
It may be just a typo but I burst out laughing in the shop. cos It's so SING-GAH-PO!!
Labbit.
LI-BE-NA
Orchard LOAD wat else.. oh.. yeah and Le-Lio
-_-''!
(but strange enough, they are made in Korea)
Another one.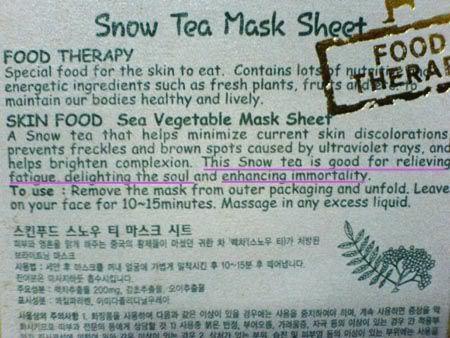 enhancing immortality?? abit KUAaaa zhang right??
Butyshop had this problem of strange english too. They are made in Taiwan I heard. I got their balancing lotion, anyway it was something funny they wrote on the packaging too. but Shucks, I threw the box away! anyway if you have the time, drop by novena square 3rd level, go into the shop, ask for balacing lotion, read the packaging.. laugh and then leave. It's a good pick-me-up. Or alternatively, buy them home and laugh as long as u want. *I'm talking crap again. it's the time of the month that my skin is clear, my brain is working and I feel so HYPER*
I'm not saying that my spelling or english is any good. My spelling SUCKS too. English, even worse. Sometimes have to consult Miss Liang (you know who you are). She's my walking dictionary hee hee. But THEY, being a reputable company should at least invested in someone to QC on their english before launching the products.
Loyal jelly
.. hur hur does it mean that the mask wont come off my face no matter how i peel it? if really like dat than not loyal aredi.. its
LAU YA!!!!

But anyway, it made me laugh. Laughter may even act better as an "immortality enhancer" than the product itself.
Kiyo 到此一游 @ 10:46 PM