Tuesday, February 07, 2006
*~*~*~*~*~*~*~*~*~*~*~*~*~*~
My Fortune.
Ate a fortune cookie yesterday. It read :
A phone call to a good friend will ease your mind and lift your spirits.
FEI HUA.
than dont call my good friend call who?
~~~~~~~~~~~~~
New Loot!
I have been telling everybody "I want an ionic hair dryer!" for donkey years and I got it today! Waited this long as I thought there will be some POST CNY SALE coming up or my friend could get a good discount for me. But it turns out that she can only get 5% discount so.. i forego all that trouble and bought one myself!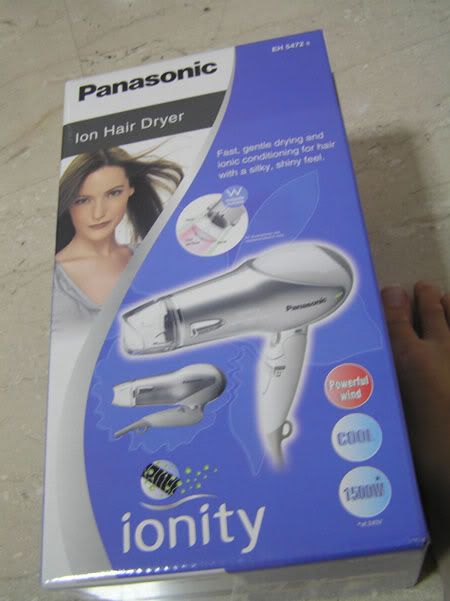 most expensive one.. =( pocket burn hole ler
Chose the silver one instead of blue. Think silver looks kinda cool for a colour of hairdryer.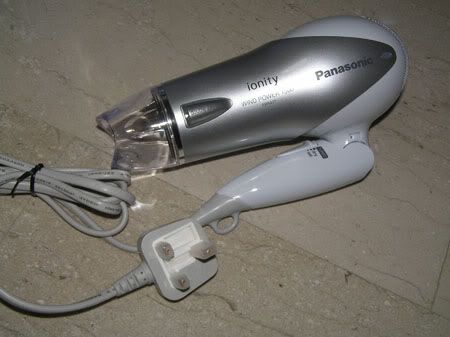 Was at a dillemma, there were so many kinds of hair dryer that emits negative ions which will help smooth hair cuticles as hair carries a positive charge. Wah.. Hair dryer oso like so "scientific" like dat.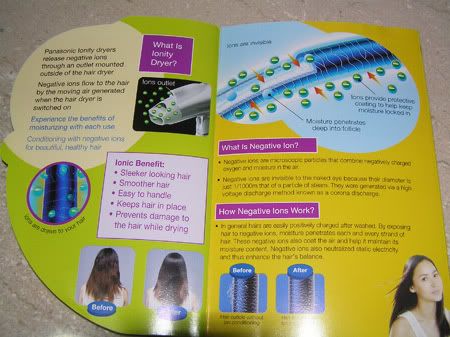 Click on the link for the various kinds of ionic hair dryers Panasonic Produces...
-Panasonic hair dryers -
Philips carries 2 models as well but cost a
FREAKING
119
.
The cheapest is from Panasonic. only 69!! But it doesnt have the cool shot function and it's REALLY REALLY weak, meaning it is not strong enough and may take some time to fully dry your hair.
My Take :
Now I fully understand why Virgie was raving about ionic hair dryers, her sis said they were good. Indeed! Hair turns out to be silkier and no more frizziness! I settled for Panasonic eventually, kinda expensive but it has a cool stream function. Hair dryers last real long anyway, can invest in a good one. The downside is.. it's heavier than the rest. If you do not really need so many features, the panasonic one ($69)will be a better choice.
New skincare!
First signs of Aging appears around the eyes and the neck. Prevention is better than cure. Once fine lines appear, they just dont go away. My investment in eyecream.. saw Niu Er recommending it during dat famous "waste-my-money" show. Nowadays even skincare can multitask. It can firm, reduce dark eye circles and reduce fine lines! yoohoo! Praise the technology~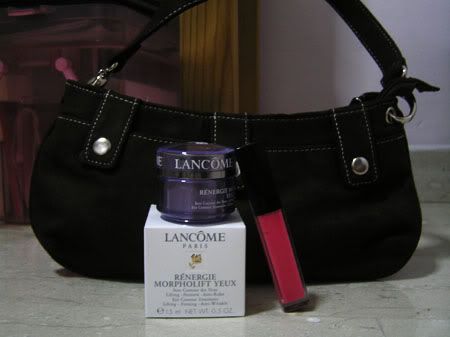 she gave darren a dark brown bag as well.. so nice of her coupled with the 20% off, otherwise this is one eyecream that is too expensive for me.
My Take :
Good, not oily, absorbs rather quickly and finishes with a matt feeling. No SPF though.
Chanel Lippy glossie!
My favourite was Stila Grapefruit but I finished using that.
Colleague was using this and it was really prettie. Got to know that it's only 30 odd bucks from ppm. I thought it was about 50 plus.. Dont know where I heard it from.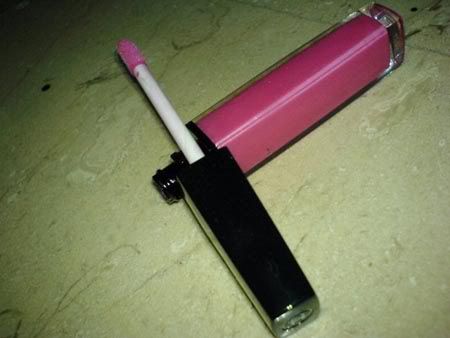 My Take :
The colour is better than Stila Grapefruit as it has a little shimmer in it. I lurve shimmers.
Can fight with my all time favourite lip gloss from Madina. Theirs have nice shimmers in them too.
Kiyo 到此一游 @ 7:47 PM