Sunday, February 05, 2006
*~*~*~*~*~*~*~*~*~*~*~*~*~*~
Felt my bulging stomach
My routine dance prac is not helping me to shake off all the pineapple tarts i have so shamelessly devoured during the festive season. I even ate them for breakfast! tsk tsk tsk.. So sinful.
Went to the gym today for my combat after soooo long. Think will need to stay there for 3 consecutive days before I can shake off the excess calories. Maybe tomorrow... Maybe next week... erhem...
Maybe NOT lar hor.
Darren was late as usual and guess where did I head after my gym.
OLD CHANG KEE!!!
for their FRIED Squid
-_-
Oily greasy stuff always make me feel better, at least i dont feel so frustrated waiting for him
(45 mins okay... argghh)
This explains all the outbreaks I'm having on my face now.
Irritating.

~~~~~~~~~~~~~~~~~
Meet Aki, My Pet Gremlin
I have so much fun finding phone content for my k750i.
Now my screesaver looks like this.
Please meet Aki, my new pet. heehee.
An ugly Gremlin monster that appears to be looking around "guarding" my fone. Now he stays still.. Dont know why the gif isnt working. hee hee I find it really cute!
Went for my routine dance class yesterday and joined darren and his family for some steamboat. On the way there, i witnessed a typical
"kua simi kua"
quarrel in the MRT.
One lao unker, who seems to be at least 60 years old started the quarrel with a 30 year-old man with that famous sentence that only teenage
bengs
utter. I never knew careless stares could lead to fights cos i find them really meaningless and silly. Moreover, both their ages add up to be about 100 years old ler still play this type of game?!? -_-
Nobody fight in the end lah.. although the unker was
"来啦~来啦!!来打我啦!"
in the cabin. And they even talked about the
SIN-GAH-PORE GAH-MENT
&
COUR-TER-SI
during their quarrel.
Everyone was -_-'''
It was back to normal when the unker went off at Braddell. And people decided not to look at anybody in case another fight arises. Those who were reading newspaper continued reading.. The others just stared at their shoes instead! It was kinda awkward.
STEAMBOAT!!
It was a GOOD spread. I ate alot AGAIN!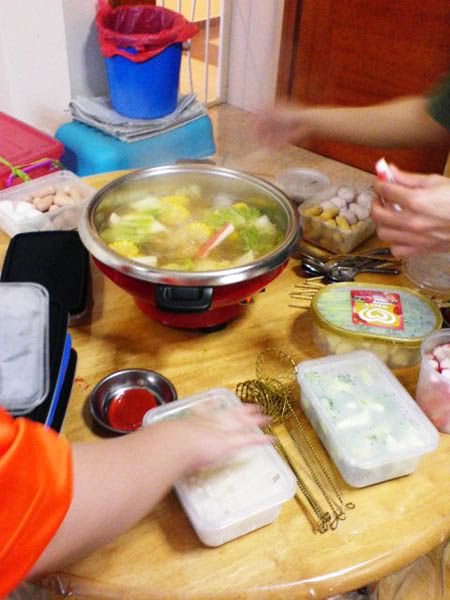 Testing out my new phone camera with kaili here. She always say "An1 Qi1 Qingli BAO BAO".. She cant really pronounce Auntie yet so right now, I'm 安七.So cute hurh hurh. She has an or cheh on her head.. cos she fell down =_(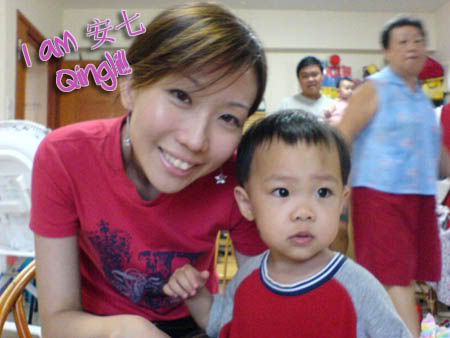 I'm happie! Darren is gonna get his friend to help me buy some discounted skincare & cosmetics from Metro cos she's working there. Hohoho~ I'm getting lancome eyecream, lancome eyemakeup remover and Chanel gloss!!
Thank kyu ar
!! Must thank her personally next time.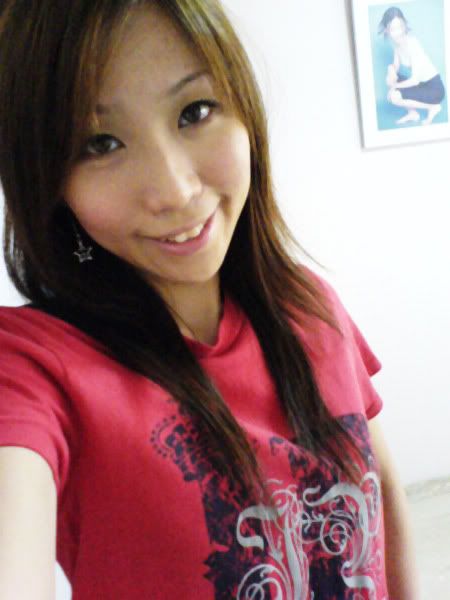 Kiyo 到此一游 @ 10:20 PM