Sunday, February 19, 2006
*~*~*~*~*~*~*~*~*~*~*~*~*~*~
Darren is going back to Australia in 2 weeks time. Feeling rather low about this and my mood isnt any good. Although I do not need him to be around me 24/7, i want to feel that I am taken care of...
Yes, that's what I want.. to be taken care of.
~~~~~~~~~
Saturday at Maple Clinic
It's hell break loose. I
pia
down and reached the clinic at 8.10am. I'm no. 16 in the queue. I thought I could pride myself as the most kiasu person to wake up so early and be the FIRST in the queue, but there were 15 people more kiasu than me -_-.
If I say I dont bother about those red flaming pimples as personality and character is FAR more important than the external appearance, I AM LYING. I love looking at myself in mirrors too like any other normal girl, not the super zi lian kind lah...but when you like what you see in the mirror, you feel more confident too, right?
Waited for 3 whole hours
(YESH!!! 3 hours!! a patience test for me)
to have a 10 min conversation with Dr Ong. She said I havnt been there for 1 year, took a look at my face and sort of "scolded" me for stopping the treatment after I seen results.
haizz... and when I was about to leave
(REPEAT : after 3 hours of waiting)
, I overheard some poor girl got the queue number of 62.
-_-
~~~~~~~~~~~~~~~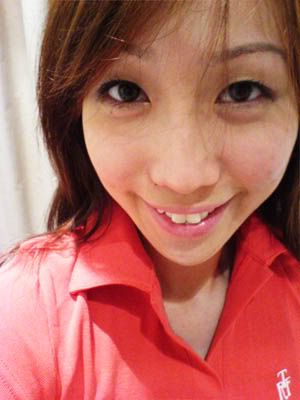 think i look abit strange in the pic.. like abit >_<
Bought a new polo tee from Zara. Very bright! Suits me =)!
There's company training tomorrow till 10pm again. We were supposed to practise stress management and enthusiasm over the weekends and share a 2 min story with the class.
I dont have any story yet... HOW?!?
*stressed*
Kiyo 到此一游 @ 5:53 PM