Wednesday, January 04, 2006
*~*~*~*~*~*~*~*~*~*~*~*~*~*~
Should I bring my tripod?.. hm...another one night to think bout it.
I dont think I have time for any decent pictures hor. =D
~~~~~~~~~~~~~~~~~
Bella Skin...
REVIEW
Tried Bella Skin cos xin gave me a voucher she received from DBS woman's card. She was with bella all along so she cant utilise that voucher and thus gave it to me. I was real skeptical about going to big beauty salons after numerous experience of meeting very pushy consultants that dont allow you to leave and kept using their tok gong persuasive skills to make you hand over your credit card. I read on one poor gal experience in Bella too somewhere on the net that she met real bad customer service so I was pretty scared. But xin assured me that her consultant is not pushy and very nice, that's why i decided to go ahead.
Went to the outlet at International Building and met my consultant, Angie. She's quite nice and not pushy at all. Maybe slightly in subtle ways..but overall she's still better than the other consultants! I tried their 4 step seaweed facial at a trial price.. It was really heavenly. So this was what Fann Wong gets to do by being their ambassador all along..
hm...Heavenly... *still thinking about it*
After changing into their light pink gown, my beautician Anna re-enters the room with some essential oil in her hand and asked me to breathe in deeply. A wave of Lavender swept over me and I felt I was in heaven. She checked my face, cleanse and did some face and head massage to calm and relax me first before she starts the treatment.
After cleansing, it was steaming time... She gave me a hand massage and brought out something I never tried before. Hand Paraffin Wax. Every treatment in their salon comes with a hand paraffin wax treatment. You dip your hands after massage in the warm wax for 3 times before it was being wrapped in some transparent bag. The warm wax will seal all the moisture from the massage cream into your hands so you walk out of the salon with not only a smooth face but silky hands as well!!
I requested for light extraction as I have enough of post facial scars. Normah from PTR is good but....she squeezes too hard and left marks that will take ages to recover sometimes. I dont want a smooth bumpless face with red scars all over. I had a very hard time concealing those. Anna was real gentle to the extent dat the extraction wasnt really clean but the seaweed mask really further cleanse my skin so in the end it was still quite alright.
Anna's massages are NOTHING compared to Normah. Normah have the BEST massages I have experienced. BEST man, BAGUS! ICHIBAN! TOK GONG! in all languages I know. I always drift to lala land when she gives me some good kneading.
Next, Anna applied a seaweed ampoule which smells really
CAO CHOR
.. it smeells like it's just freshly dug out from da seabed or wat.. eeeEE! but if it's effective, who cares aniway~ then after everything is absorbed, she applied a thick layer of seaweed cold mask on me, & on top of that mask she further applied
ANOTHER
layer of WHITE COLD mask to seal the moisture in.
I'm pretty impressed by their facials and if money is not an issue for you, please get some pampering done. I didnt sign up though. Money is an issue to me.
Overall Review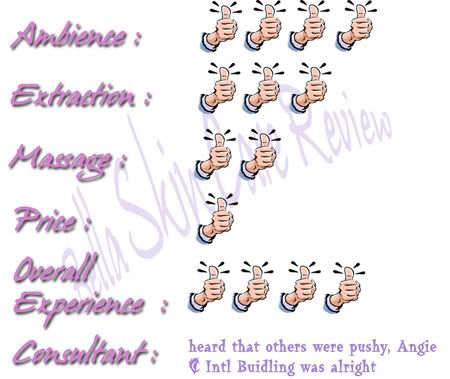 Off to Bangkok!!
Kiyo 到此一游 @ 10:36 PM