Tuesday, January 17, 2006
*~*~*~*~*~*~*~*~*~*~*~*~*~*~

Oh ya.. before I continue into my 曼谷之旅.. I tried Hiphop at California Fitness on Sunday.


-_- 鸡手鸭脚
It was really fun and my thighs are aching.. it was a good workout but I think I looked very funny in the mirror. Cant stop laughing at myself.
Bangkok Travelogue III - Chatuchak Day!!
Heard so much about Chatuchak and it really lives up to its name of a pasar which sells a huge array of items~
From pets & pet's clothings to wedding favours (saw ALOT of them) & cushion covers...Not to forget fake ADILAS, Abercrombie's and Birkis.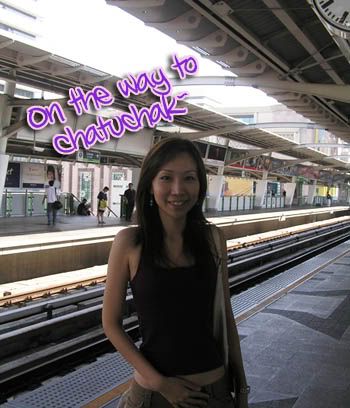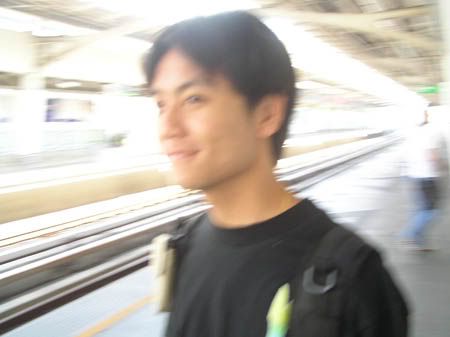 Virgie told me before my trip that policemen or security guards in Thailand wear super tight fitting clothes.. Really machiam going to burst liao..Maybe it makes them look slightly more mascular.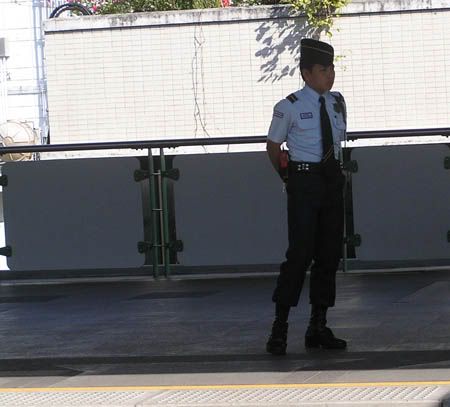 It was super duper hot in Chatuchak and I didnt really take much pictures. Was really overwhelmed by the blazing Bangkok sun. Being my first time there and without a map with me, I kept walking to uninteresting sections with alot of guy's clothings and jeans. yeah.. guy's clothings are boring to me~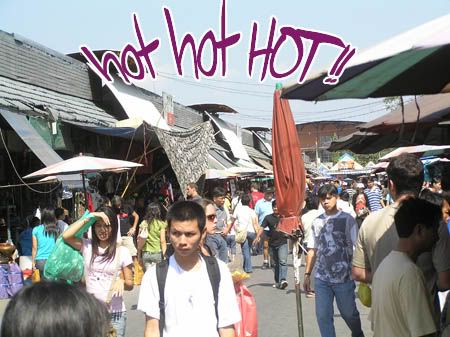 Really recommend first timers to get the Nancy Chandler map or download similar maps on the net! I downloaded a layout but forgotten all about it!!.. tsk*
My guy snapped up one pair of jeans and 2 tee shirts in less than an hour and I didnt even get anything for that day I spent at Chatuchak. Hmmf!~ Although there were signboards around, it was just too hot to stand under the hot sun observing the signboards and locating where we were. One frustrating thing is that MOST of their signboards dont have this "
YOU ARE HERE
" that kinda arrow. SO......I have to spend 10 mins trying to figure out where da hell I am and then another 5 minutes trying to figure out where interesting sections are.
(if you have loads of time, I think you can just walk around.. find it too hot, just want to get my stuff & get outta there)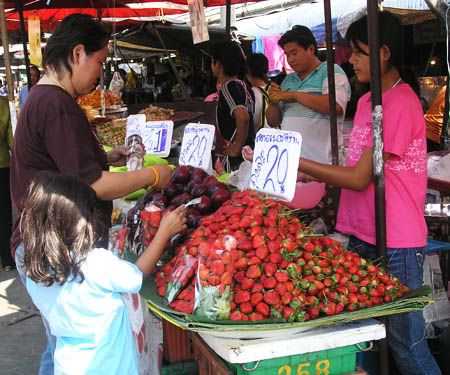 strawberries for sale~
It was so hot that Darren grabbed an icecream... Er xin is the word for it. No need to try. haha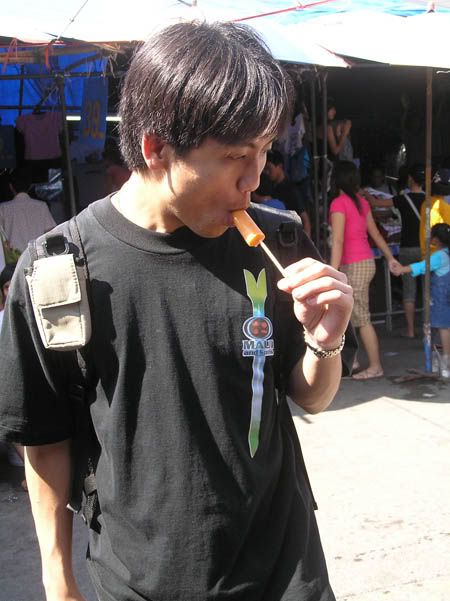 We spent about 4 hours at Chatuchak and we left as it was really
TOO HOT
for us to bear.. I was very dehydrated.
We pop over to Sampeng Lane which is at Chinatown (Yaowarat). Assesories are dirt cheap there. You find necklances, earrings, plastic earring stands etc and definitely cheaper by the dozen. But we left after a short while cos there isnt much interesting stuff over there besides those. Or maybe I didnt know where the interesting things are.. =(
Khao San is near Chinatown so we reckon no taxi will take us. We decided to hail a tuk tuk. Our first tuk tuk experience. Fumes, fumes and MORE fumes.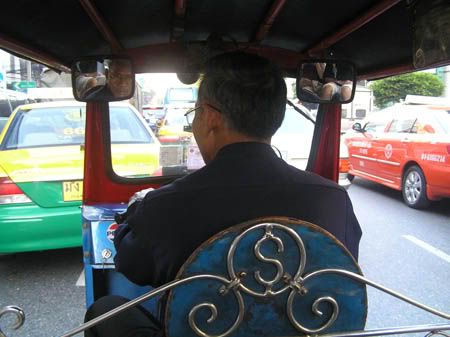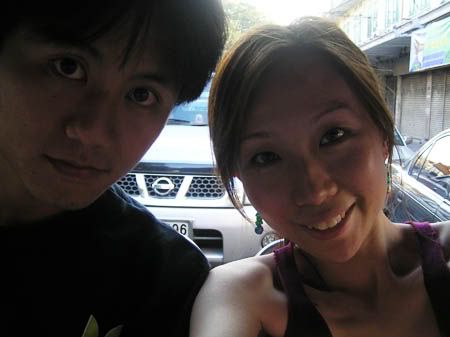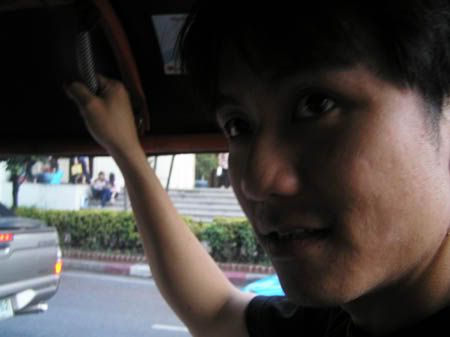 Khao San!!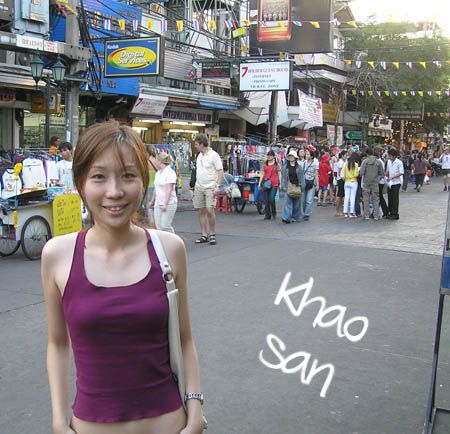 alot of pubs, backpackers & angmos doing hair braiding and great night life over there.
(i looked damn lok kok)

Went for a foot massage and Darren went for his traditional Thai massage.keke. Didnt have enough courage to try the latter as I got this feeling dat my old bones may just break anytime when they "au" you here and there..Darren's bones didnt break but he did say it was kinda painful in some areas.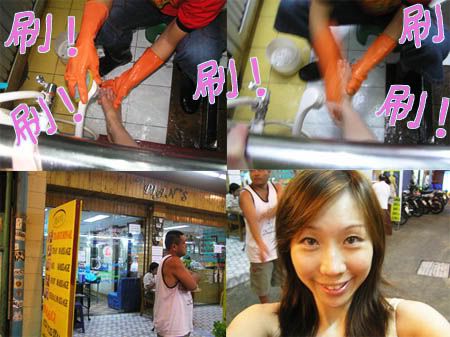 I am a happi gurl after massage, can FLY~
Walked around, shopped a little, sky grew dark and it was time for dinner!! We decided to try roadside stalls. Podders recommended banana pancake! And it seems clean enough so decided to risk it! my stomach is those really weak kind, can be quite bad if I eat the wrong food, but I was alright! =o)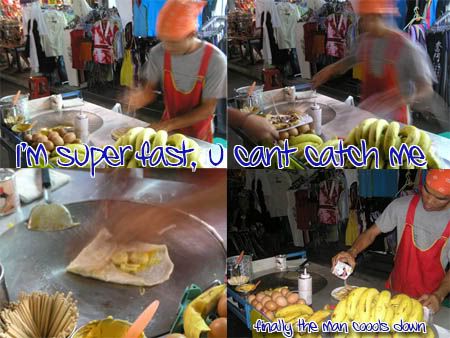 Finally~~~
tada!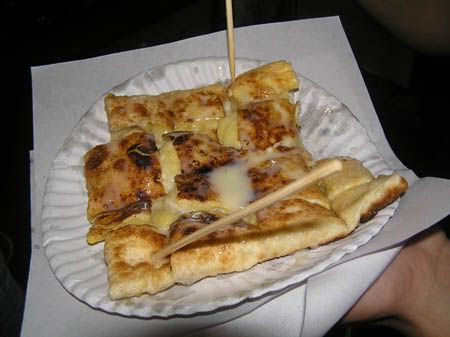 We ate bee hoon too.. Quite nice.. keke.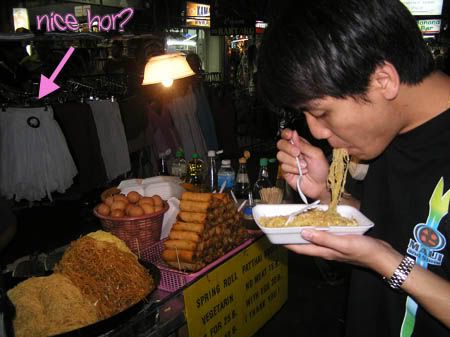 Blur me didnt see that skirt there until I reviewed my pictures after I came back.. think it's really nice..
More window shopping~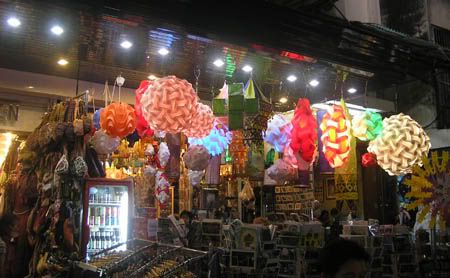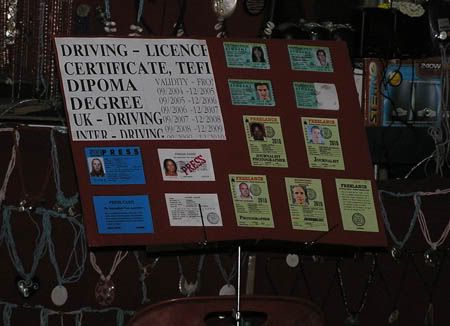 Can shop for student card too or licence~ Took dis picture across the street. Look at the array of necklaces behind! Didnt buy any..seldom wear them anyway..
After all the shopping, we dropped by khao san travel to surf the Net at 30 baht for 1 hour usage! No Aircon though...
Anyway, I lurve Khao San.. Shall try staying at their inns or backpackers lodges next time to have a different experience.
Kiyo 到此一游 @ 10:28 PM