Saturday, September 03, 2005
*~*~*~*~*~*~*~*~*~*~*~*~*~*~
My meeting is over!!
Just ended my meeting and dinner for the whole day just now at about 9.40 pm. So happy that all was over. It wasnt so easy organizing this regional meeting and I really learnt alot of things from planning the event to executing it. Now i feel that I can be a events coordinator or sumthing! whahah. It was really interesting. I was one of the youngest there and I feel that I should sound wiser during my closing speech. (they didnt inform me beforehand.. argghh) In the end, it sounded like a 金马奖 ceremony..
偶要谢谢偶的。。。。(in english of course)
We were supposed to dress up in national costumes. Okie.. Singapore is more of a multiracial country and I really DO NOT want to spend additional money to go get a cheongsam, punjabi or sari or peranakan stuff, (cos you all know how much I have been spending ya..) I wrote in the agenda that it's either national costumes OR tropical casuals (just to give myself a 后路)And YES! I saw alot of ALOHA pasar malam tshirts that looked like those typical Tour guide on those participants from Singapore.
My look for Tonight.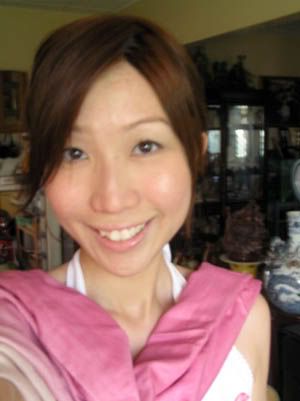 Had a magic show during dinner and it was my FIRST time watching a LIVE magic show. He performed some ESP thing and managed to "read" the minds of 2 guests. I was still very puzzled after the show on how he did that... but we managed to see how he flew up from his chair though! haha.. cos we stood at the side. Shit, i should have taken pictures.. Nah.. better dont spoil his reputation.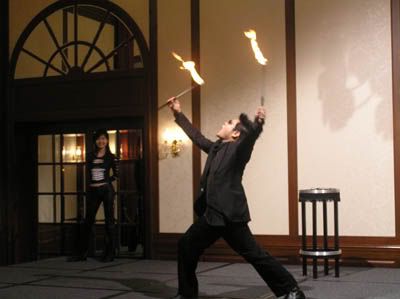 When he did this.. one of my colleagues exclaimed rather loudly..
"AGAIN!?!?"
let me eat fire!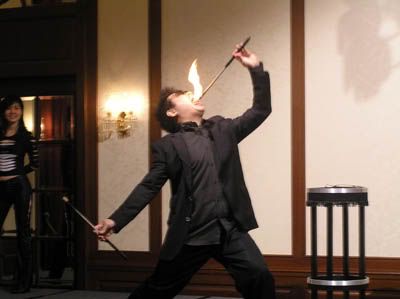 If you could recall... My company actually hired somebody WHO CAN do dis fire act as well on Family Night Dinner. -_-
Why do everybody seems to like to swallow fire?
''
''
''
\/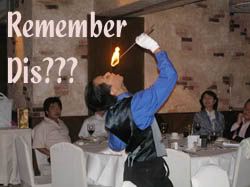 2 weeks ago...
Next time i make sure THEY swallow something else instead hiak hiak hiak.
Kiyo 到此一游 @ 10:37 PM