Sunday, August 07, 2005
*~*~*~*~*~*~*~*~*~*~*~*~*~*~
Ventured into Little India yesterday..
for threading! Decided to try threading after reading the threads in FP. Wanted to try the famous Rupini, but then one of my colleauge told me vanessa beauty salon which is a few shops away from Rupini is not bad and not as crowded too.. so I decided to give vanessa a try..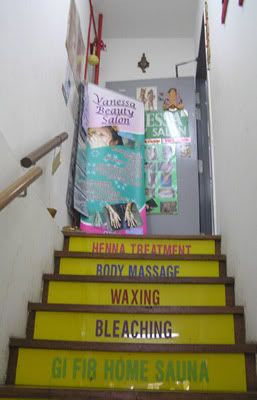 There were 2 more people before me, but then they were quite fast as they did eyebrow threading only. I never tried threading before so I couldnt decided whether I should go ahead with my whole face threading or just the brows and upper lips.
okie.. the pain was still bearable for the eyebrow and forehead area, and then she started on the upper lip, I still find the pain quite okie. So, I stopped her and told her I decided to go for whole face threading as well.
I realized it was a big mistake when she started to thread my cheeks near my sideburns.. ji dan..she was pratically yanking off all my facial hairs at one time.
But after the ordeal, my face became fairer, smoother! and I didnt have any breakout today too!
Hairless Hair-free Kiyomi!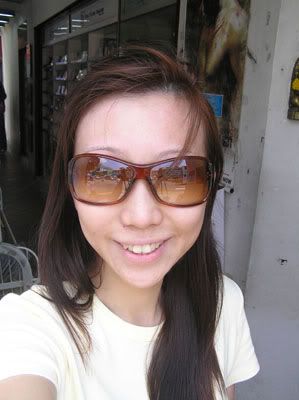 (oh.. 头发很乱..)
Rupini...
oo..Looks very high class.. will give them a try next time when I have the time to wait.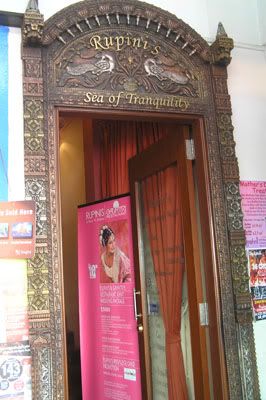 ~~~~~~~~~~~~~~~~~~~~~~~
I just weighed myself and realized after all the digestion problems i have last week and 2 exotic dance classes, my weight has reduced.
I weigh a mere 42.6kg now, which is about 2.5 kg of weight loss from my original weight.
I need to put back that 2.5 kg man...
I'm going for dimsum at Teahouse with my mum later!
Happy!
Kiyo 到此一游 @ 12:07 AM