Wednesday, July 06, 2005
*~*~*~*~*~*~*~*~*~*~*~*~*~*~
Took 1/2 day leave today....
for my dental appointment at 4. Was expecting to extract my wisdom tooth this afternoon so I decided to eat my fill during lunch.
We ate sushi and sukiyaki... hmm.. It doesnt look very delicious in the pictures and yes, they arn't really yummy.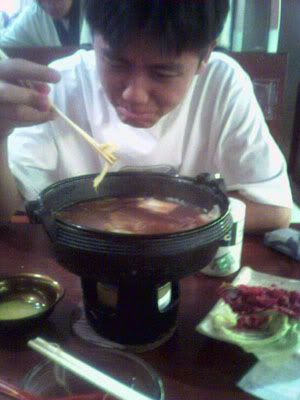 So I was rather scared to go to the dentist. Silly me. I was really scared of injections.. just dont noe why, everybody have their fears I guess. And my major mistake was to ask Darren to go with me to the dentist cos I was whining & whining & whining about the injection part. If I went to the dentist alone or asked somebody else to go with me, I may not have whined so much. What's worse was that, instead of offering comfort, I tio suan some more.
Me :how? very scared leh... scared of the injection. how? ...
He :你骂人不是很大声Lo... haha why? scared now ar? 看你等一下怎么骂人。hee hee 怕打针啊~不要打啰... 直接拔.

-__-'''

(I'm so fierce meh?)

And throughout the taxi journey, he kept describing the whole process of wisdom tooth extraction in DETAIL from the injection part to the sewing up part. Well done.. *claps claps*
But he did offer me comfort in the end, I know he is always trying to be funny. =)

Finally, it was my turn. I went in and told the dentist about my symtons like I have difficulty opening my mouth, I experience jaw pain especially near the ear and I couldnt bite properly. He examined it and found that my gums WERE NOT SWOLLEN at all. Than he said IT WAS NOT MY WISDOM TOOTH.

he said me it's TMD.

TMD!?!

kaoz, I was in pain aledi and you still say it's Ta xx De.. okie LAME. (still can think of lame stuff at this time means I'm alright)

Actually it's some sort of bone or maybe the joint part inflammation. He was very sure that it wasnt the wisdom tooth. One good specialist.

Buthen....Bone Inflammation sounds more serious than wisdom tooth lo. He didnt explain much but showed me a video on TMD. The video described 80% of my symtons. I was a little scared & I was thinking, will I be able to talk?, will I be able to sing?, will I... ? , will I...? But in the end, he just asked me to wait it out as he said some patients took 2 weeks, some several months to recover and the causes of TMD is rather complex or may have other underlying factors like emotional stress (as if I have any) or poor bite.

Did a search just now and realized that TMD which stands for TemporoMandibular Disorders have something to do with arthritis too. hm... I have been reading alot on arthritis...sounds darn scary. In the meantime till my next appt next month if i still dont recover, I just have to TALK LESS, rest my jaw, take soft foods & massage more..
Kiyo 到此一游 @ 10:48 PM