Sunday, April 20, 2008
*~*~*~*~*

We checked out of sakura ikebukuro and proceeded to Nikko!
Decided to send one luggage ahead to Sendai (our final stop) after Nikko and it was pretty cheap.. Only 15 dollars to travel lighter!
"Nikko is a small city at the entrance to Nikko National Park. It is most famous for the Toshogu, Japan's most lavishly decorated shrine complex and mausoleum of Tokugawa Ieyasu, the founder of the Tokugawa shogunate.

Nikko and the area around Lake Chuzenji, in particular, are well known for their beautiful autumn foliage (koyo). The best times to view the leaves depends on the elevation and year: For Yumoto and Lake Chuzenji it is usually mid October and for central Nikko early to mid November. "
Although it was not autumn now, we wanted to go to Lake Chuzenji to take a look. It seems really beautiful in the pictures.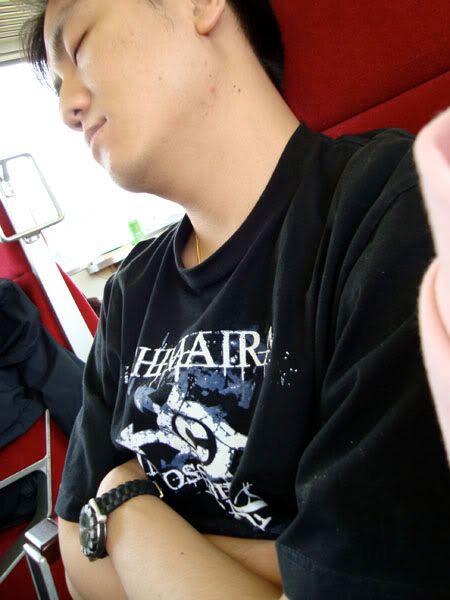 Approaching Countryside areas...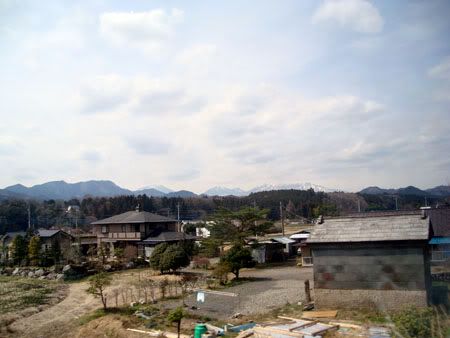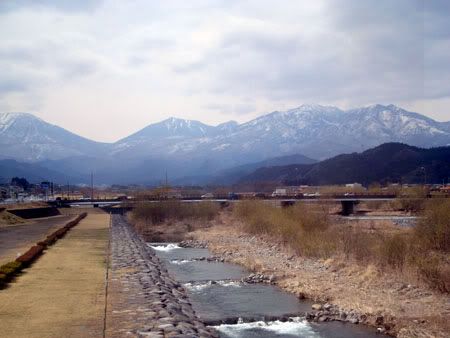 Our stay was at Kinugawa Onsen area as it was pretty near to several theme parks. We intended to go to Tobu World Square which featured miniature buildings (like mini tokyo tower, mini london bridge that sort of thing)
"Kinugawa (鬼怒川) is a hot spring resort in Tochigi Prefecture, Japan. The town is named after the Kinugawa (lit. "angry demon river"), which flows through it.

Located two hours by train from Tokyo, hot springs were first found in the area in the early Meiji period."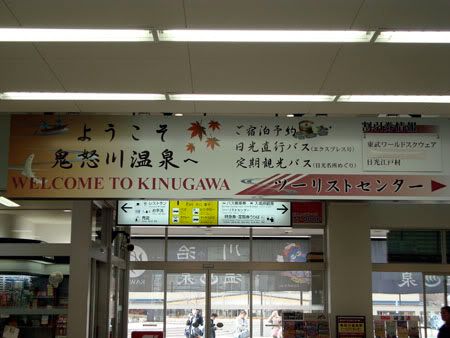 As it wasnt the peak season to visit Kinugawa, there wasnt much crowd around. Usually the peak should be mid to late April when more sakuras blossom and in September for the red leaves.. The mountains were still as beautiful though.. it was a refreshing change from the city area.
We reached!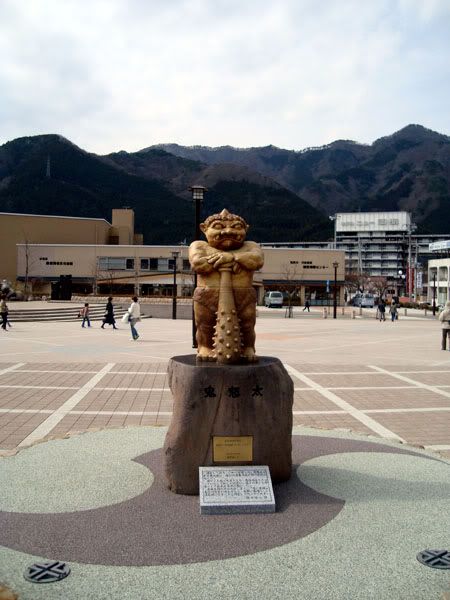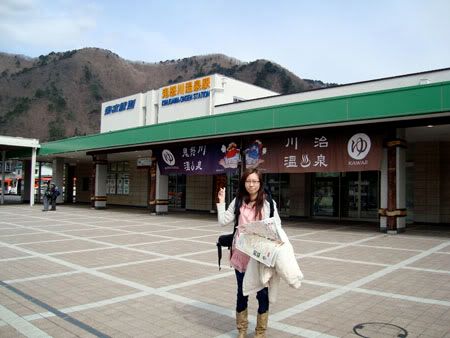 Free foot hot spring soak at the station..hot spring water just flows everywhere..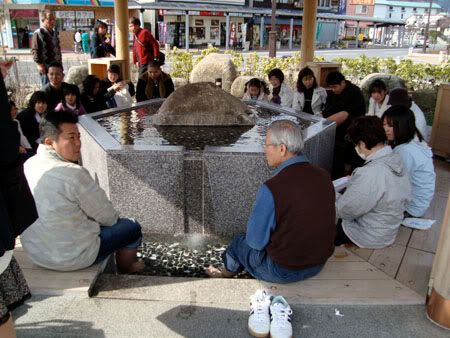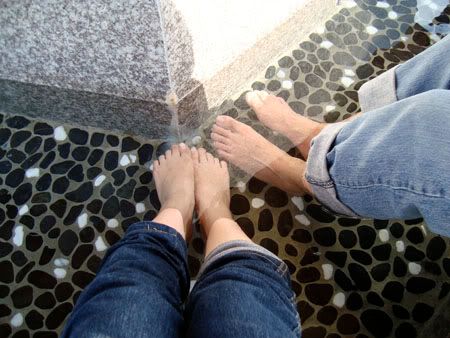 Our 2nd Ryokan!!
~ Marukyoo ~
For this trip, i really took great effort in finding each ryokan, reading reviews of Japanese travellers who went there and had a great stay. Marukyoo was affordable and the room was huge as well hee! The service was great!!! The lady whose picture is in their webpage is really friendly and chatted with us while helping us to lay the futons.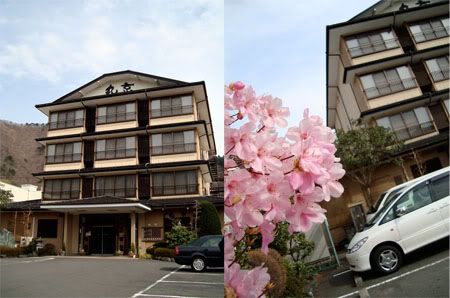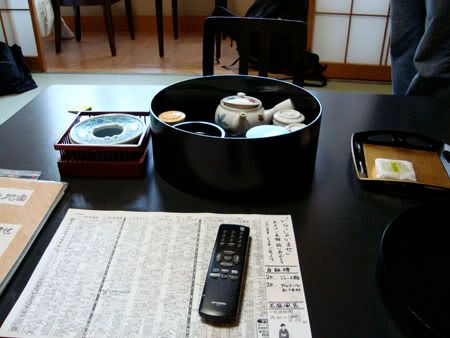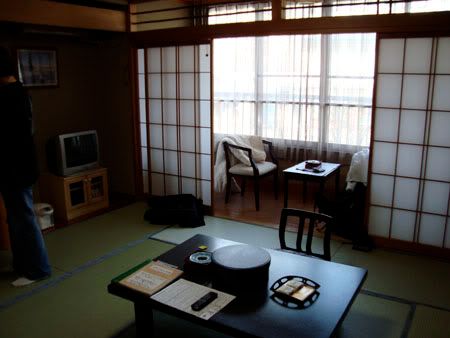 We stayed 2 nights there..But there's no bath in room. There's a public bath downstairs shared with everybody so Darren had his first experience. He fell in love with hot springs although we were bathing separately.
We only explored around on our 1st day there and didnt do much. There's practically nothing to do after 5pm! so we returned to our ryokan and rest for the day.

Mascot of kinugawa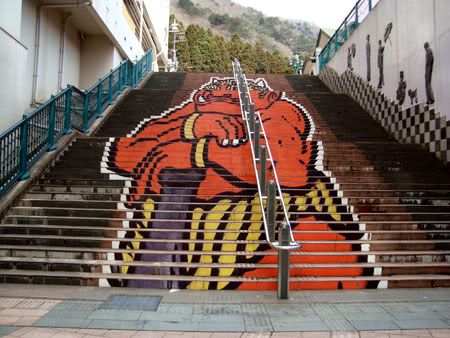 with legs!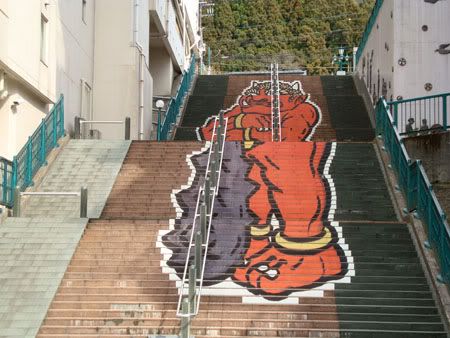 We had Onsen Manjyu with red beans inside.. really yummiz! although it was really cold, we really wanted to eat soft icecream and we chose the melon flavoured one. Very sweet and special =D

Lovely sakura flowers again in full bloom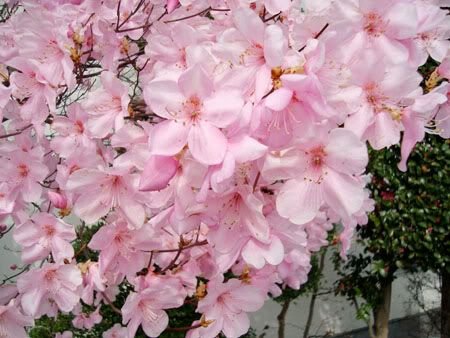 Kinugawa~ During mid April to October, a boat or "sanpan" will be operating downstream and it will be a good experience to take that.
the food!!!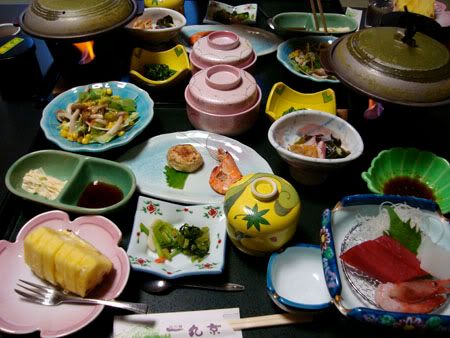 Day 2 at Nikko!
We planned to go to Lake Chuzenji and Wan Yan Mura!
Lake Chuzenji lies within the National Park of Nikko, and is also know as Lake of Happiness! It was formed by the eruption of Mt Nantai (男体山)when a lava flow blocked off the flow of water from the mountain. Really a beautiful place!
"Lake Chuzenji with about 25km of circumferences and a maximum depth of 163m, is a representative lake of Nikko. Above-sea-level altitude is 1269 meters and it is the highest in Japan. (Except artificial lake, and larger than 4km of circumferences) The lava dammed up a ravine by eruption of Mt. Nantai about 20,000 years ago. It became basic landscape of today's Lake Chuzenji."
(from http://www.nikko-jp.org)
Woke up really early and had our sumptous breakfast with rice and all and all prepared for our mountainous trip!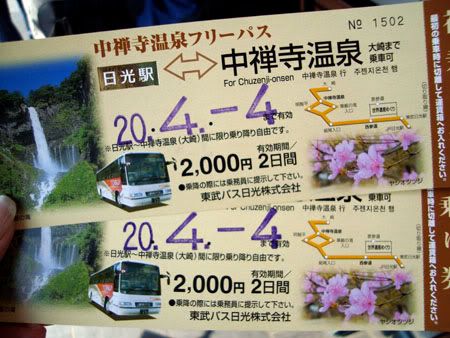 I heard about the IROHAZAKA ROAD (which winds up to the mountains) that has 48 needle point sharp curves while it winds up the mountain. I thought i would puke but the driver was really careful and slow while making the turns so nothing happened to us. But the ride can be pretty scary as we were really close to the edge of the mountain when it turns..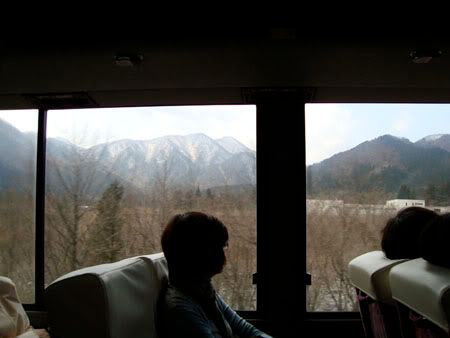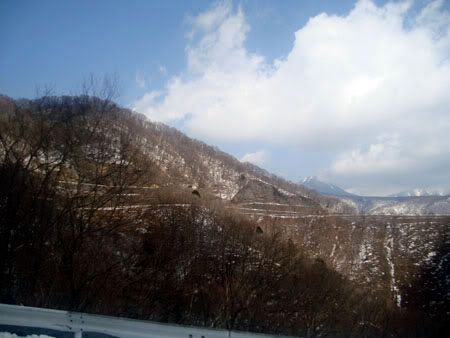 We reached!
our first sight of snow... or Unmelted ice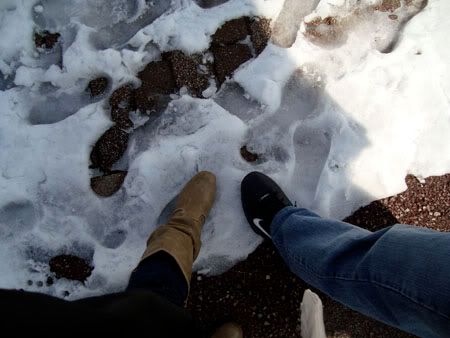 I looked really pale.. cos it was REALLY REALLY COLD. Think we would visit Nikko again next time during September.. i believe it will be really beautiful.
Nobody at all.. practically
Bo lang....
in the streets.. we can take alot of pictures with our tripod~
2 second... buay hoo.. have to be 10 seconds! i thought my legs are fast enough to run there but maybe they were too cold to move.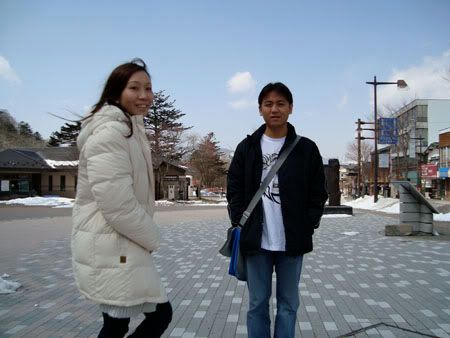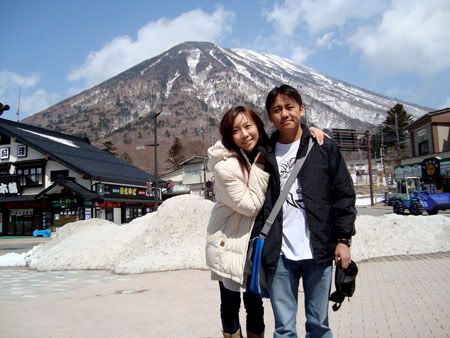 Still bo lang...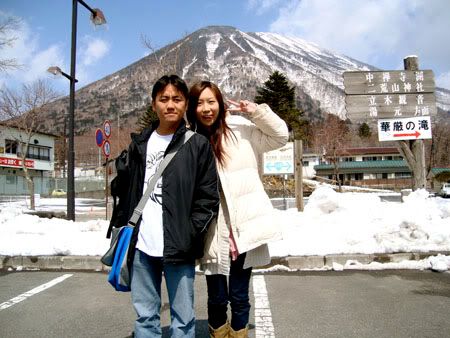 we wanted to take a picture with us jumping up but i couldnt jump cos my clothes were too heavy! i was wearing 3 pcs of really thick clothings.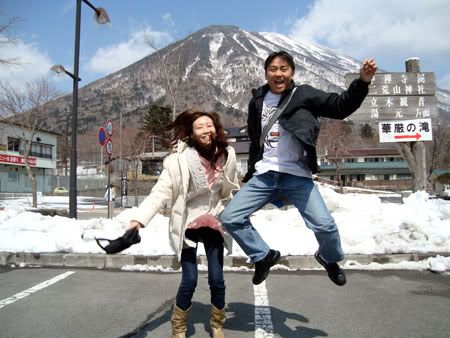 We went on our way to visit the Kegon Falls first (華厳滝) Still alot of snow along the way..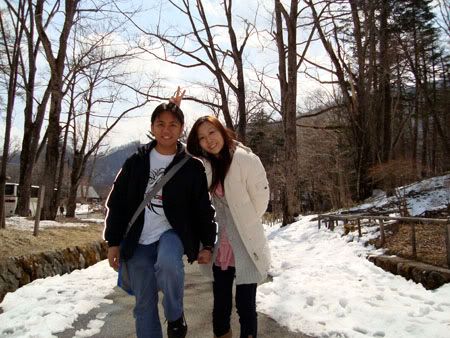 Reached!
I believe in September.. the whole mountain will be covered by red leaves and it will be really a spectacular sight. But now.. the only thing we can do is to IMAGINE =___=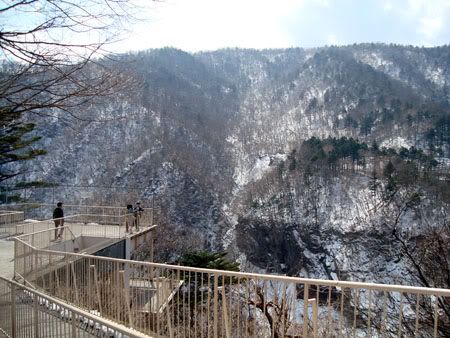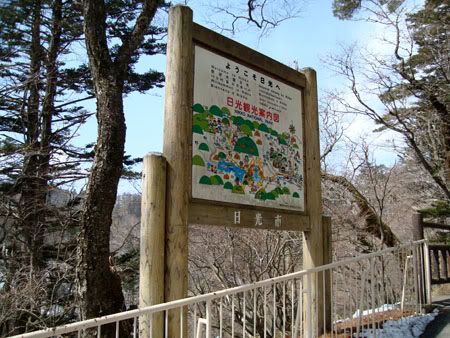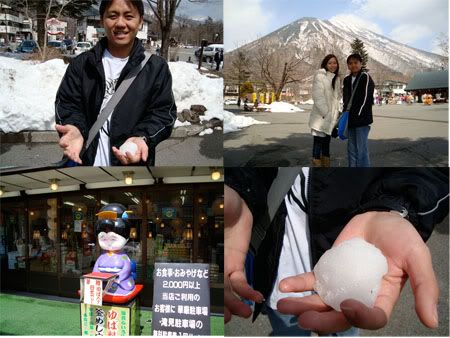 Kegon Falls used to be a place where lovers with no prospect of marriage commit suicide but it is also known as the finest three waterfalls in Japan.
There's an elevator to go down to the bottom of the falls but it will cost 500 Yen. We didnt go down of course.. hee hee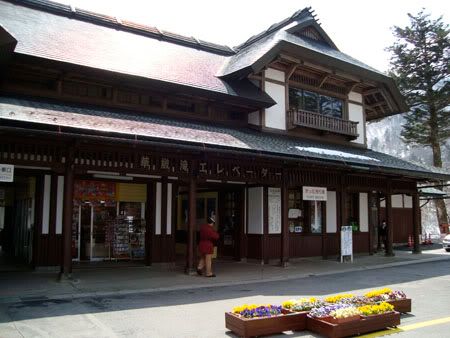 Next.. we walked further to get to the famous Chuzenji Lake.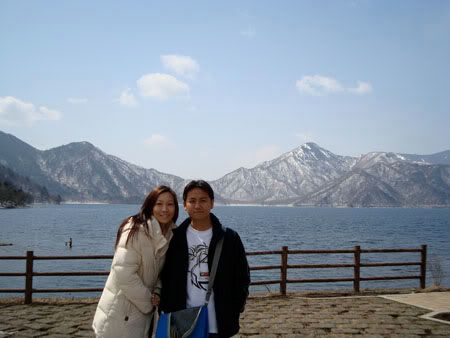 mountain ranges..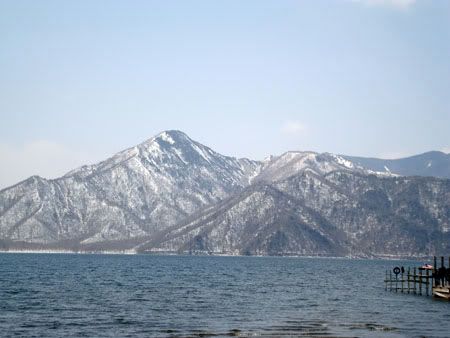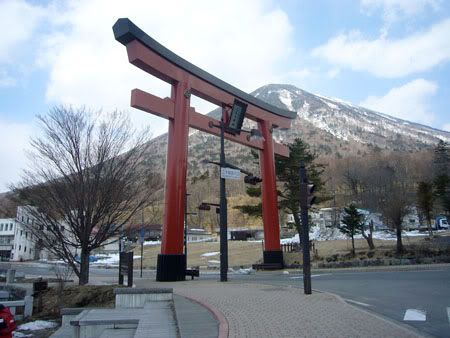 next... Wan Nyan Mura!
We gave up Tobu World Square as Darren who is a lover of dogs wanted to go to Wan Yan Mura. There's only 2 Wan Yan Mura in the world (one in China and another in Japan).. there's alot of species of dogs there (over 100 species) and dog show etc. We really enjoyed ourselves there especially him.
It was not easy to get there..it was quite a distance away from the train station and we didnt know whether we were on the right track so just asked while we walked. I think we walked for at least 20 mins before we reached Wan Nyan Mura. It was really a very very long walk.
We passed by a deserted shrine..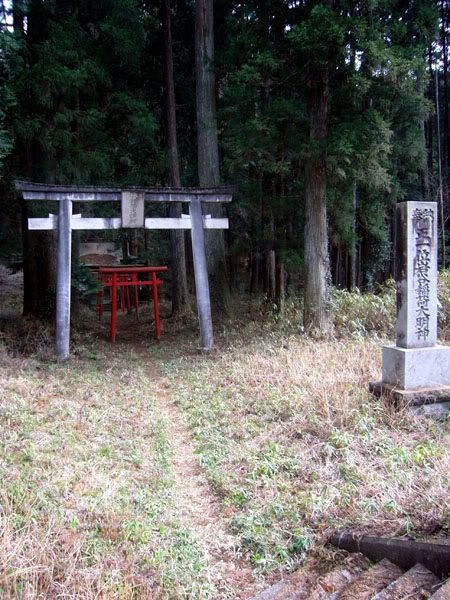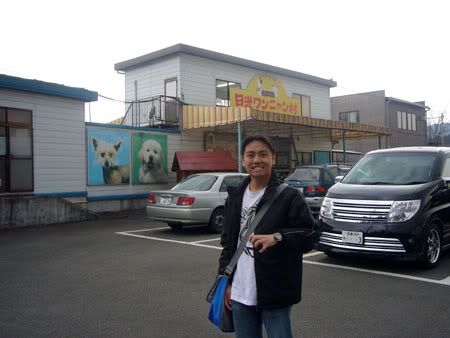 We were just in time for their dog shows.. took 3 videos on it.
~ Watch Video 1 here ~
~ Watch Video 2 here ~
~ Watch Video 3 here ~
They were really really cute with lots of tricks!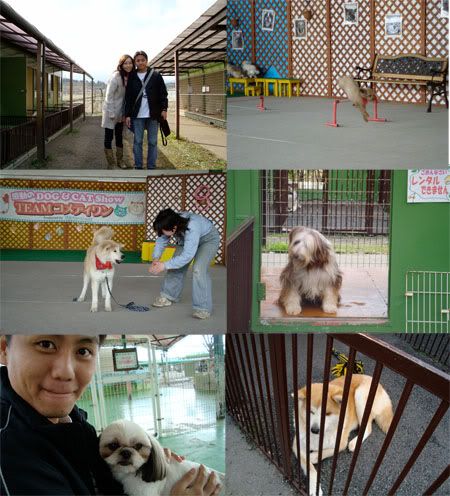 There's even a corner where you can touch and cuddle them..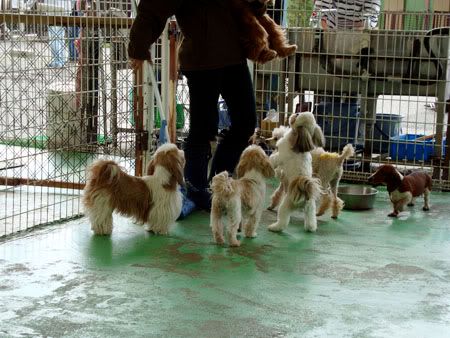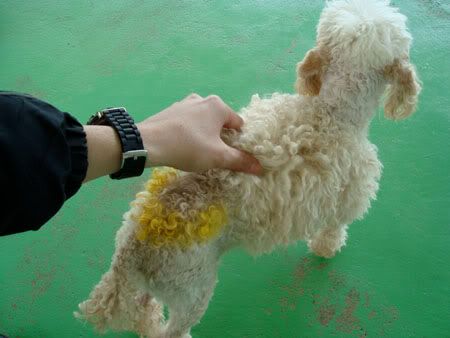 wat a 狗男女 photo hur hur hur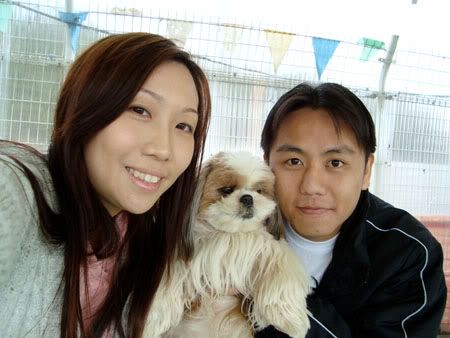 he looks ready to pounce at us ANYTIME
this little one is really expensive. He cost $1084 sgd dollar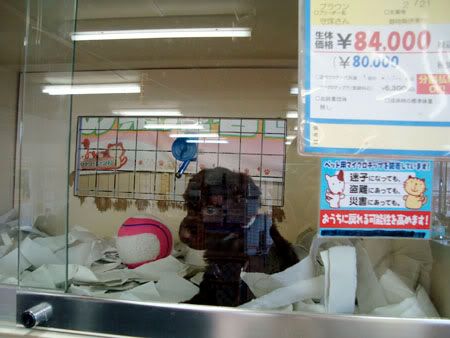 We had our dinner outside and the usual ice cream after that and mine was sakura flavour. It tasted a bit like bandung =__=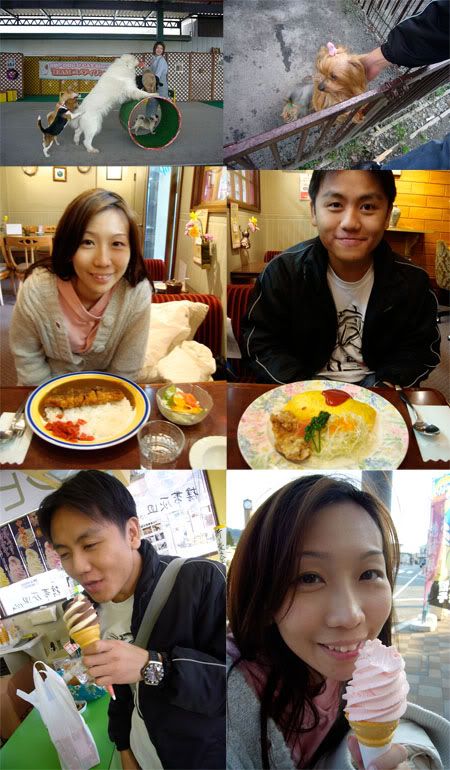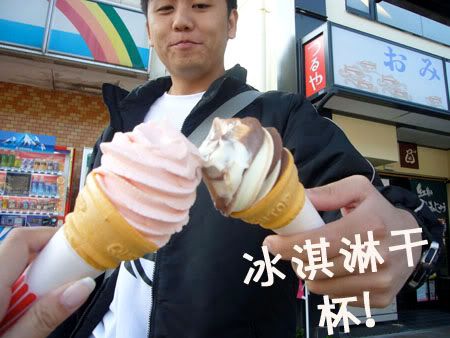 We visited the Nikko Shrines too on the 3rd day just before leaving for Sendai. Took too many photos.. so only uploaded a few here. The rest will be in Multiply. =D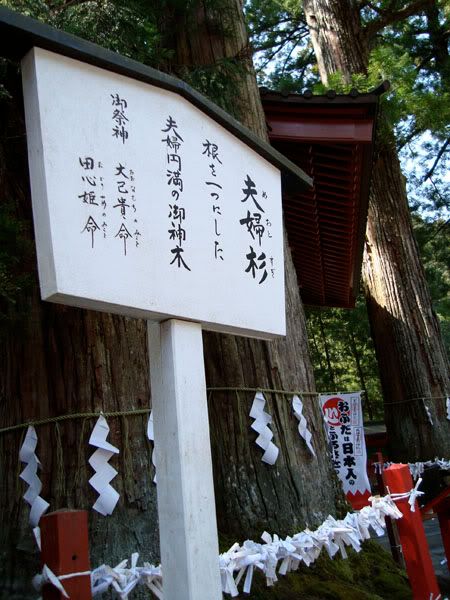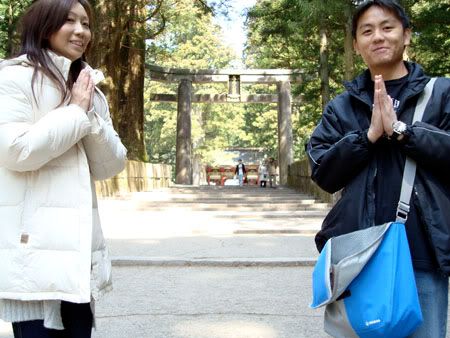 3 more days to go!
Labels: Japan Honeymoon
Kiyo 到此一游 @ 10:40 AM