Saturday, February 02, 2008
*~*~*~*~*

Call me 颜太 lar!

Decided to try eyelash extension after resting for 1 month after the lash perm!
Succumbed to temptation since my eyelash perm has long straighten itself. Wanted to compare the effects of lash perm and extension to see which suits me better.

Chose this home based eye extension place recommended by HDB tai tai show.
it's at khatib.... =___= (是远的咯)

But since teleHUBBY's house is at Yishun, so took 1/2 day leave just to go for this.

They even have a blog

~ Beauty Concept ~

But for the sake of beauty, i still went ahead since there were alot of good reviews in Flowerpod. Flowerpod is really my beauty bible manzz.. don't know how I can live without it.

The home based salon is operated by candy and anner and the house is pretty cosy. As it's the new year season, they are really fully booked and i have to wait about 15 mins for my turn. I must say the experience is not bad although the glue stung my left eye a little and made it pretty red.

Besides that, the effects are great!!
They did a mixture of lashes for me which they call it small, medium large so that it looks totally natural and when it falls out, it wont fall out by a cluster too and leave holes.(that's what she says lar, still dont know yet and hope it wont fall out soon). They are using the lash by lash method so it looks like your very own lashes.

Downside...
Used to take 5 mins to wash my entire face, now i take 10 mins just to wash my eye area ONLY :(
Must wear my specatables in an AH MAH way as my lashes are pretty long and they get in the way.

The result!

Before..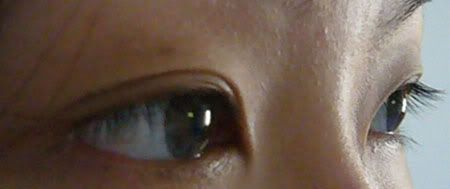 extended version.. it's like putting on fake eye lash 24/7




This is what they call the Natural Thick.


Candy says slowly it will droop a little due to gravity.. but i like it this way. heez. Anyway i will remove them maybe end of next month~ so that lashes can rest

My previous eyelash perm if you recall...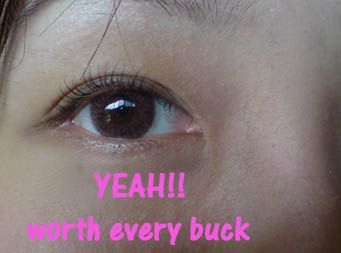 although it's curvy, but still looks pretty short hor..
Kiyo 到此一游 @ 7:39 AM