Saturday, June 02, 2007
*~*~*~*~*~*~*~*~*~*~*~*~*~*~
Our Departure : Taiwan PhotoShoot Trip!
Finally had time to blog.. long post!
I must say it had been a fun but tiring trip, not to forget alot of
SUAY
things happened to me.
I fell sick one day before the trip. =( Caught a virus and was down with fever and a very bad throat. Luckily I recovered the following day, the day that i departed after swallowing all the antibiotics and panadol the doctor gave. My menses came as well.. haizz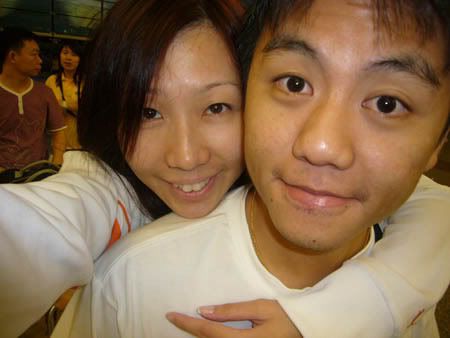 i am visibly tired..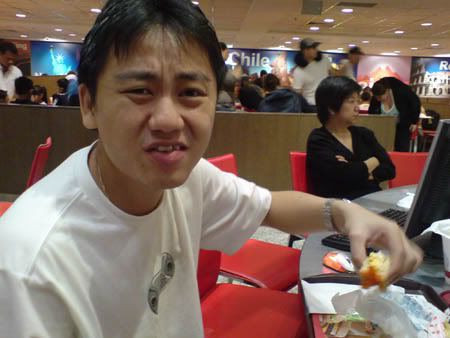 we are going to be late!
Woke up feeling tons better and my nice dad drove us to the airport.. Was so looking forward! then something happened.
My shoe broke.
=___=
i seriously have no idea how it happened! once i stepped onto the airport mat at the entrance, the bottom of the shoe tore open. This pair of shoe is the same pair that I bought in Taiwan last year! tsk tsk tsk..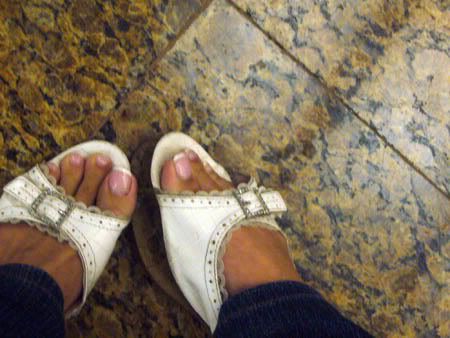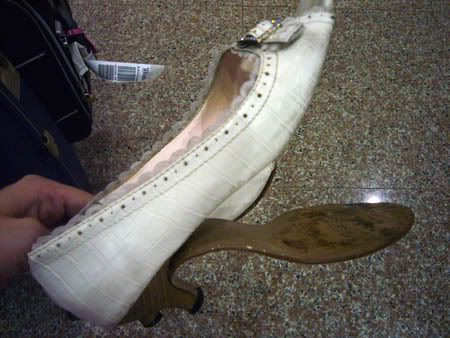 What was worse was that I did not bring any additional slippers. I thought of buying new ones over there and just throw away this when I come back, but it seems like this shoe couldnt wait.
anyway i was limping around in changi airport cause of that stupid shoe. Some nice tourists even wanted to help me climb up the stairs (thought i sprained my foot or wat)
It was embarrassing.
Just gave them a sheepish smile and say my shoe is spoilt. argghh
Dar asked me to take off my shoes otherwise we will not be in time to board the plane.
So... i took them off and ran inside the airport, barefooted ha! what an experience. Actually maybe i was running too fast, nobody even gave me a 2nd look or even noticed i was barefooted =p
Soon we boarded the plane.. everything was fine.. the food was good, service was excellent!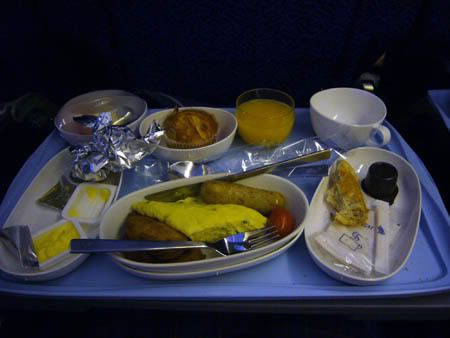 I wanted to watch the movie 23.. then something happened again.
Our tv controls were not working!!!! =(
gosh.. we were not the only ones affected but a section near us were also having problems with their in-flight movies. I think I spread the "suay-ness" to the other passengers as well.
SO SUAY.
Just as we thought that we have nothing much to do except to sleep, a pretty stewardess came to us!
"Miss Teng, so sorry that our movie system isnt working. To make up for it, here is a token from Singapore Airlines"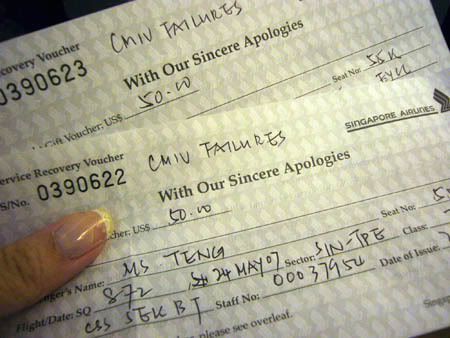 And guess what.. it's a US 50 bucks voucher for duty free cosmetics and perfume! Darren got a voucher too and in total we have US 100!! A movie only cost about 8 dollars sgd nor..hiak hiak hiak. I would rather take the voucher than watch the movie! We were so happy after that thinking of what to buy when we come back from TW.
We landed at about 1pm and took the airport bus to go to our hotel. We stayed near Julia, our bridal studio as the hotel had discounts and we felt it's easier for us.
Went to Julia lugging the 10kg gowns to communicate with the photographer. I must say after attempting to carry the gowns, I sort of regretted going to taiwan to take photos. Just look at our luggage even before we depart! It's already 35 kg. I felt very bad as Dar was the one who dragged the heaviest luggage and left me with the lightest one. This is his way of loving me.. hee hee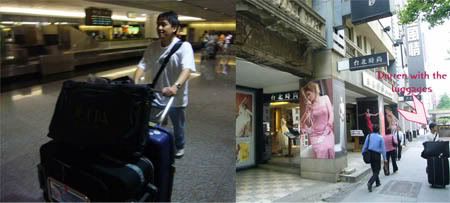 Dat's Julia.. it's really farrrrrrr from where we alighted from the airport bus.. I will never EVER forget that stretch of road under the scorching sun, 2 Singaporeans dragging 2 suitcases and one big bag of gowns. it's really the "ONCE IN A LIFETIME" experience that I won't forget.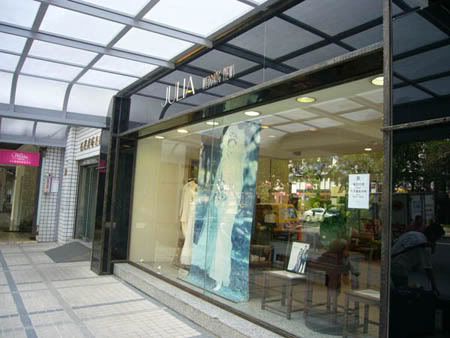 After that, it's Xi Men Ding. Dar was so excited about the basketball machine so I brought him there to play keke. FUN!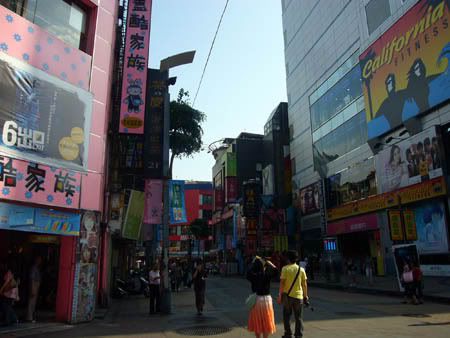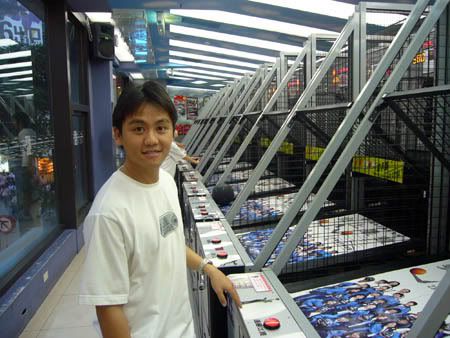 2nd day was photoshoot!
More suay things happened.. my nu bra snapped apart.. gosh.. the MUA have to stick them on my skin using tape =___=
The MUA was late and our schedule was delayed.. so the whole trip was rather rushed but she made me really pretty keke. Okay that offsets everything. I thought the team was really professional but now i can't wait to see the pictures cause the weather was so so hot that i couldnt smile naturally. The photographer kept telling me..
"女生,笑容很假咯.." then he called darren 老公 which made Darren laugh like mad cause it sounded so funny. keke
eh.. hello, how was i supposed to look blissful under the scorching sun?! haizz.. anyway it's a wrong time to go now.. really too hot.
But they were really professional. I felt like a superstar, with his assistant using an equipment to check the lighting at my nose before the PG took the picture. ha!
my favourite look is the one with messy hair!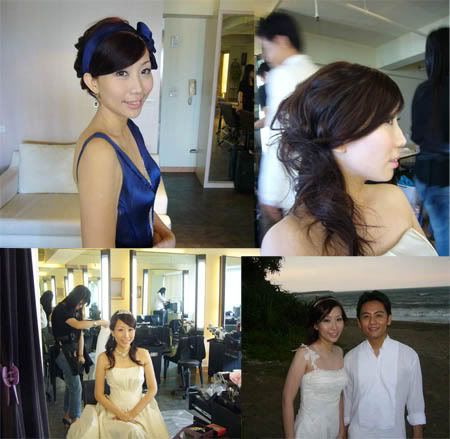 More photos in multiply~ ---->
~ Taipei Photo shoot Behind the Scenes ~
Our shoot ended at about 7pm, we then went to Shi Lin to fill our empty stomachs! and got some best buys there.. Cheap cheap good good!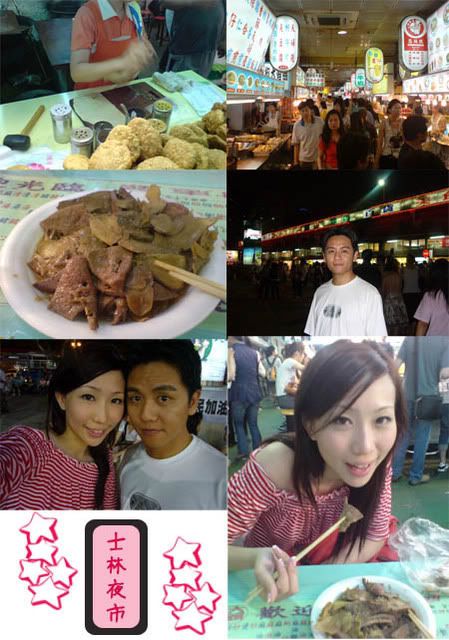 Labels: Taipeiphotoshoot, Wedding
Kiyo 到此一游 @ 12:08 PM