Thursday, January 12, 2006
*~*~*~*~*~*~*~*~*~*~*~*~*~*~
travelogue
For all my friends who have been to bangkok or are going to bangkok, I present my travelogue~
I think I overestimated myself! I thought I can comb Chatuchak in 1/2 a day, go Mah Boon Khrong next and cover Siam Square.
SIAO
-_-
Anyway, seriously, I was kinda tired of planning trip after trip. From Perth to Hongkong to Bintan to KL to Bangkok. So, this time round, I grade my planning an
F
. But overall the trip was still an
A*
cos I had someone who was always willing to lug my bags, carry the water bottle, sit on the tuk tuk with all the fumes IN OUR FACES, walk under the hot sun shopping for MY stuff... hee hee =D
Bangkok Travelogue I
Woke up with sleepy heads to proceed to the airport for the boarding of our Jetstar Asia 3K511. Checked in at about 8am cos the queue was really long, can see that the flight was full. Went for our macdonald's breakfast but we had a tiff. Tiff about what I cant remember liaozz.. -_- We always tiff and forget. Daph daph asked about the MAC fluid lines, so I cheong to MAC counter but no more liao.. =(
*hey, i heard that the range of MAC's green GLITTER liners are in at raffles city, go grab them huh*

Didnt do much on plane. I was caught in the middle seat. Should have requested for an aisle. TSK. People behind me were taking pictures all the way.
I want to take too.. =( But I looked HIDEOUS so I decided to take nice blue clouds instead...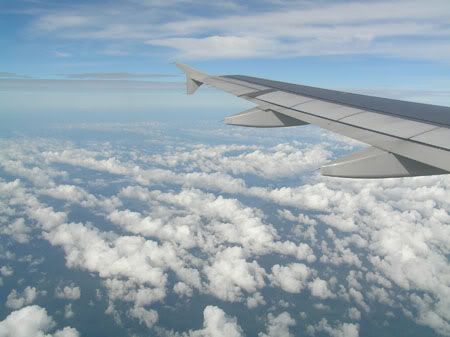 Darren refused to appear in my cam too cos he said he is 赌神, only can take his back view.. -_-'''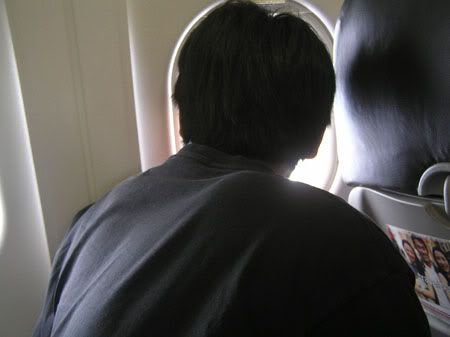 so I can only 偷偷 snap him while he's sleeping..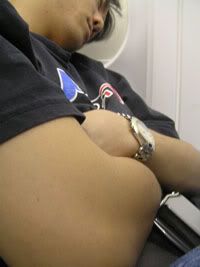 Finally when we landed after about 2 hours or so, i was quite surprised to see people playing golf near the runway, just beside our plane! wah lao! wait the ball fly and hit the window how? haha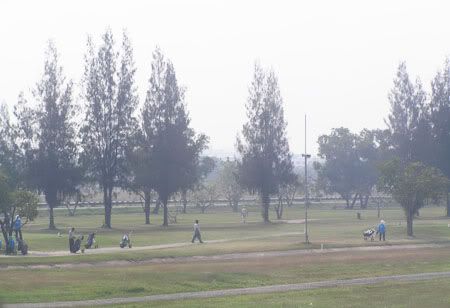 Drawings at the lobby of Arnoma Hotel. Kids' drawings are really interesting to look at. They have the best imagination. This hotel was raved by alot of friends of mine and I just lurvvveee it. Rooms were OKAY, but we were just right smacked in the middle of the shopping belt with EGV cinema just beside us.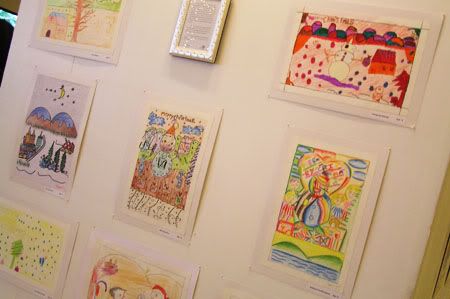 Our first meal.. a roadside stall selling bbq sticky rice. It smelled GOOD so we wanted to try~ But... emm..hm... it was.. hm... not very.. emmm.. nice.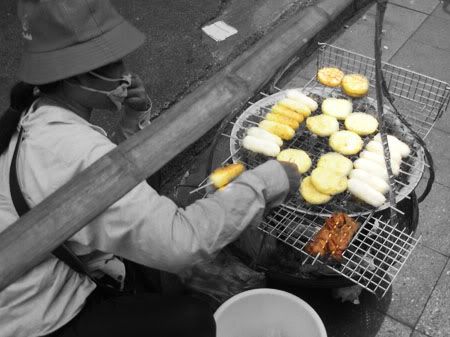 First shopping stop! Indra Square. Podders told me I can find alot of earring stands here. Alas I found
NONE
after walking in circles. Didnt see much stuff there cos most clothes were kinda casual tees and they offer cheaply only for wholesale. Darren bought alot of very cool tees around Pratunaam.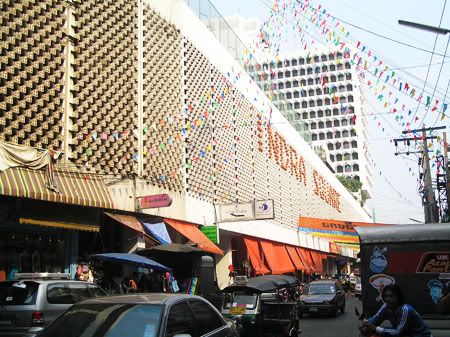 On our way to MBK.. after much coaxing.. darren poses with blood-shot eyes indicating a serious lack of sleep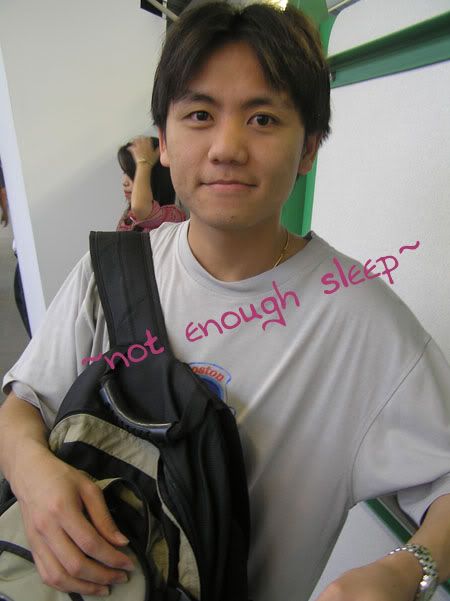 At Nam Shing for their birdnest and seafood!..I got a discount cos of the MBK card. Thanks Virgie!! Their food was not bad.. =D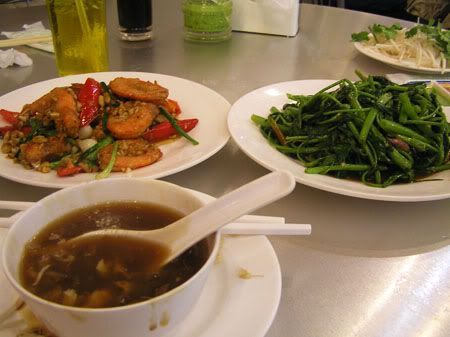 Ordered pineapple rice as well and we really had too much to eat.
I felt a little sick after dinner for no reason.
JUST SICK.
but I got better when I returned to hotel so we decided to catch King Kong after a day of shopping. With tired feet, we dragged ourselves to
EGV BIG C
just beside our hotel. and decided to watch gold class since it wasnt really expensive anyway. It cost a mere 200 baht (about $8), you may say that it costs about the same in Singapore but what you get in GOLD class there, you cant get it here for 8 bucks.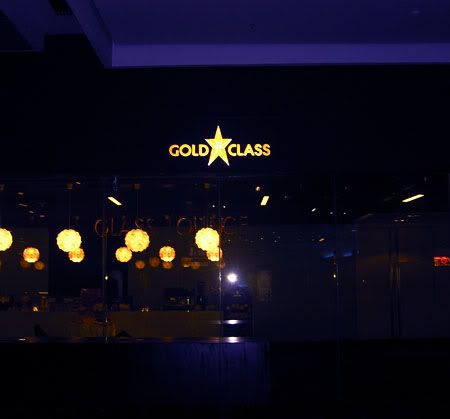 Went into their exclusive entrance and you get waiters asking you what you want to drink..
(at an additional charge of course)
And upon entering, what welcomed us was a big sofa reclining seat in soft suede for each of us. Nearly fell asleep watching King Kong. Not that the show was anywhere near boring.. It was farrr from that! The seats were just too comfortable!! Blankets and pillows were provided, and really worth every single cent of my 200 baht on that 3 hours movie.
To add : Before a movie starts, you must stand up and pay respect to the King while the screen features his pictures and plays the national anthem in the background.
We stood up too keke. Ru xiang sui su mah..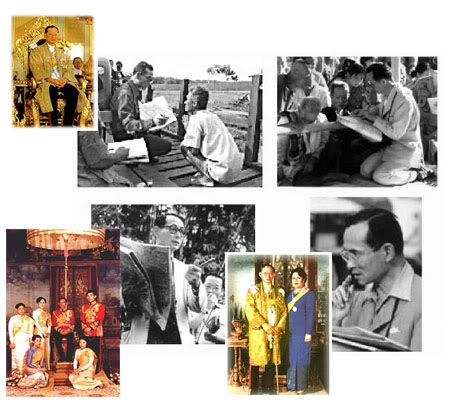 My supper back at hotel. Ta bao birdnest in B grade (300 baht per bowl) back. Dont know what's the difference between 200 baht birdnest and 300 baht but I can say it is GOOD. I wish i can eat this EVERYDAY.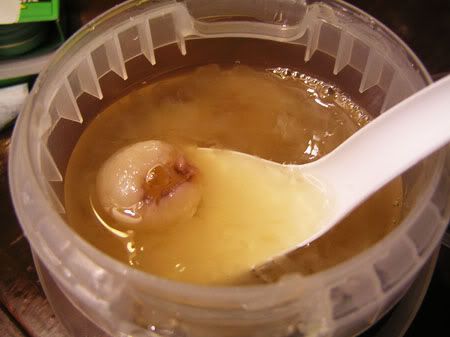 Labels: Travel Tales
Kiyo 到此一游 @ 9:46 PM