Saturday, January 14, 2006
*~*~*~*~*~*~*~*~*~*~*~*~*~*~
Today is Saturday. In bangkok, it will be ChatuChak Day
I'm missing Bkk already. Yesterday I wore my Bangkok 行头
(shoes, top and watch, all pi pi qi qi )
to meet Darren. Missed the birdnest.. =(
Bangkok Travelogue II
IT is GRAND PALACE & RECLINING BUDDHA DAY!
Today is the day for sightseeing. Decided on this two tourist attractions cos they were very near each other keke. So we took a taxi over. ONE thing about their taxis that I noticed, no matter where I go. The fare is at least 100B or more, even for nearer places. Anyway, it is still considered cheap for singapore standards but time is wasted on the taxi! I prefer BTS.
my new tee.. cost only 2 bucks and I bought it in
Pratunaam
cos I predicted I wont have enough clothes to wear for the next few days. For our 5 days 4 nights trip, I only brought 3 tops there.. -_- to minimise my luggage space. I'm not surprised if it shrinks after washing. It's darn tight already.
At the reclining buddha compounds. Dont tell me it's
seng et
. I know IT IS! tsk* dont noe what's wrong with my hands.
Very grand..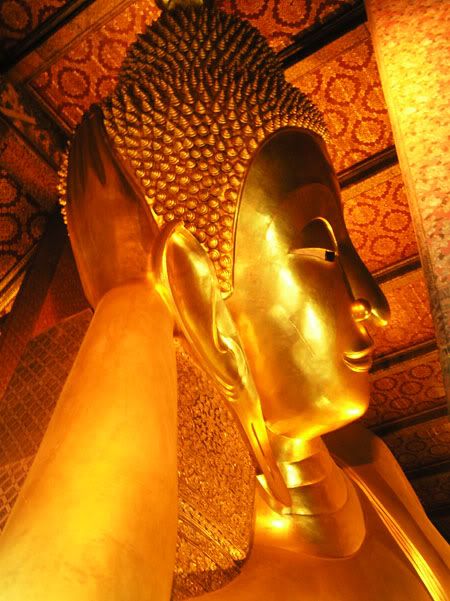 We donated some money in exchange of some coins~ and drop one coin in a long row of bowls for good luck. We do not have any tour guide so we dont really know what is it for but we just see what the Romans do and FOLLOW..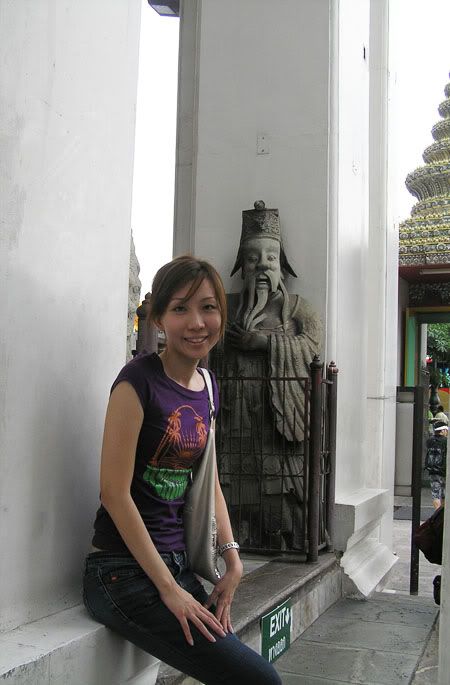 Anoter one... keke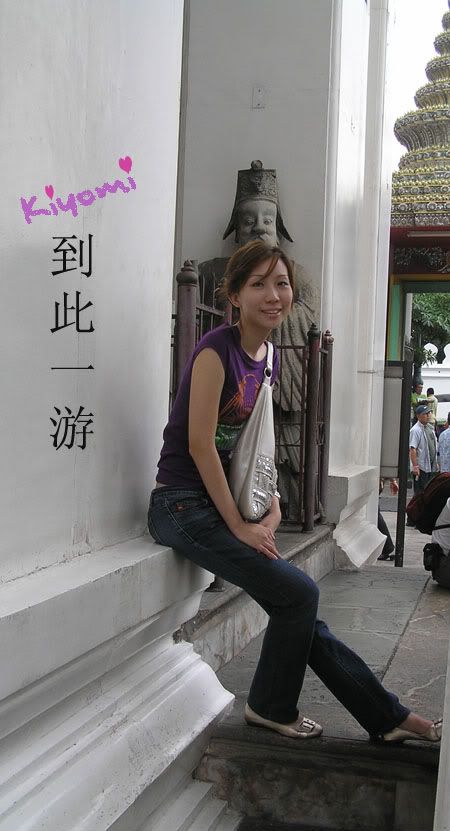 The compound was really big and we took some time to venture the place a little.
They have a Thai Massage School within the compounds but we didnt try it there. It was kinda hot and we were really exhausted.
dis is how 2 people on a trip take pawtoes. Darren looks grim and serious cos he said that we were in a sacred compound. Cannot smile.. -_-
The weather was really hot that we decided to forgo the Grand Palace visit. Besides, I heard that my sleeves were too short to enter. We were waiting for a taxi to bring us to Central when one guy approached us talking in Thai.
Mai Kaw Zai leh..
(mai kaw zai = dont understand in Thai)
. We started to converse in English and he said that Darren looks like a Thai. -_- Abit hor hee hee. He wanted to bluff me saying that Grand Palace not open, blah blah blah.. bring me go somewhere else. I read this hundreds of times on FP ler.. so I knew he was lying!
Got on a taxi to proceed to Central. That was the most frightening experience in my entire BKK trip. The taxi driver sped extremely fast and was weaving in and out of the traffic.. I was really scared and tense throughout the trip and I dont even know how to tell him to slow down. He thought he's acting in Initial D I think. And He SWERVES. Hate that ride.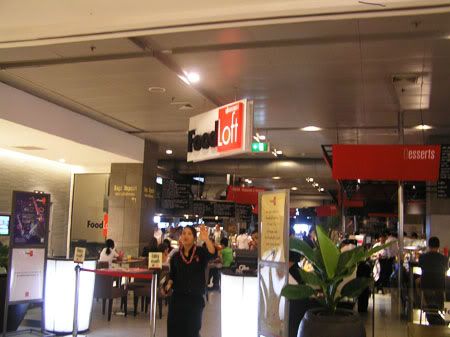 Central Food Loft .. See that girl? actually cannot take photos .. dont know why...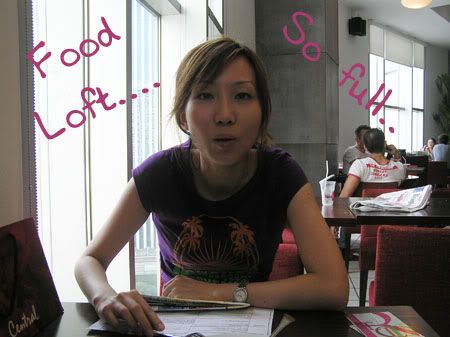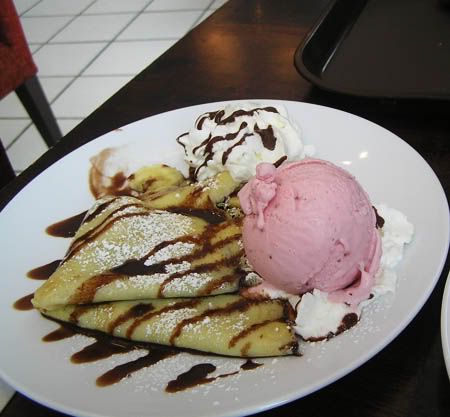 We went off to Siam Square where I bought alot of Skincare from Boots pharmacy!! Shall post them later~
Alot of youngster's clothes here but they are not cheap..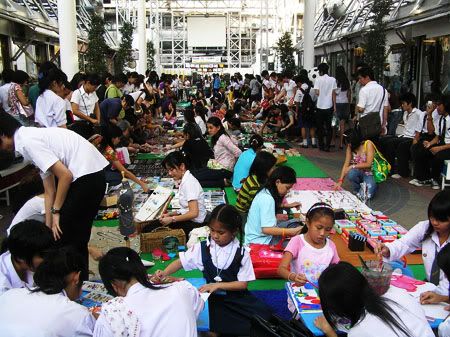 It's so crowded! and people are selling assessories or things that they have designed.
Drawings by children again! In a world full of colours~
Opposite Siam Square was the newly opened shopping mall Siam Paragon! They have an underwater world inside the mall but I didnt visit it. To me, Underwater creatures are the same everywhere. Bought my RMK foundation at Paragon~ So happi.. thought RMK is only available in Japan or taiwan, but BKK have their counters too and I heard raves about it. It is really good =) (I got the tourist discount!not sure whether it will be cheaper in taiwan..)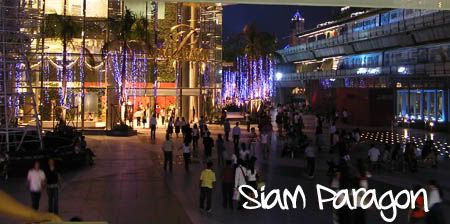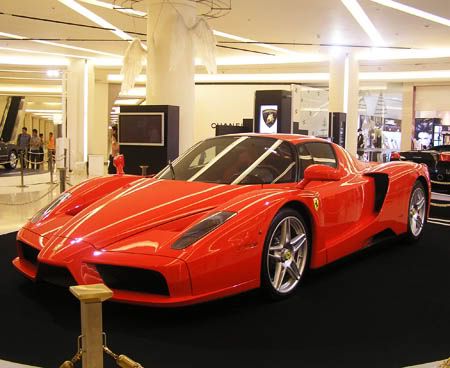 Sportscar showcase but no 辣妹 =(
We had our dinner at Zen Japanese Restaurant~ It was really cheap and good as recommended by Podders. We waited for quite some time for our table. Darren ate 2 set meals and 3 bowls of rice! Cannot imagine~
MOre to CoMe~
Kiyo 到此一游 @ 11:08 PM