Tuesday, January 10, 2006
*~*~*~*~*~*~*~*~*~*~*~*~*~*~
I'm back.. and so tired.
So glad to be back, but on the other hand...I cannot imagine the pile of work I'm going to face tomorrow. Will have an additional profile dis year as a HR exec so of course, responsibilities increase too. Hope that my paycheck will increase exponentially to the amount of work i was given..
*wish hor*

Woke up at 12 pm today. Think the shopping I did past 5 days had taken its toll on me. Fell sick and caught flu on the last day. (not to worry, it has
ABSOLUTELY
nothing to do with the feathery kind) *phew* Luckily for me, it was already the last day or else it would have spoilt my trip thoroughly.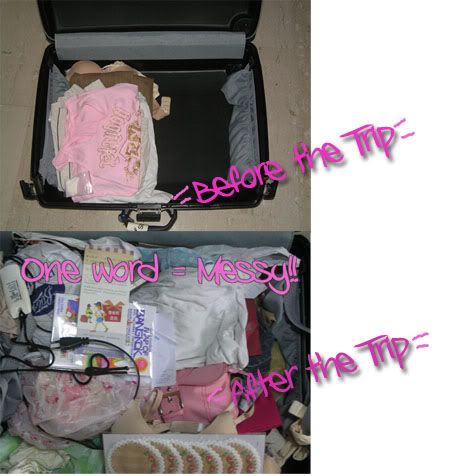 So dog tired...Just finished unpacking. thought I didnt buy much, but looking at the stuff I bought, it ranges from plain tees to skincare to makeup to bags, shoes..I think it was still alot of money spent.
The clothes were on the young side and there was alot of adidas stuff on sale. dont know why I became a really careful shopper when I was there. Kept asking myself whether I needed that, or whether it looks fake etc. Even darren commented : If in Singapore, a skirt cost 20 bucks you will buy liao without blinking, in bkk you still think here and there?
hm....
I dont understand myself too.
Strange. Loots tomorrow..
Kiyo 到此一游 @ 10:17 PM