Sunday, December 11, 2005
*~*~*~*~*~*~*~*~*~*~*~*~*~*~
All the things I'm hearing these days are.....
Weddings, Weddings.. and more Weddings...Yesterday received a secondary school friend's (long lost, n I really meant long lost) email that she needs our addresses cos she's going to send us her invite to her wedding! Another primary school friend sms-ed me too about updating her contact's address book..
Nowadays, frankly speaking, I'm rather scared to receive messages like this below.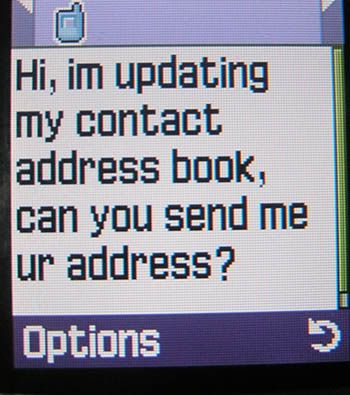 highly suspect that it simply means they are going to get hitched!
(and I am not!?!)
wah.. STRESS~
Of course I am happy for them in fact...I am very HAPPY for them although some of them complain that they have lesser time for themselves after they get married cos they need to spend time cleaning up the new house and other miscellaneous stuff, you know.. But for me..
I think I will only get REAL FREEDOM after I get married.
(AND MOooVE OUT)
~~~~~~~~~~~~~~~
Went for a mini housewarming cum early christmas gathering at one of my friend's house. It was really a warm feeling cos her house was decorated in a very English manner with a cottage feel. And she baked cheezecake for us!
So I got her the apron =)
yeah.. we had a mini 颁奖典礼 too... hee hee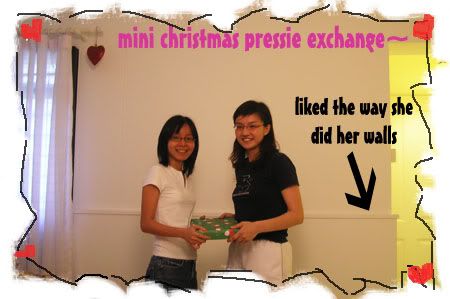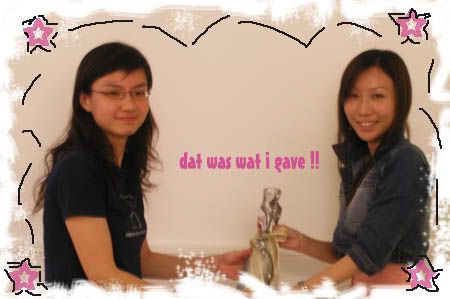 Was really yummy..going to try out soon... once I get my
own kitchen
and all of my good friends out there shall be invited. just wait hor.. keke
Back to the marriage topic again..hmm..As for me... marriage to me is not only a commitment, it also doesnt just come with a snap of fingers 1,2, 3 and it's definitely not just about signing on the dotted line. Been through so many good friends weddings to know that there are actually alot to plan. From banquets, to gowns, to HDB loans & renovations. The HDB part is darn confusing.. alot of procedures and things to look out for. It's kinda scary just thinking about the amount of monies involved so.. not now dear... not now.
Kiyo 到此一游 @ 10:37 PM